U.S. Strikes on Pro-Iran Militias Reveal Iran's Arms Trafficking Hub | Opinion
U.S. airstrikes on Albukamal over the weekend were ordered against facilities used by Iran-backed militias. In a statement from Pentagon Press Secretary John Kirby, the Pentagon said that "the targets were selected because these facilities are utilized by Iran-backed militias that are engaged in unmanned aerial vehicle attacks against U.S. personnel and facilities in Iraq." Iran has increasingly turned the Iraq-Syria border region into a hub of influence that includes missile and drone bases and trafficking of weapons that threaten the entire region and key U.S. allies such as Israel.
Albukamal is a border town in Syria situated on the Iraqi border. It has become a key transit point for pro-Iranian militias in the last several years after ISIS fighters were defeated in the area in 2017. By the summer of 2018, there was so much activity by Iranian militias in the area that they had built a headquarters in a large villa. In June 2018, an airstrike hit the headquarters and the pro-Iranian groups said 22 of their members were killed. Iranian-backed militias blamed the U.S. and Israel for the strike, although it still remains unclear who bombed them.
The 2018 airstrike targeted a similar area as the ones over the weekend. This reveals the extent to which Iran has come to influence control over this key border area. Albukamal is strategic because it sits on the Euphrates River and it has long functioned as a hub for terrorist groups moving back and forth between Iraq and Syria. Support for Saddam Hussein's regime was strong in this area on both sides of the border. After the U.S. invasion of Iraq in 2003, the Assad regime in Syria enabled fighters to travel to Iraq through the area. And after ISIS was defeated, Iran began to view this as part of its desire for a road to the sea that stretches from Tehran through Baghdad to Damascus and Beirut.
To secure Albukamal and the border area, Iran turned to pro-Iranian militias in Iraq. These militias, with names like Kataib Hezbollah, resemble the Hezbollah terror army in Lebanon, but they are official paramilitary forces of the Iraqi government called Popular Mobilization Units. These units, such as Brigade 14 of Kataib Sayyid al-Shuhada, which was struck on June 28, are close to the nefarious Islamic Revolutionary Guard Corps (IRGC) in Iran.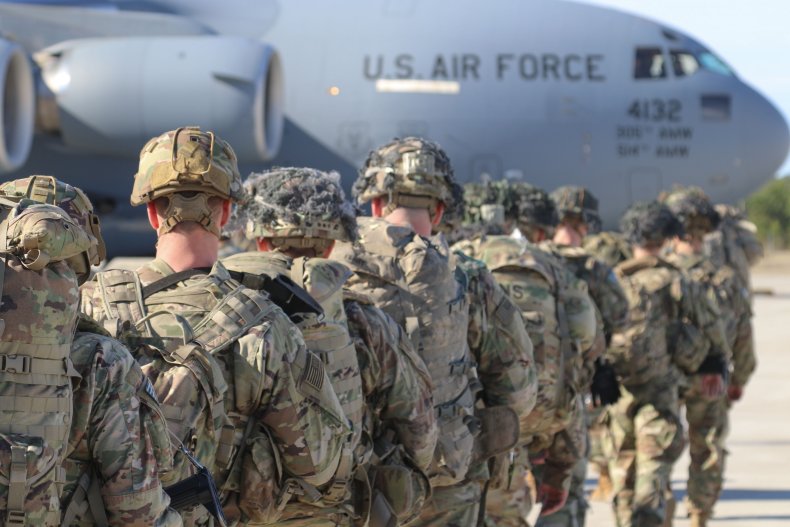 Iran began moving ballistic missiles to Iraq in 2018 and it began building a base next to Albukamal to facilitate weapons transfers. This was a threat to Israel. Reports emerged showing satellite photos of the Iranian presence in 2018 and 2019, and the site was targeted numerous times in airstrikes that Syrian media reported were carried out by Israel. The airstrikes on Albukamal coincided with a major rise in tensions in Iraq between the U.S. and pro-Iran groups. This culminated in dozens of rocket attacks on U.S. forces, the killing of an American contractor and January 2020 airstrikes by the Trump administration that killed IRGC Quds Force head Qassem Soleimani and Kataib Hezbollah leader Abu Mahdi al-Muhandis.
Muhandis had warned the U.S. in June 2018 that the U.S. would pay a price for attacking pro-Iran bases in Albukamal. "To the Americans, we say...we will not be quiet about this attack." In the end it was Muhandis who was killed, but the Albukamal bases remained and they continued to build up influence. These groups have amped up their attacks against U.S. facilities in Iraq, increasingly using drones. They used drones to target on June 27 an area near the site for the new U.S. consulate under construction around Erbil. The White House and Pentagon singled out the drone threat as the reason for targeting Albukamal. It remains to be seen if the airstrikes will actually deter Iran and its proxies.
What is important is that the airstrikes have once again pinpointed how Iran seeks to dominate Syria and Iraq through control of this key border area. Indeed, it is a key to the whole region for Iran's network of proxies. The pro-Iranian militias in Iraq operate on both sides of the border, and groups like Hezbollah in Lebanon have moved forces to Syria in recent years, taking advantage of their alliance with the Syrian regime and the weakness of the Syrian and Iraqi governments.
Iran's use of Iraqi, Syrian, Lebanese and Yemeni soil to carry out attacks across the region, using missiles and drones, is a major challenge for Washington and regional partners such as Israel and the Sunni Gulf states. It's unclear if the Iraqi state will ever be able to reduce the role of the pro-Iranian militias, who now have an octopus-like hold on the government and its institutions. A recent summit between Egypt, Jordan and Iraq notwithstanding, Iran appears to have put down roots in places like Albukamal that will be difficult to remove. In the absence of the ability to remove them, airstrikes against Iranian weapons trafficking and its drone bases amount to the only way to keep Tehran in check.
Seth J. Frantzman is executive director of the Middle East Center for Reporting and Analysis, a senior analyst of Middle East affairs for The Jerusalem Post and author of Drone Wars: Pioneers, Killing Machines, Artificial Intelligence and the Battle for the Future (Forthcoming June 2021). Twitter: @sfrantzman.
The views expressed in this article are the writer's own.