As U.S. Struggles to Fight Coronavirus, China, Russia See Opportunity to Gain Global Power
China and Russia are using the coronavirus pandemic to position themselves as world leaders while the United States turns its focus to domestic matters to battle the infectious disease, experts on geopolitical affairs and a senior U.S. intelligence official briefed on the matter told Newsweek.
This scramble to mitigate the spread of the virus, which is expected to soon infect up to a million people worldwide, could hinder the U.S.' ability to respond to international calls for help, a senior U.S. intelligence official, speaking on the condition of anonymity, told Newsweek—leaving a potential void where Washington could have stepped in. "China and Russia aim to fill that void, even at the costs of their own readiness," the official said.
"Both adversaries are playing the long-term game," the official added. Beijing and Moscow, the official, explained, "will advance attempts to undermine U.S. efforts to maintain strategic partnerships and alliances by providing essential medical equipment, PPE, and tests to countries with underdeveloped or overwhelmed medical systems, while pointing out that the United States is unable to respond due to their own incompetence and inability to handle a pandemic."
The official, who was familiar with an internal Central Intelligence Agency report that discussed a potential global power shift, also warned of unrest that could ensue in countries around the world. That, combined with internal predictions that the pandemic could extend beyond 2020, gives China and Russia further leverage to elevate their positions on the world stage.
The CIA declined to comment when contacted by Newsweek.
The pandemic is sure to create global economic upheaval. The United Nations warned Wednesday that this, along with "the risk that it contributes to enhanced instability, enhanced unrest, and enhanced conflict are things that make us believe that this is the most challenging crisis we have faced since the Second World War."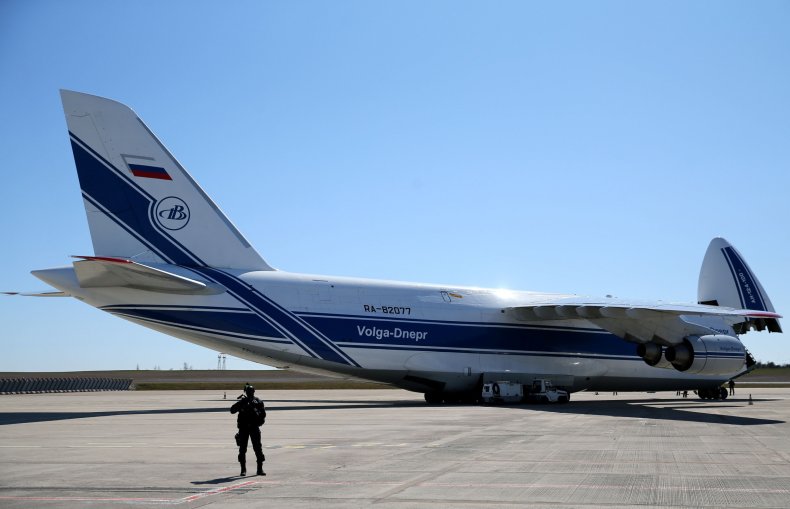 Already, China and Italy have weathered the worst of the disease, and as of Wednesday, about 200,000 COVID-19 cases were confirmed in the United States, more than anywhere else in the world. These include more than 4,300 U.S. deaths—or more U.S. casualties than the 9/11 attacks or the 18-plus-year war in Afghanistan that followed them. The U.S. also finds itself dangerously low on critical medical supplies such as PPE, short for personal protective equipment, and ventilators, a device that breathes for patients too weak to do so themselves. The Trump administration has projected fatalities to reach between 100,000 and 240,000 by August.
As COVID-19 tests global resolve, the idea of the U.S. being the world's sole superpower is also challenged. Washington's ability to support other countries may be severely limited by the country's struggle to contain its own outbreak that will require a massive mobilization of military, medical and monetary resources, the senior U.S. intelligence official said.
"I believe the U.S. should exhaust all means possible to mitigate the spread of the virus domestically and globally, as the impacts transcend just our population," the senior U.S. intelligence official told Newsweek. "In a post-American, globalized economy, the virus is disrupting imports and exports, the flow of essential foods and goods, and will ultimately impact our national security with our military readiness abroad and home."
Presidents Xi Jinping of China and Vladimir Putin of Russia, two men who may potentially rule for life due to careful constitutional changes, appear to be enthusiastic to fill this gap during the U.S.' time of need.
"Russia and China have both demonstrated opportunistic foreign policy initiatives in moving to occupy space made available by America's retreat from its post-World War II leadership," Douglas London, a former CIA Clandestine Service senior operations officer who now teaches at Georgetown University's Center for Security Studies, told Newsweek.
"The COVID-19 pandemic tests America's already-strained international relationships undermined by Trump's 'America First' doctrine while further narrowing Washington's focus on the domestic health and economic crisis," London added. "Although Russia and China cannot ignore their peoples' grievances, as autocracies, neither contends with an open society, free press or legitimate elections that might facilitate a credible threat to their power."
Beijing has acknowledged its desire to make itself known. At a press conference Thursday, Chinese Senior Colonel Ren Guoqiang said: "China is actively engaging in international cooperation and providing as much help as possible to other countries and international organizations."
And Russian Foreign Ministry spokesperson Maria Zakharova on Thursday described Russia's presence in Italy as "the apogee of isolation, the apotheosis of 'the Russian threat,' the anatomy of 'the Kremlin's hand'" in a Facebook post.
The U.S. also has not abandoned the international community. Pompeo too announced Thursday that the U.S. was devoting nearly $274 million in emergency health and humanitarian funding to support the 64 most at-risk countries in the world. "Our leadership in the COVID-19 response is another example of how America—our government, our businesses and organizations, and our people—continues to be the world's greatest humanitarians," Pompeo said in a statement.
But China and Russia's campaigns also have extended to U.S.-led NATO Western military alliance members such as Italy, which has suffered more COVID-19-related deaths than any other country to date. To help alleviate the disaster, Russian specialist troops have been deployed to the country's northern half and China has dispatched medical personnel and equipment in recent weeks. In neighboring NATO-member France, a Russian Antonov-124 delivered 10 million face masks ordered from China on Monday.
Chinese assistance has reached a number of European nations, as well as countries across Africa, Latin America and other parts of Asia.
Although several countries have complained of faulty equipment sent by Chinese and Russian companies, both Beijing and Moscow continue to receive requests for help from around the world. The U.S. has expressed wariness about China and Russia's intentions in responding to these pleas.
However, a State Department spokesperson told Newsweek that U.S. officials "welcome high-quality, transparent, no-strings-attached contributions from all donors to further catalyze global response efforts underway."
Andy Mok, a fellow at the Beijing-based Center for China and Globalization, said that many European countries already count on China as a top trading partner. He said China's proactive response to COVID-19 could also prove to be an "important" factor in shaping Europe's already-shifting relationship with Beijing.
"Some people seek greatness, others have it thrust upon them," Mok told Newsweek. "If we kind of paraphrase that, there are many countries that are struggling with COVID-19 now, they are short of material resources as well as expertise, China has been stepping up."
"If there is a need and someone is filling it, then I think then naturally they are viewed differently and in a more positive light," he added. "It seems to be that this is the dynamic that is happening."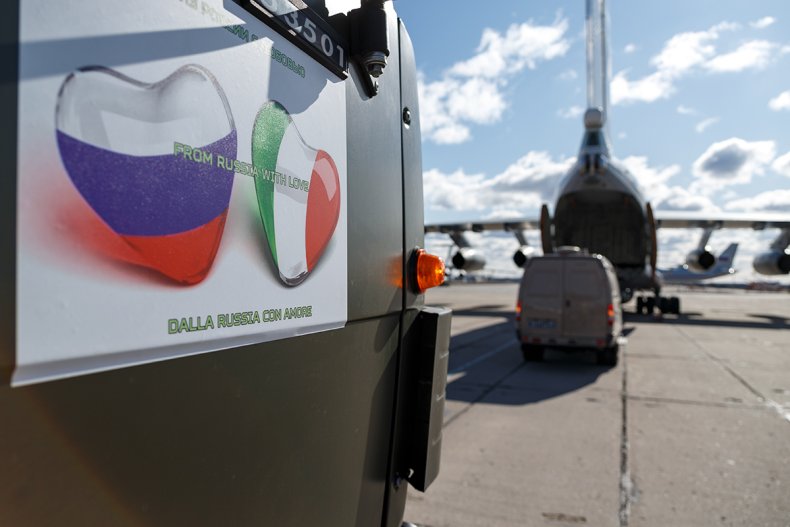 In accepting support from China and Russia, the White House appears to acknowledge its leading rivals could play constructive roles in world affairs.
A senior Trump administration official confirmed to Newsweek that Russia was expected "to deliver a planeload of personal protection equipment and supplies." The official added: "We will put into immediate use any needed items that are FDA approved. Likewise, the United States is sending equipment and supplies to many other countries and will continue to do more as we are able."
The administration also argued its global military posture abroad remained unwavering.
"The U.S. does not view Russian or Chinese aid to European countries as a challenge to NATO. NATO remains strong and united during this time of crisis," Jonathan Hoffman, assistant to the Secretary of Defense for Public Affairs, told Newsweek. "The United States will continue to offer COVID assistance to many of our NATO allies."
Newsweek reported earlier this month on the increasing impact the coronavirus was having on the U.S armed forces, forcing all of its global commands to cancel, postpone and adjust military certain exercises. Defense Secretary Mark Esper has since enacted even tighter controls on troop movements and has instructed local units to stop reporting positive COVID-19 cases "for operational security purposes" as U.S. Army Garrison Stuttgart in Germany said Sunday in a statement.
The U.S. has increasingly used its massive resources domestically, including widespread National Guard deployments and two hospital ships to help relieve overwhelmed medical centers in New York and Los Angeles. The acting director of the world's most well-funded military, Glenn Fine, has also been tapped to oversee the $2 trillion stimulus package designed to save the U.S. from economic collapse as a result of its indefinite quarantine.
"I think that one should not underestimate how serious a threat this is to the United States," Mok told Newsweek.
"It's not just a public health crisis," he added. "It's also an economic crisis, clearly now it's becoming a financial crisis that isn't directly caused by COVID-19 just as people die not directly from COVID-19 but because of pre-existing conditions that COVID-19 exacerbates."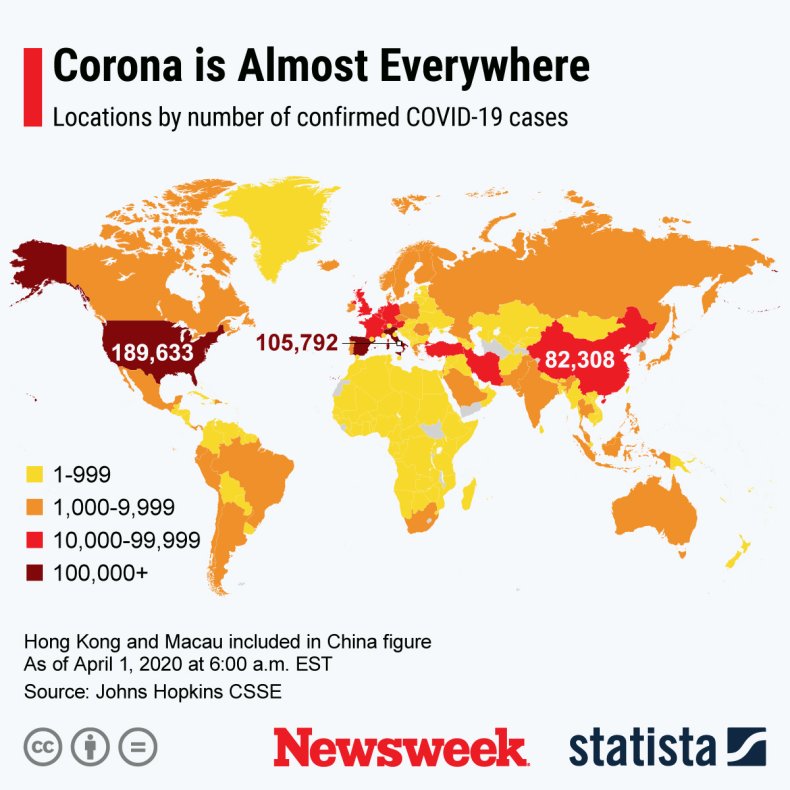 The above graphics were provided by Statista.