U.S. Takes Down 'Darkode,' a Massive 'Think Tank for Cybercriminals'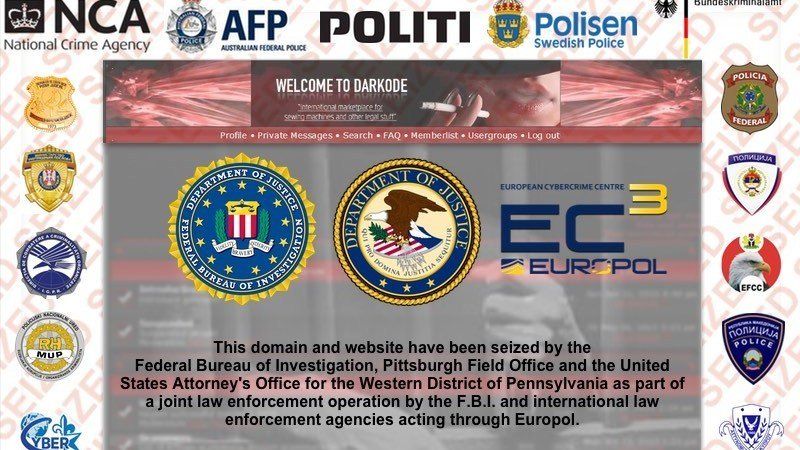 U.S. law enforcement, in coordination with more than a dozen international authorities, recently shut down Darkode—a secretive online bazaar for exploits, malware, botnets and stolen personal information, like credit cards.
"Of the roughly 800 criminal Internet forums worldwide, Darkode represented one of the gravest threats to the integrity of data on computers in the United States," said U.S. Attorney David Hickton.
It is not clear when authorities shut down the site. But on Wednesday, darkode.com displayed a notice saying that the FBI seized the domain. The operation which led to the takedown is believed to be the largest coordination of law enforcement directed at a criminal online forum.
The FBI covertly infiltrated the invitation-only platform, which had about 300 members, in an operation known as Shrouded Horizon, according to a bureau post. For nearly two years, agents gathered intelligence and collected evidence primarily against those "responsible for developing, distributing, facilitating, and supporting the most egregious and complex cybercriminal schemes." They especially took notice of those "targeting victims and financial systems around the world."
The investigation led to charges and the arrests of 62 Darkode members from around the world. The FBI worked in coordination with Europol, as well as Germany, the U.K., Romania, Bosnia, Serbia, India, Sweden, Denmark, and Colombia, to name a few. The U.S. indicted 12, including an administrator, and seized Darkode's domain and servers.
The administrator arrested, Johan Anders Gudmunds, created a large botnet of computers that stole personal information on approximately 200,000,000 occasions, according to federal documents.
"Cybercriminals should not have a safe haven to shop for the tools of their trade," said FBI Deputy Director Mark Giuliano. "Operation Shrouded Horizon shows we will do all we can to disrupt their unlawful activities."
After receiving an invitation from an active member, candidates would post a profile of themselves, which included past criminal activity, cyberskills, and what they had to contribute to the marketplace. Based on this information, other active members would decide whether to allow the candidate to join.
Besides buying and selling products and services, the FBI likened the forum to a "think tank for cybercriminals." Those charged are accused of crimes, such as conspiring to commit computer fraud, wire fraud and money laundering.
U.S. Takes Down 'Darkode,' a Massive 'Think Tank for Cybercriminals' | Tech & Science