A U.S.-Taliban 'Peace Deal' Is Progress. But It's Still a Formula for More War | Opinion
After over a year of slow, cumbersome and migraine-inducing talks, the United States and the Taliban are as close to an agreement as they have ever been. U.S. Secretary of State Mike Pompeo informed Afghan President Ashraf Ghani on Tuesday of the Taliban's proposal for a "significant and enduring reduction in violence." If the Taliban proves its commitment to reduce fighting over a weeklong test period, according to a New York Times report, U.S. troops will begin a gradual withdrawal from the country.
If the news is real—negotiations on Afghanistan have a habit of falling apart—this would be a huge step forward for the millions of Afghans who have experienced constant conflict over the past 40 years. Yet for the United States, a deal with the Taliban is a double-edged sword. Thousands of U.S. troops will likely remain in Afghanistan even after an agreement with the Taliban is reached.
Polls show the American people don't want a partial withdrawal, but a final end to a chapter that should have been closed long ago. Signing a deal with the Taliban, but maintaining a few thousand troops in Afghanistan until all parties in the conflict come to a consensus on how the nation should be governed, is a formula for more war.
Kabul would like nothing more than to have an indefinite U.S. presence in Afghanistan for obvious reasons. Independently planned and executed operations from the Afghan special forces decreased from 55 percent to 43 percent last year. The Afghans are still highly dependent on the United States for air cover and even more dependent on the international community for financial support. Without that support, it's highly plausible that Kabul's hold over the country's cities would erode as the Taliban accelerates its attacks and attempts to chip away at the government's control.
Pundits, analysts and ex-military commanders frequently talk about the negative consequences of a U.S. troop withdrawal. But rarely, if ever, do they focus on the costs of staying.
These high costs were seen this week, when President Donald Trump and Vice President Mike Pence flew to Dover Air Force Base in Delaware to salute the caskets of Sergeant Javier Jaguar Gutierrez and Sergeant Antonio Rey Rodriguez, two U.S. special operators killed last weekend by an assailant wearing an Afghan army uniform—the same army U.S. troops are supposed to train and advise at a price tag of over $4 billion a year. Gutierrez and Rodriguez mark the fifth and sixth American fatalities in Afghanistan since January, a number that will continue to rise so long as U.S. soldiers are deployed in the country.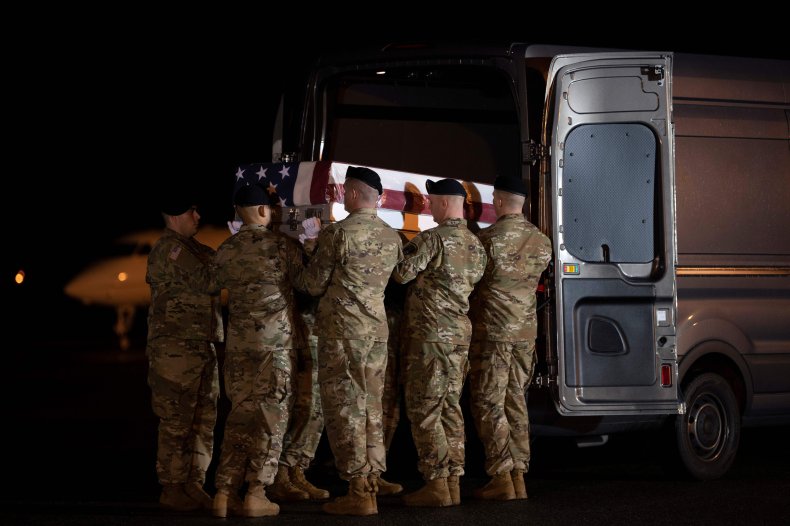 The costs can also be seen in the absurd logic that has underlined U.S. policy in Afghanistan since 2002, a logic that says building a professional national army, mentoring a functioning administration in Kabul and maintaining thousands of U.S. combat troops to hold the line for a feckless, corrupt government is essential to keeping the American people safe.
It's the same bungled logic that has prevented presidents across three consecutive administrations, including the current one, from doing the sensible thing and cutting the cord on a misadventure of epic proportions.
There are those who continue to assert that a U.S. troop withdrawal from Afghanistan would open the flood gates to a terrorist takeover of the country. What these same people conveniently fail to mention is that the United States is not the only country seeking to protect itself against Al-Qaeda or the Islamic State. Not a single nation—not Iran, Pakistan, Russia, India or the Central Asian states—has an interest in Afghanistan degenerating into a haven for transnational jihadis. These nations will adapt to the circumstances of a U.S. military exit and make their own security arrangements.
As retired Lieutenant Colonel Daniel Davis testified to the Senate Homeland Security and Government Relations Committee on Tuesday, "Withdrawal would encourage regional powers, like India, Pakistan, Iran or even Russia and China—with their own divergent interests—to expend resources to manage Afghanistan's problems rather than U.S. taxpayers and soldiers."
The best antidote to terrorism is not foreign boots on the ground but a sincere attempt by the people who live in the region to address the political, social and economic conditions that provide these groups with a lifeline. Political problems cannot be solved by occupations, bombing campaigns or endless security training missions that put American soldiers in highly vulnerable positions for years on end.
We should applaud any agreement that helps alleviate the war in Afghanistan. But let's be clear: The United States doesn't need a comprehensive, intra-Afghan political accord to remove its soldiers—some of whom are on their 10th deployment—from harm's way.
An exit can happen right now. All it takes is a president willing to make it happen.
Daniel R. DePetris is a fellow at Defense Priorities and a columnist at the Washington Examiner.
The views expressed in this article are the writer's own.