Talks brokered by the United States have resulted in a normalization of economic relations between Serbia and Kosovo in a deal that also saw both countries boost ties with Israel.
"A truly historic day, a very, very important day, especially in a beautiful part of the world," President Donald Trump announced while seated between Serbian President Aleksandar Vucic and Kosovo's Prime Minister Avdullah Hoti at the White House.
"Serbia and Kosovo have each committed to economic normalization," he added. "After a violent and tragic history and years of failed negotiations, my administration proposed a new way of bridging the divide. By focusing on job creation and economic growth, the two countries were able to reach a major breakthrough."
Serbia and Kosovo are both parts of the former socialist state of Yugoslavia, which collapsed in a violent series of conflicts fueled by nationalism, separatism and ethnic tensions.
Kosovo's autonomous legislature declared independence from Serbia in 2008 in a move that split the international community. Among the permanent members of the United Nations Security Council, France, the United Kingdom and the U.S. recognize the majority-Muslim region's independence, while China and Russia do not.
"I salute the signing of agreement b/w #Kosovo & #Serbia, today in Washington," Hashim Thaci tweeted Friday, thanking the White House, Trump and special envoy Richard Grenel "for their leadership in this process."
"Kosovo now will continue working on economic dev., jobs, and further domestic & int'l consolidation," he added.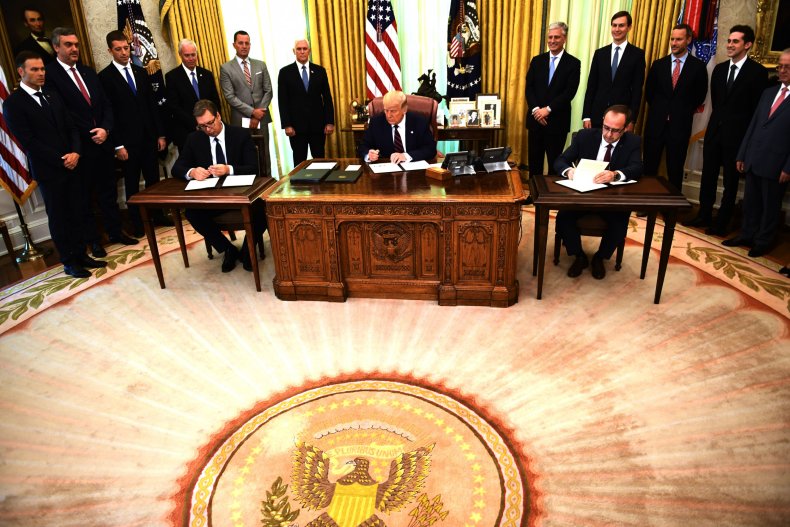 The Associated Press reported Friday that the rare agreement between Serbia and Kosovo also saw the latter recognize Israel for the first time and the former agree to move its embassy in Tel Aviv to the contested city of Jerusalem.
Trump confirmed Kosovo's recognition on Twitter.
"Another great day for peace with Middle East – Muslim-majority Kosovo and Israel have agreed to normalize ties and establish diplomatic relations," the president tweeted. "Well-done! More Islamic and Arab nations will follow soon!"
The Trump administration has pressed the international community to bolster its support for Israel, with which the White House has closely aligned its regional policy. Last month, the president unveiled a normalization of ties between Israel and the United Arab Emirates, which would be only the third Arab country to have ties with Israel following peace deals with Egypt in 1979 and Jordan in 1994.
Mauritania established relations in 1999 but withdrew them a decade later amid Israel's war in the Palestinian-administered Gaza Strip.
The long-running Israeli-Palestinian conflict that first erupted in 1948 continues to result in violence and unresolved territorial disputes. Among the major points of contention is the holy city of Jerusalem, once split between Israel and Jordan but occupied in its entirety by the former after a 1967 war involving Arab nations.
Both Israeli and Palestinian leadership view Jerusalem as their capital.
Trump's decision to move Washington's embassy to Jerusalem in 2018 was met with widespread condemnation at the U.N., which has regularly criticized Israel over its occupation of lands internationally recognized as Palestinian. U.N. actions targeting Israel have led the U.S. to criticize the international body and withdraw from some of its organizations.
Recognition of the two sides has also divided the international community. Of the 193 U.N. member states, 163 recognize the State of Israel and 138 recognize the State of Palestine. Currently, 97 countries have offered recognition of Kosovo, something Serbia said Serbia's Vucic said Friday was off the table.
The State of Israel and the Republic of Serbia are U.N. member states, the State of Palestine is a U.N. observer state and while Kosovo is neither, though it does participate in a number of international organizations.
This is a developing news story. More information will be added as it becomes available.