Trump Administration Targets ISIS Leaders With New U.S. Sanctions Over Chemical Weapons Used In Iraq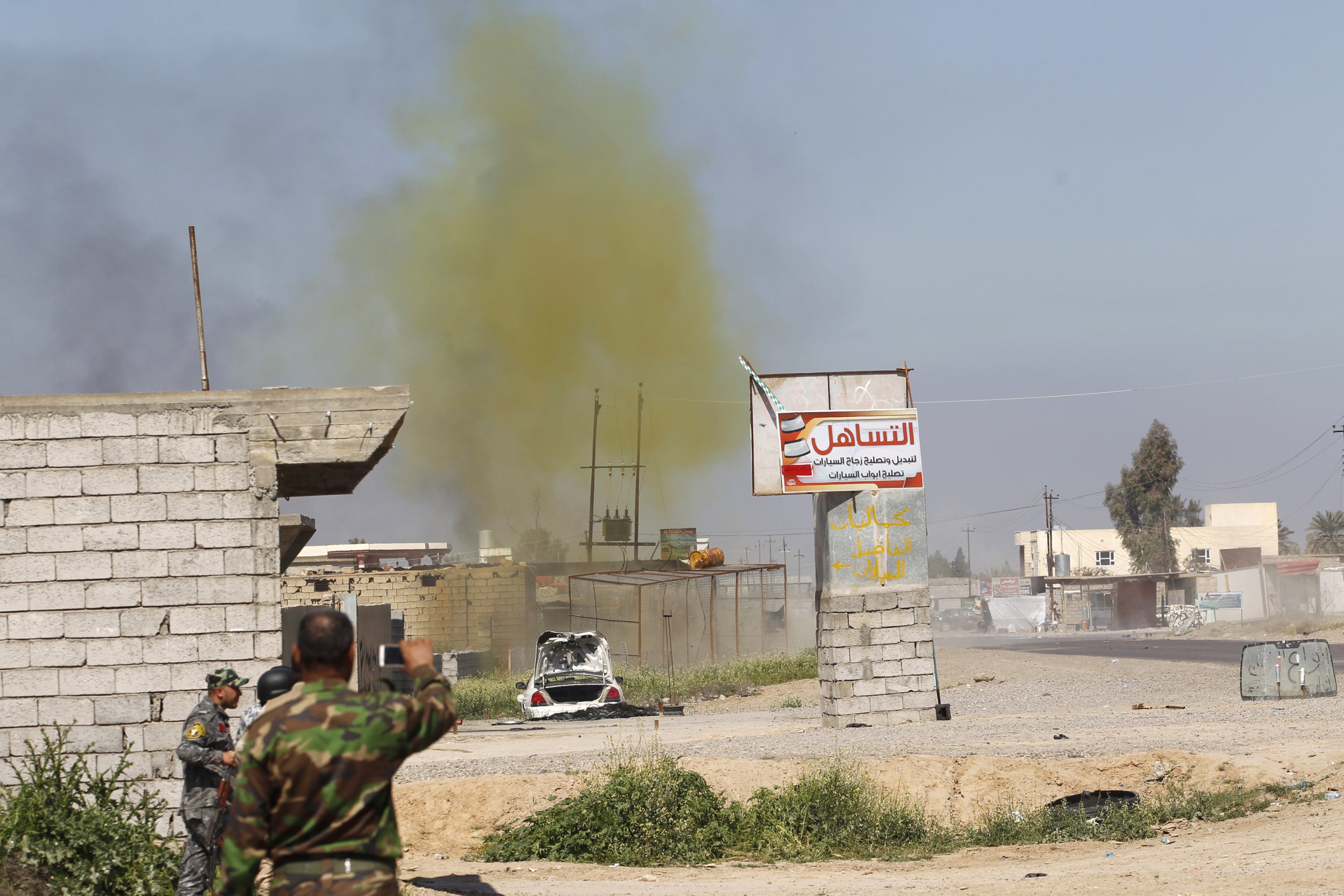 New U.S. sanctions were rolled out Monday against two individuals suspected of overseeing the financing, manufacturing and distribution of chemical weapons for the Islamic State militant group (ISIS).
The Treasury Department announced that the Office of Foreign Assets Control (OFAC) is aiming to block all of Attallah Salman 'Abd Kafi al-Jaburi's financial assets and property under Executive Order 13224, which was issued after the 9/11 attacks. The U.S. has accused Jaburi of being a "senior ISIS leader" involved with developing explosives and chemical weapons.
The statement also said the State Department has identified Marwan Ibrahim Hussayn Tah al-Azawi as "an Iraqi ISIS leader connected to ISIS' development of chemical weapons," which the hard-line Sunni Muslim militants have used against the Iraqi military and its allies, including U.S. soldiers.
Related: ISIS creating elite 'chemical weapons cell' in Syria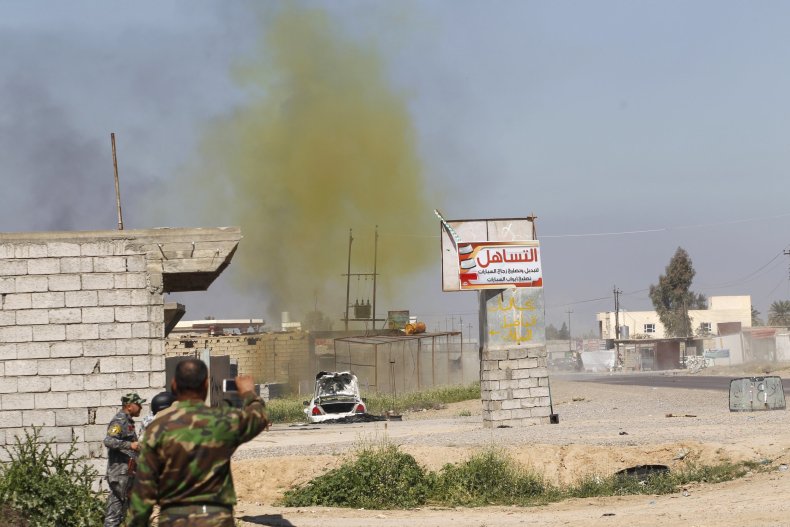 "Today's actions mark the first designations targeting individuals involved in ISIS' chemical weapons development," said OFAC Director John E. Smith, according to a press release. "Defeating ISIS is a top priority of this Administration, and today's action highlights why this group must be defeated. The Department of the Treasury condemns in the strongest possible terms the use of chemical weapons by any actor, and will leverage all available tools to target those complicit in their development, proliferation, or use."
Jaburi is thought to have joined Al-Qaeda in Iraq after the U.S. invaded the country and overthrew Iraqi President Saddam Hussein in 2003. He reportedly became an expert in weapons development during the jihadis' violent campaign against U.S. soldiers and the local Shiite Muslim community. He remained in the organization as it rebranded itself as the Islamic State of Iraq after a 2006 merger, and as ISIS after spreading to Syria in 2013.
Jaburi received chemical weapons training in Syria and returned to Iraq in 2015, according to Monday's report. By mid-2016, he had become head of ISIS's chemical weapons and explosives development in the Iraqi province of Kirkuk, where the militants retain some territory despite major losses nationwide.
A November 2016 report by leading U.K.-based security analyst group IHS Conflict Monitor found that ISIS had used chemical weapons at least 52 times in Iraq and Syria. Over a third of these attacks were said to have occurred in Mosul, Iraq, an ISIS stronghold currently being overrun by a coalition of forces that include the Iraqi military, Kurdish forces, majority-Shiite Muslim militias backed by Iran and a U.S.-led international coalition. The report found the highest threat to be exposure to chlorine and mustard agents, but it highlighted the possibility of ISIS weaponizing low-grade nuclear and radioactive facilities found in local hospitals.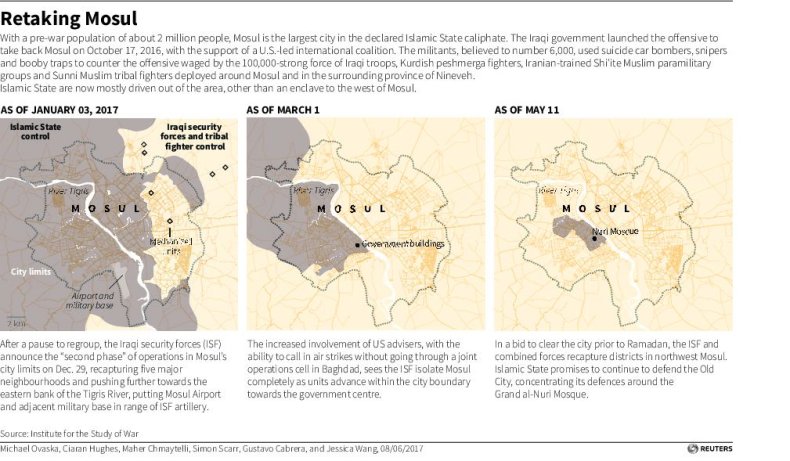 In April, ISIS militants sent over a dozen Iraqi soldiers to the hospital in a series of chemical weapons attacks in Mosul. The units that were struck included personnel from the U.S. and Australia, although no foreigners were reportedly injured. Earlier that month, President Donald Trump took an aggressive stance against the alleged use of chemical weapons when he accused Syrian President Bashar al-Assad of using a nerve agent against civilians in the rebel-held governorate of Idlib. While Assad and his Russian ally, President Vladimir Putin, strongly denied responsibility for the incident, Trump launched a barrage of cruise missiles on a Syrian air base and vowed to enforce a prohibition of the use of chemical weapons in combat.
Despite this stance, images spread by both pro-ISIS and anti-ISIS media appeared to show U.S.-led forces using white phosphorous munitions while storming ISIS's de facto capital of Raqqa in northern Syria. The reports about the possible chemical weapons remain unverified but have been spreading on social media and carried by major news outlets.
A New York Times article published Saturday cited Operation Inherent Resolve spokesman Colonel Ryan Dillon declining to discuss "specific munitions" but maintaining that "white phosphorus rounds are used for screening, obscuring and marking in a way that fully considers the possible incidental effects on civilians and civilian structures," according to international law.