U.S. Tells Russia and Iran Not to Attack in Syria, Conducts Major Military Drills
The U.S. military has conducted rare, large-scale exercises with allied Syrian rebels at a time when Washington was urging Russia and Iran to restrain their ally from pursuing a major operation against an Islamist-led insurgency elsewhere in the country.
Colonel Muhanad al-Talaa, commander of the Pentagon-sponsored Maghawir al-Thawra rebel group, told Reuters on Thursday that his forces had just completed the first training of its kind with the U.S. military, which oversaw saw hundreds of insurgents and U.S. troops participate in eight days of simulated assaults from land and air. He said the drills "have a big importance and have beefed up the defenses of the area and raised the combat capabilities and morale and that of civilians" in the U.S.-controlled deconfliction zone around Al-Tanf in southern Syria.
The CIA was forced to abandon its support for fighters seeking to depose Syrian President Bashar al-Assad, an ally of Russia and Iran, as the opposition's Islamist nature became increasingly prominent throughout the nation's seven-year civil war. The Pentagon, however, has continued to provide assistance for Maghawir al-Thawra, which operates in a U.S.-controlled de-confliction zone surrounding a base in Al-Tanf near Syria's southeastern border with Iraq and Jordan.
Talaa warned that the rebels "are staying whether the Russians or Iranians want or not." If Iranian or Iran-backed militias operating in support of Assad approached the restricted area, "there is a big likelihood they will be hit" by U.S. airstrikes, he added.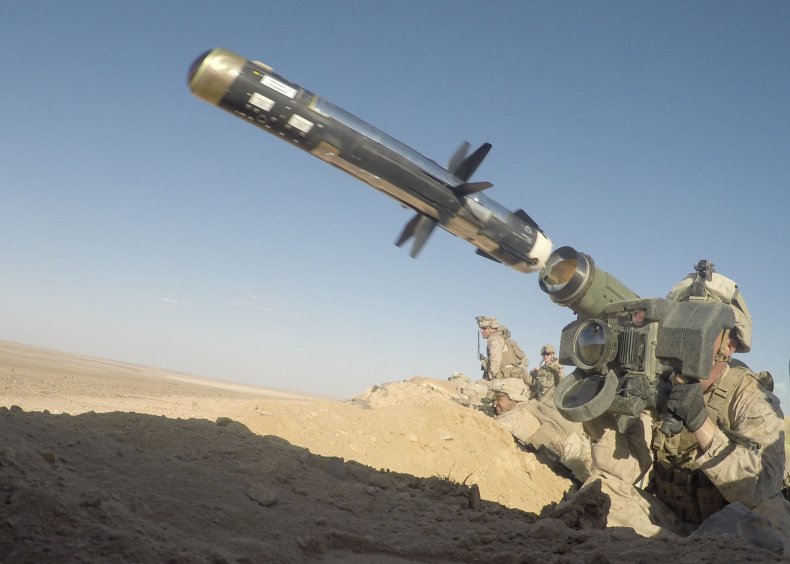 The U.S. has struck pro-Syrian government fighters accused of approaching Al-Tanf on several occasions and called on Iran to withdraw support for various, mostly Shiite Muslims it supports in the country. President Donald Trump has established a working relationship with Assad's other ally, Russia—with which the Pentagon maintains a deconfliction line reportedly used during this past week's drills—but criticized Moscow for allowing a man that the West has accused of war crimes remain in power. Russia, Iran and Syria have also accused the U.S. of using the Al-Tanf base to protect jihadis, something it has denied.
Tensions between the U.S. and Russia have grown over the situation in Syria in past weeks. Russian and Iranian support allowed the Syrian military to retake large stretches of the country once held by insurgents and jihadis, whose last major refuge was the northwestern province of Idlib. Sandwiched between Turkish-backed rebels and the Syrian military, up to 3 million people—including the jihadi coalition of Hayat Tahrir al-Sham that dominates the province—await a potential government attack.
Washington has claimed that the Syrian government had greenlighted the use of chemical weapons in an upcoming offensive to retake Idlib, while Moscow argued that Western powers were conspiring to stage a toxic gas attack to justify international intervention. The U.S. has responded to alleged chemical incidents with military action and already begun planning a new attack with France and the U.K. Meanwhile, the U.S. Ambassador to the United Nations Nikki Haley warned that her government would "consider any assault on Idlib to be a reckless escalation of the conflict," even if chemical weapons were not used.
The U.N. itself has also highlighted the need to avoid civilian casualties in Idlib, while also acknowledging the threat of militant groups operating there as well. Turkey has attempted to negotiate a ceasefire in order to separate what it saw as moderate opposition fighters from jihadi groups, but Russia and Iran have grown frustrated with what they see as a U.S. attempt to interfere in Syria's sovereign affairs.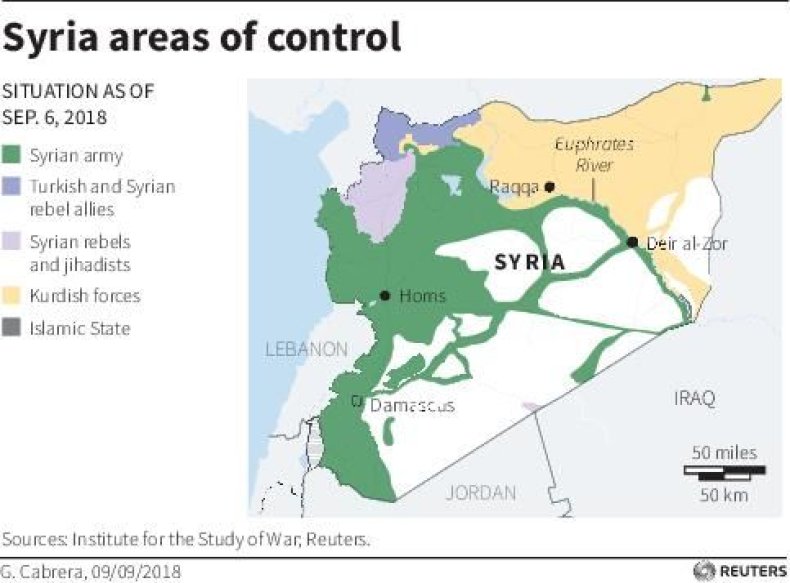 While a cautious calm surrounded Idlib on Thursday as Turkey tried to stave off an anticipated Syrian military assault, Russian Foreign Ministry spokesperson Maria Zakharova criticized U.S. threats against Assad and his government, noting the drills in the Al-Tanf, where the U.S. was "illegally located in the territory of Syria."
"We see in the event surrounding Syria an attempt by the Americans to work out a new mechanism for ensuring their own world domination. The essence is to create a shock coalition of the leading Western powers in order to demonstrate the strength and attitude to provide a military solution to the problems that arise in this or that part of the world," Zakharova told journalists at a press briefing, noting that such a move undermined the U.N. charter.
"In our deep conviction, this approach, capable of putting the world on the brink of a precipice, is a dangerous challenge not only for Syria. It must be confronted in the most determined manner, combining the efforts of all sensible members of the international community," she added.