U.S. Tells Russia to Uphold North Korea Sanctions Amid Reports Moscow's Letting Hundreds of Workers In
The U.S. is calling on Russia to "fully implement" sanctions on North Korea after reports that Moscow is still opening its borders to workers from the rogue state.
The controversial policy has allowed the Kremlin to bring in thousands of North Korean laborers to fill low-paid jobs, particularly in the far-eastern parts of the country. A new sanctions package agreed to at the U.N. last year obligated the United States, Russia and China to further restrict their trade and cooperation with the regime. The State Department has doubled down on demands that Russia stick to the sanctions, after a new report in The Wall Street Journal claimed Moscow is still issuing work permits to North Korean workers.
"It's absolutely clear that Russia needs to do more," a State Department spokesperson told Reuters. "Russia says it wants better relations with the United States, so Moscow should prove that by cooperating with us, not working against us, on this urgent threat to all nations."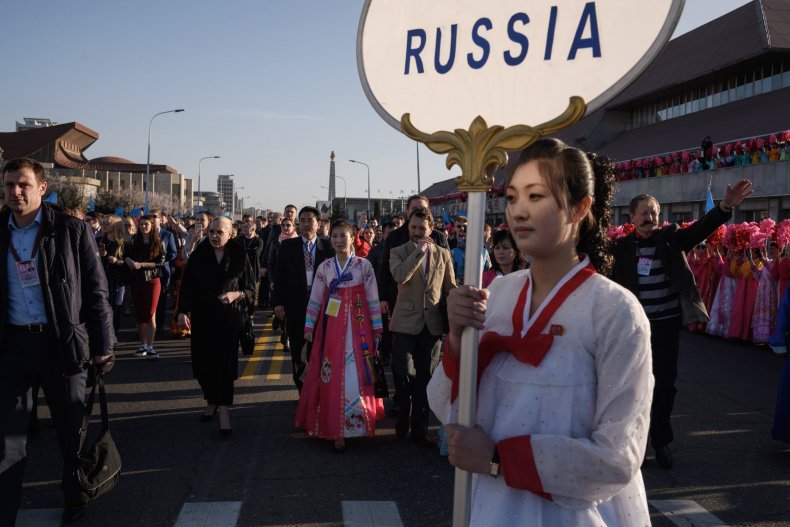 As recently as February, Russia's ambassador to North Korea, Alexander Matsegora, said that Moscow had begun deporting the foreign workers in compliance with the U.N. sanctions. At the time, he admitted Russia was not entirely enthusiastic about the policy, calling it "a serious hit" to the Russian economy, especially in the far east, where he estimated 12,000 North Koreans had settled.
Since September, when countries first implemented the sanctions, Russia has reportedly registered 10,000 new North Korean workers, the Journal reported, citing records from the Russian Interior Ministry. According to the records, authorities issued 700 of the new work permits this year.
"It is estimated that North Korean laborers in Russia send between $150 million and $300 million annually to Pyongyang," the State Department spokesperson added. "Now is the time for Russia to take action. Moscow should immediately and fully implement all the U.N. sanctions that it has signed on to."
The Russian government has denied the conclusions of the report. Matsegora told the Russian Interfax news agency on Friday that "Russia is not accepting a single new North Korean worker."
"Our colleagues from the U.S. learned that we have 3,500 new work permits submitted and determined that we are bringing new workers in Russia. In reality, these 3,500 permits are of those workers who are already in Russia on contracts struck before November 29, 2017," he said.
Related: Putin's United Russia party is nearing record-low popularity and here is why
This is not the first occasion U.S. officials have cast doubt on Russia's commitment to the North Korea sanctions. President Donald Trump himself said in January that "Russia is not helping us at all with North Korea."
"What China is helping us with, Russia is denting. In other words, Russia is making up for some of what China is doing," he added.
This story has been updated with a response from a representative of the Russian government.