The Northwest is experiencing record-breaking temperatures amid an unprecedented heatwave in Oregon and Washington.
As summers are typically mild in the Washington and Oregon area, many houses do not have air conditioning. As a result, residents are coping with the heat by covering their windows with blankets.
According to the U.S. Census Bureau's most recent American Housing Survey from 2019, Seattle is the least air-conditioned city in a comparison of the top 15 metro areas included in the survey, with only 44 percent of homes having AC installed.
To cope with the lack of air conditioning, Portland has opened three cooling centers on Monday that will remain functional until this morning.
The heatwave is also impacting travel in Portland. On Sunday, the Portland Streetcar said the heat had melted a power cable, leading to canceled services until Tuesday morning. The Portland Bureau of Transportation closed roads on Tuesday after the heat had caused the concrete in the streets to buckle.
Additionally, ahead of the July 4 weekend, the Portland Fire and Rescue Department has issued a ban on fireworks due to the hot temperatures and dry conditions.
The National Weather Service says that the interior Northwest and Northern Rockies will continue experiencing an unprecedented heatwave today. However, the temperatures have peaked for most places and the Portland/Seattle urban corridor saw some relief with a cold front overnight.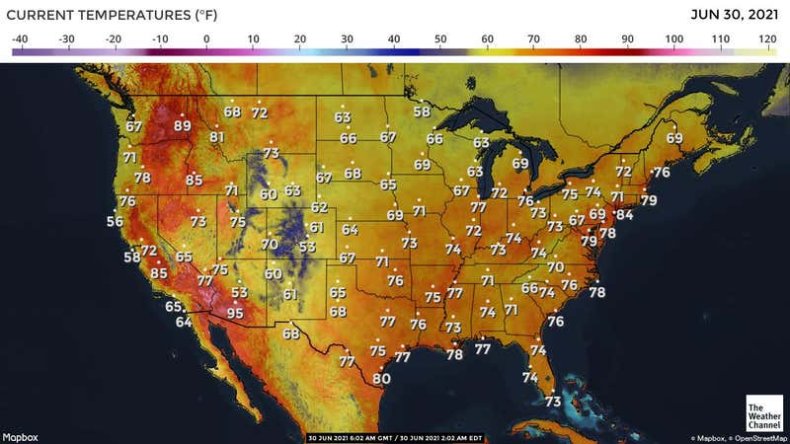 The hottest temperatures have now shifted into eastern Washington and Oregon and western Idaho. The stagnant upper-level high pressure in place over the region will shift to the east over the next couple of days, with highs approaching 110 F likely on Wednesday but closer to 100 F on Thursday.
Excessive heat warnings remain in effect in the area and an excessive heat watch is in place over eastern Montana for Thursday as the heat shifts to the east with the upper-level high.
The National Weather Services urges those affected by the heatwave to stay safe by staying out of the sun, wearing light clothing, and drinking plenty of fluids. It also warns that young children and pets should never be left unattended in vehicles.
Additionally, the National Weather Service encourages people who work or spend time outdoors to take extra precautions, such as rescheduling strenuous activities to the early morning or evening.
It is also important to know the signs and symptoms of heat exhaustion and heat stroke and be aware that heat stroke is an emergency and that they should call 911 if someone is affected.