U.S Tourists Held In Thailand After Baring Their Naked Butts To Famous Temple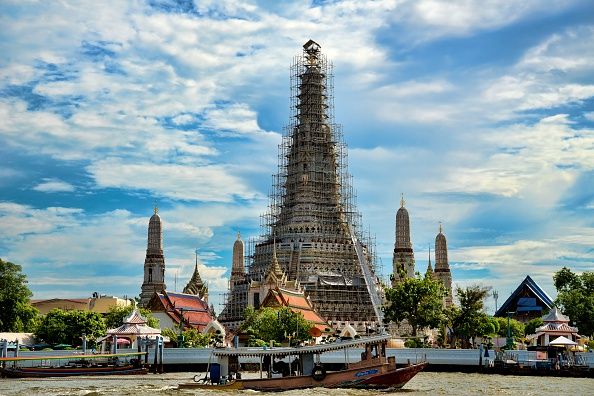 What a bummer.
A couple from the U.S is being held in Thailand after posting a photo mooning a famous temple on social media.
The pair had taken a photo in front of Bangkok's famous Wat Arun Temple and posted it on Twitter and Instagram. Authorities identified the pair as Joseph Dasilva, 38, and Travis Dasilva, 36, who were later picked up an airport in the capital, Bangkok. The two will be fined roughly $150 and deported, BBC reported.
Col Choengron Rimpadee, deputy spokesman of the Thai immigration police, told BBC the two had been on a watch-list after authorities had found the cheeky social media post.
"Once they are through with the charges, the Thai immigration police will revoke their visas and push for deportation," he said. "They will also be blacklisted from coming back to Thailand."
The couple had an Instagram account called traveling_butts which showcased similar selfies taken at tourists sites around the world. The account had more than 14,000 followers, but the account was deleted after the pair was fined.
Thailand is known for its racy nightlife, but the Buddhist country is very conservative. Revealing clothing is frowned upon and public nudity is considered offensive. People visiting Buddhist sites in Thailand are expected to dress modestly and signs advise them to cover their shoulders and legs. Insulting the King, or even joking about him, is a serious crime.
The city of San Diego, hometown to the tushy tourists, said it may help, the San Diego Gay and Lesbian News reported.
"Though I am very disappointed in their actions, I am talking to US government officials to see what assistance we can give them," San Diego commissioner Nicole Murray-Ramirez told the publication.
This isn't the first incident a tourist was arrested for public nudity in front of sacred monuments. Two sisters from the U.S. were deported from Cambodia in 2015 after taking nude photos inside the country's Angkor Wat temple complex, a religious and a significant spiritual site.
Lindsey Adams, 22, and her sister Leslie, 20, from Prescott, Arizona received a six month suspended sentence and a fine of 1 million riels ($250). The pair were banned from entering the country for four years.