U.S. On Track to Get Slammed by 2 Separate Tropical Systems Early Next Week
States bordering the Gulf of Mexico could see a double whammy of hurricanes within hours of each other early next week—and the cone paths range from southern Texas to the Florida Keys, and almost everywhere in between.
Going into Thursday night, there were two tropical depressions gaining steam in two different bodies of water, but both look like they have intentions on making landfall in the United States.
Tropical Depression 13 (T.D. 13) is churning in the Atlantic Ocean, but it's heading in a west by northwestern track. Its cone has it making landfall in perhaps the Florida Keys, or the Greater Miami area, sometime Monday evening.
T.D. 14 has formed in the Caribbean Sea, and it has matured more quickly. It currently threatens the Central American countries of Nicaragua and El Salvador, and tropical storm watches have already been issued.
T.D. 14 is expected to turn north and pass over Mexico's Yucatan Peninsula, and then build strength into a high-level tropical storm, and potentially gain enough strength to become a Category 1 or 2 hurricane. Its final path as of Thursday night has it making landfall around Galveston Bay in Texas—on Tuesday, the 3-year anniversary of Hurricane Harvey, which devastated the Texas coast.
Should they become named storms, the next names available would be "Laura" and "Marco." To become a named system, it must reach sustained wind speeds of at least 39 mph, in which it becomes a tropical storm. As storms move over warm waters of the Caribbean Sea and the Gulf of Mexico, they usually become more powerful. Once they reach wind speeds of 74 mph, that's when it becomes a Category 1 hurricane. It becomes a Category 2 hurricane at 96 mph.
2020 has already been a record-setting year for named storms. This year saw nine named tropical systems before August 1, which had never been done in recorded history. Two of those became hurricanes (Hanna and Isaias), while the others remained tropical storms.
Tropical Storms Josephine and Kyle have since developed in August, but neither posed a real threat to the U.S. mainland. Kyle became the earliest 'K' storm, beating Katrina of 2005 by 10 days.
Should T.D. 13 and 14 become named storms, as expected, then they'll certainly add to the record-breaking year.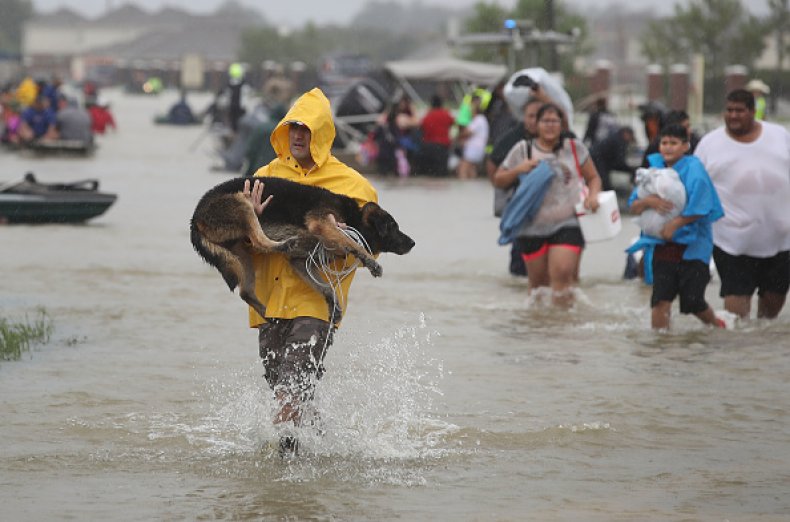 Hurricane Harvey in 2017 formed as a tropical depression, and soon became a tropical storm. Though meteorologists predicted Harvey to make landfall as a Category 1 hurricane, it quickly developed into a Category 4 storm, thrashing the Texas coastal bend just north of Corpus Christi and leveling a few small towns.
Harvey eventually made its way to Houston, where it meandered over the Bayou City for two days, dropping 52 inches of rain in some places.
Harvey made landfall in Texas on August 25, 2017. Should T.D. 14 follow its projected path, it will also make landfall on August 25, this time in the Galveston-Houston region of the coast.