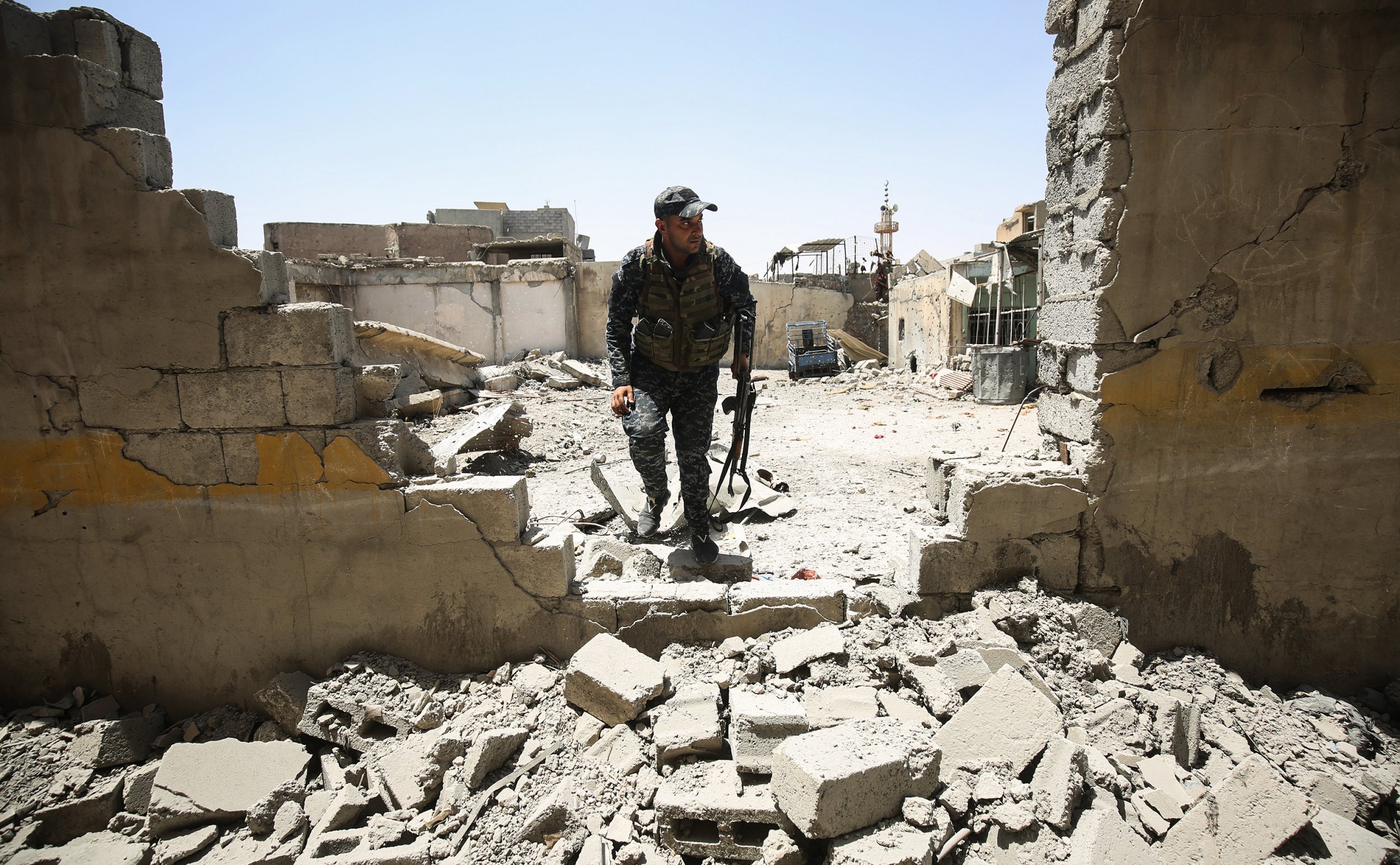 A U.S.-trained Iraqi military unit committed "war crimes" in Mosul during the battle to liberate the city from the Islamic State militant group (ISIS), Human Rights Watch said Thursday.
The group said two international observers alleged that the unit, the 16th Division of the Iraqi army, summarily killed four people in mid-July. The observers also alleged they had evidence of other executions, including one case involving a boy. The group did not provide an age.
In the case of the four people, the observers said they saw soldiers walk the men, who were naked, into an alleyway, after which they heard gunshots. Soldiers said the four were members of ISIS, but the observers said they had heard no clashes in the area. One of the observers returned the next day and captured images of three of the bodies, which were shared with Human Rights Watch.
The U.S. military's 82nd Airborne Division has previously provided training to the unit, and led it in the western Iraqi city of Ramadi, which Iraqi troops recaptured in December 2015. It remains unclear if the division still trains the unit, but, with the force operating inside Mosul, it is likely that there was some form of coordination during the battle for the city.
"The U.S. government should make sure it is no longer providing assistance to the Iraqi unit responsible for this spate of executions but also suspend any plans for future assistance until these atrocities have been properly investigated," said Sarah Leah Whitson, Middle East director at Human Rights Watch.
"Given the widespread abuses by Iraqi forces and the government's abysmal record on accountability, the U.S. should take a hard look at its involvement with Iraqi forces."
The battle for Mosul lasted nine months and forced hundreds of civilians to flee ISIS's brutal rule, an Iraqi ground offensive and U.S.-led coalition airstrikes.
Aside from ISIS's barbaric treatment of civilians and opponents in the city, rights groups have criticized the U.S.-led coalition for its bombing campaign, which left hundreds of civilians dead in the Iraqi city.
They have also taken aim at the Iraqi forces, accusing them of severe human rights abuses, particularly against Sunni civilians and suspected members of ISIS attempting to flee the city.
The Iraqi security forces are dominated by Shiite members and are aided by Shiite militias such as the feared Hash'd al-Shaabi, whose members have been accused of torturing and executing Sunnis.
ISIS's capture of Mosul, a Sunni-majority city, came after disaffected Sunni Iraqi security forces put down their weapons and deserted their positions amid the jihadi group's advance.
The threat of further sectarian tensions in and around the city and the liberated Sunni lands of northern Iraq will raise fears among Baghdad's partners that security could again be severely threatened, despite the defeat of ISIS in Mosul.