The U.S. Treasury Department announced Wednesday that it will auction off 3 and 10-year notes and a 30-year bond in order to raise $126 billion and keep the government from reaching the debt ceiling.
The government's debt ceiling went back into effect on August 1 at $28.4 trillion after being suspended for two years.
The Treasury is taking what it calls "extraordinary measures" in order to free up more borrowing room while remaining under the debt limit and avoid default.
"The period of time that extraordinary measures may last is subject to considerable uncertainty due to a variety of factors ... exacerbated by the heightened uncertainty in payments and receipts related to the economic impact of the pandemic," Brian Smith, Treasury deputy assistant secretary for federal finance, told the Associated Press in a statement.
For more reporting from the Associated Press, see below: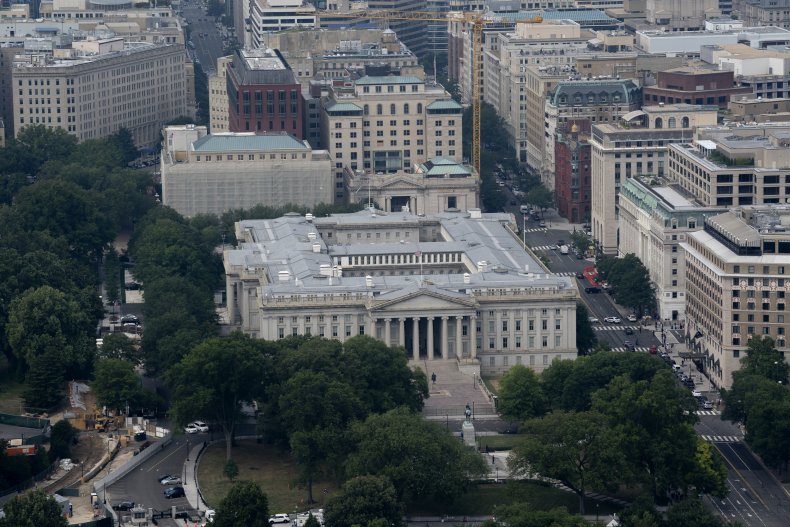 The Treasury is hoping the auctions, held Tuesday and Wednesday, will raise money to meet debt-servicing requirements on $58.6 billion in Treasury notes and bonds that are coming due plus raising approximately $67.4 billion in new cash to keep the government operating.
The emergency measures the Treasury is employing involve book-keeping maneuvers to disinvest various government employee pensions funds. Once the deadlock over approving a higher debt limit is resolved the funds are returned along with all the interest lost to the various accounts.
Treasury Secretary Janet Yellen has called on Congress to quickly lift or suspend the borrowing limit to avoid the threat of the government defaulting on its debt, something Yellen has said would be "catastrophic."
The Congressional Budget Office estimated in July that Treasury could exhaust its maneuvering room in either October or November. The need to deal with the debt limit is likely to become embroiled in the fight between Democrats and Republicans over passage of pending infrastructure bills.
Senate Minority Leader Mitch McConnell, R-Ky., said on July 21 that he doubted that any Republican would vote to increase the debt limit.