U.S. Troops Dance and Play With Victims of Agent Orange, Toxic Chemical the U.S. Dumped on Vietnam
American sailors from the U.S. Navy supercarrier, the USS Carl Vinson, visited a Vietnamese shelter on Wednesday to meet people suffering from the effects of Agent Orange, a toxic chemical the U.S. dumped on Vietnam during the war there.
Sailors made incense sticks and plastic flowers and danced with the children in the shelter, many of whom have severe disabilities as a result of the chemical. The Vietnamese Association of Victims of Agent Orange, an organization based in Hanoi, estimates that almost 5 million people were exposed to the chemical, which the U.S. army used to burn foliage used by the enemies to take cover. Of the 4.8 million affected, nearly 3 million people in the country of almost 93 million inhabitants are suffering from the effects of Agent Orange, according to the organization.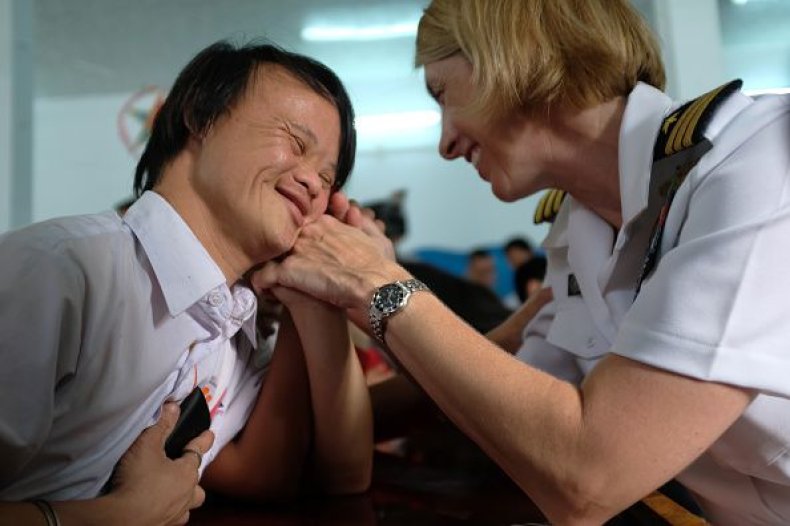 The U.S. forces sprayed over 20 million gallons of chemicals like Agent Orange, which was originally designed as an herbicide, on Vietnam, Cambodia and Laos from the early 1960s to early 1970s. It was later discovered that it causes serious health problems, including birth defects in children whose parents had been exposed. The chemicals can also cause long-term psychological and neurological problems.
Almost 60,000 Americans died fighting the war. Vietnam, meanwhile, lost almost 3 million people, around 2 million of whom were civilians.
In the years since the war, the U.S. relationship with Vietnam—which is still ruled by an ostensibly communist government—has improved greatly, especially in the realms of trade and security. China's incursions into the South China Sea have motivated Hanoi to seek more security cooperation with the U.S., which works to temper Beijing's claims over the disputed waters.
On Monday, the U.S. aircraft carrier the USS Carl Vinson landed in Danang, Vietnam, marking the largest U.S. military presence in the country since the war ended. The vessel has a crew of around 6,700 people and is sometimes described as a floating city.
The show of U.S. naval power in the region will demonstrate to China that Washington and Hanoi are looking to boost their military cooperation in the South China Sea, experts noted.