U.S. Troops Say They Face Being Discharged for Refusing Vaccine in Viral Videos
U.S. service members are filming videos saying they face being discharged for refusing to comply with vaccine mandates.
Each military branch has released its own deadline for personnel to get fully vaccinated against COVID-19.
Active duty members of the Air Force have until November 2, while Air National Guard and Reserve personnel have until December 2. The Navy's deadline for active duty personnel is November 28, and Reserve personnel have until December 28.
The Army has said active duty soldiers who don't get vaccinated by December 15 could be discharged. Reserve and National Guard units are expected to be fully vaccinated by June 30, 2022.
As the deadlines loom, several videos compiling clips of service members talking about how they risk disciplinary action for not getting the COVID-19 vaccine have gone viral on TikTok and Twitter.
They following a similar formula, with the service members saying their names, ranks, how long thy have served in the military and where they have been deployed.
They end by saying they will "potentially be discharged" for not getting a COVID-19 vaccine.
In one video, a service member says they're a corporal in the U.S. Marine Corps who has "served honorably" for three years and four months.
"I will continue to do so," he adds. "I have been to California and deployed overseas. In fulfilling my duties, I have been a satellite communications operator. I will potentially be discharged for not receiving a COVID-19 vaccine."
In another, a soldier says they are awaiting approval for a religious exemption to the vaccine mandate.
"I'm a specialist in the United States Army," he says. "I am currently stationed at Fort Eustis Virginia as an 88 kilo watercraft operator. Due to the new order of the COVID-19 vaccine, I will potentially face separation from the United States Army and I'm currently pending a religious exemption."
Another service member identifies himself as a petty officer, third class, in the U.S. Navy.
"I've been serving honorably for exactly two years and I will continue to do so," he says. "I've been stationed at Naval Air Station, Pensacola, Florida, and I'm currently stationed at Naval Air Station North Island in Coronado, California.
"In fulfiling my duties. I've been assigned to be a lead junior sailor in our mentorship and training program, and I take great pride in doing so, I will potentially be discharged for denying the COVID-19 vaccine."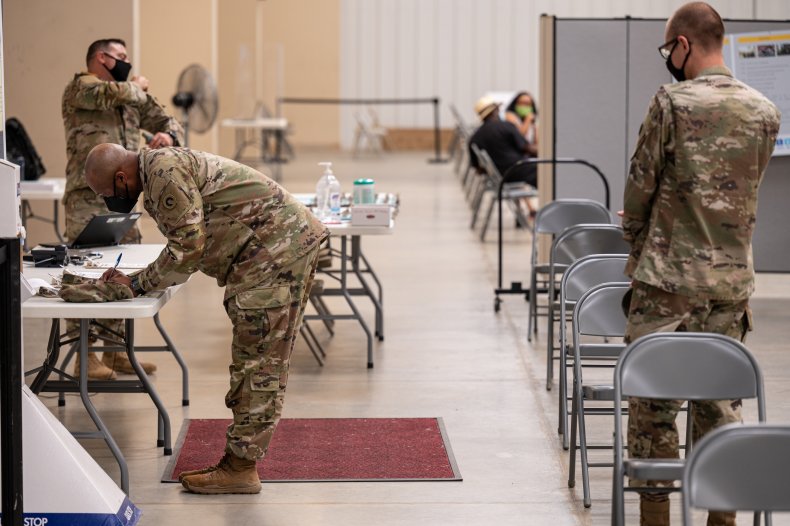 The Pentagon added the COVID-19 vaccine to the list of mandatory shots required for service members after the U.S. Food and Drug Administration gave full approval to Pfizer's vaccine.
"After careful consultation with medical experts and military leadership, and with the support of the President, I have determined that mandatory vaccination against coronavirus disease 2019 (COVID-19) is necessary to protect the Force and defend the American people," Secretary of Defense Lloyd J. Austin III wrote in a memo in late August, following a spike in virus-related deaths in the military driven by the more contagious Delta variant.
More than 1.383 million service members are fully vaccinated as of October 13, while more than 338,000 have gotten at least one shot, according to Pentagon data.
Service members can seek exemptions for various reasons including religious beliefs and health issues. The exemptions can be temporary or permanent.