U.S. Troops Drank all the Beer in Reykjavík During a NATO Military Exercise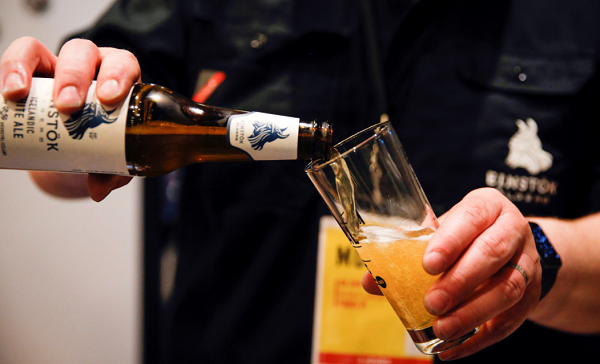 More than 6,000 U.S. soldiers stationed in Iceland nearly wiped out the capital city's beer supply.
Military personnel are headed to Sweden and Finland for the Trident Juncture 18—considered to be NATO's biggest military exercise since the Cold War. U.S. troops made a pit stop in Reykjavík over the weekend and drank up all the beer at various bars and restaurants across the city, according to Icelandic news site Vísir. Local breweries were reportedly forced to send emergency barrels to bars depleted of their beer supplies while tending to American soldiers.
Some bar and restaurant owners told local news media on Sunday U.S. troops were particularly interested in drinking the local lager as opposed to imported beer. Gull, created by the Iceland brewery Ölgerð Egils Skallagrímssonar, was especially popular with visiting military members. The brewery was one of many that had to send an emergency supply of beers to bars in Reykjavík.
Around 50,000 soldiers across all of NATO's 29 members, including alliance partners Sweden and Finland, are expected to participate in the Trident Juncture. Drills will include roughly 65 naval ships, 10,000 vehicles and 250 aircraft.
Secretary-General Jens Stoltenberg said the "ambitious and demanding" exercise was intended to send "a clear message" to residents within NATO nations as well as opposing countries. "NATO does not seek confrontation, but we stand ready to defend all allies against any threat," Stoltenberg told Radio Free Europe on Wednesday.
The secretary-general also noted the two-week event would represent a "strong display of our capabilities and our resolve to work together."
The exercise comes following President Donald Trump's intention to withdraw from the Intermediate-Range Nuclear Forces Treaty (INF), which was originally signed by President Ronald Regan and General Secretary Mikhail Gorbachev of the former Soviet Union in 1987. Trump recently said Russia "violated the agreement."
"They have been violating it for many years," Trump said at his Nevada rally on October 20. "And we're not going to let them violate a nuclear agreement and go out and do weapons and we're not allowed to."
Correction: This article has been updated to reflect the number of NATO soldiers taking part in the drills.