With U.S. Troops Leaving Afghanistan, Iran's New Leader Sends Message to Syria, Region
As the last of the U.S. military presence in Afghanistan was set to depart, Iran's recently sworn-in president sent his new top diplomat to Iraq and Syria to send a message of Tehran's enduring commitment and to discuss recent events in the region.
Iranian Foreign Minister Hossein Amir-Abdollahian met Sunday with Syrian President Bashar al-Assad in Damascus to "discuss issues of mutual interest," according to a readout shared the following day by the Iranian Foreign Ministry. Among the topics Amir-Abdollahian discussed was "cooperation between the two countries in the economic field, emphasizing the need to activate the Joint Commission on Economic Cooperation and other existing mechanisms in this field."
Both countries have been beset by U.S. sanctions and have sought to channel their existing partnership, emboldened by Iran's support for Assad over the course of his nation's decade-long civil war, to translate into greater economic and trade ties.
Assad's office also referenced these efforts, saying Sunday that the pair "discussed steps taken by the two countries to enhance bilateral cooperation with the aim of reaching a higher level of partnerships at various levels, especially in the economic and commercial field, in a way that would enable the two peoples to continue facing the repercussions of the blockade and sanctions imposed on the two countries as a result of their adherence to their sovereignty and the independence of their decisions."
The talk touched upon the situation in Afghanistan as well, where an attack conducted just two days earlier by the Islamic State militant group's Khorasan province affiliate (ISIS-K) killed 13 U.S. troops and up to 170 others, mostly Afghans, during an excruciating evacuation of tens of thousands of people at Kabul's international airport.
"The meeting also dealt with the latest regional and international developments, especially the situation in Afghanistan and its repercussions on the region's security and stability in general," the Syrian presidency's office said.
Affiliates of ISIS, which originated in Iraq, and Al-Qaeda, which originated in Afghanistan, have established a presence in Syria, joining the ranks of insurgents seeking to topple Assad.
But Iran has blamed Washington and its allies and partners from outside the region of stirring unrest in all three countries through their military interventions over the past two decades.
"The region is a victim of the interventions of 'beyond-regional countries' and their presence is a source of tension and unrest," Shahrokh Nazemi, head of the media office at Iran's permanent mission to the United Nations, recently told Newsweek ahead of Amir-Abdollahian's Middle East tour.
"The people of Syria do not accept the continued violation of their country's sovereignty," he added.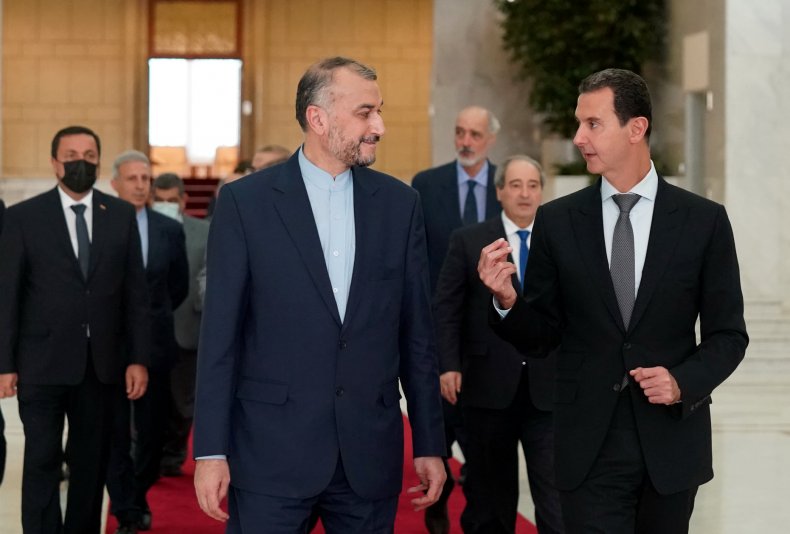 This message was also reiterated Sunday during Amir-Abdollahian's meeting with his Syrian counterpart, Faisal al-Mekdad, with whom he "agreed upon rejecting any illegal military presence in Syria, rejecting unilateral coercive economic measures imposed on the peoples of the two countries, and supporting Iran's position regarding rejecting Western attempts to interfere in its affairs, as well as with regard to negotiations related to the Iranian nuclear file," according to the Syrian Foreign Ministry.
While the U.S. and European allies have tied sanctions against Syria to allegations of human rights abuses stemming from the ongoing conflict in the country, the measures taken against Iran have been linked to the country's nuclear program, which Tehran has always claimed was not intended to produce a bomb. A 2015 deal reached by Iran, the U.S. and major world powers lifted sanctions, but former President Donald Trump abandoned the accord in 2018 and began instituting tough restrictions against the Islamic Republic.
President Joe Biden has vowed to reenter the agreement, and his officials have engaged indirectly with Iranian diplomats and directly with those of other remaining parties to the deal through successive rounds of discussions in the Austrian capital of Vienna. The process has paused, however, since shortly after Iran's presidential election that saw then-Chief Justice Ebrahim Raisi win a landslide victory.
While Raisi has vowed to continue efforts to come back into compliance with the nuclear deal by reinstating nuclear enrichment caps suspended in responseto the non-compliance of Western parties, he has emphasized that building regional relations would be a foreign policy priority of his administration. So far, he's gotten off to an early start.
Prior to arriving in Damascus, Amir-Abdollahian was sent to Baghdad to attend a rare gathering of senior officials that included the heads of state of Egypt, France, Iraq, Jordan and Qatar, the heads of government of Kuwait and the United Arab Emirates and the foreign ministers of Iran, Saudi Arabia and Turkey.
The presence of Tehran and Riyadh's top diplomats was especially notable as the two regional powers severed ties in 2016 and, despite quiet talks that began earlier this year under former Iranian President Hassan Rouhani, officials from both sides have remained elusive about rapprochement efforts.
At the summit, Amir-Abdollahian delivered a speech in which he praised Iraq's stabilizing role in the region and accused the U.S. of threatening this stability through the killing of Iranian Revolutionary Guard Quds Force commander Major General Qassem Soleimani and Iraqi Popular Mobilization Force deputy chief Abu Mahdi al-Muhandis.
"Not only did the U.S. not bring peace and security to the people of this region," Amir-Abdollahian said, "but it is the main cause of insecurity, and this is clearly visible in many countries in the region."
And he made special mention of Syria.
"Here, I would like to emphasize the role and support of regional nations in stabilizing and resorting security to Iraq including the friendly and brotherly country of the Syrian Arab Republic," Amir-Abdollahian added. "I would like to express regret that Syria is not attending this summit."
As for the other countries in the region, he emphasized the Raisi administration's message of dialogue and bridge-building.
"Iran considers cooperation within the region as the basis for establishing stability and peace in this way," Amir-Abdollahian said. "The Islamic Republic of Iran, emphasizing the important role of other countries in the region, declares its readiness to advance these goals."
"With great pleasure," he added, "I declare, at the inauguration of Iran's new government, that our foreign policy, being 'balanced, active and smart,' emphasizes the priority of relations with neighbors and other countries in the region, and we warmly shake hands with all neighboring and regional nations."
Iran has also expressed opposition to outside interference in neighboring Afghanistan, where the Taliban has managed to regain control after 20 years amid a peace deal with the U.S. and subsequent U.S. military exit that officially concluded Monday, or early Tuesday local time.
Iranian Foreign Ministry spokesperson Saeed Khatibzadeh told reporters earlier Monday that, when it comes to Afghanistan's future, Iran wanted "Afghans to decide for themselves and no foreign force should decide for them," according to a government readout.
While the U.S. and Iran once shared a common enemy in the Taliban, Tehran had increasingly advocated for Washington to end its war in Afghanistan in recent years. Now, Iran has offered to host more peace talks between the Taliban and its rivals, calling for a governing arrangement that was representative of all the country's demographics.
"Our priority has always been to establish peace and stability in Afghanistan for the development of this country. Afghanistan is our dear neighbor," Khatibzadeh was cited as saying, adding: "What brings peace and stability in Afghanistan is the formation of an inclusive government that reflects all of Afghanistan's ethnic groups."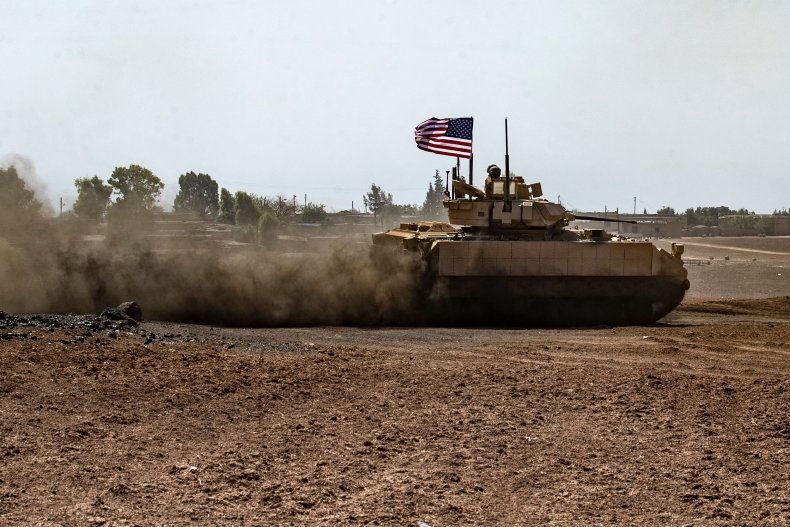 These groups include the largely Shiite Muslim Hazara minority, members of which have fought on behalf of Iran as part of the Fatemiyoun Division in Syria. The militia remains active in the country, which considers their presence legitimate, unlike that of U.S., Turkish and Israeli forces.
While the Biden administration has completed its Afghanistan exit and last month reclassified operations in Iraq to cease "combat" missions, a senior administration official speaking to Newsweek earlier this month said there were no changes planned for Syria.
"Afghanistan, Iraq, and Syria are three completely separate issues and should not be conflated," a senior official said at the time. "On Syria, we do not anticipate any changes right now to the mission or the footprint."
That mission consists of partnering with the Syrian Democratic Forces, a largely Kurdish-led militia operating across parts of northern and eastern Syria.
"As a reminder, in Syria, we are supporting Syrian Democratic Forces in their fight against ISIS," the official added. "That has been quite successful, and that's something that we'll continue."
Pentagon officials at the time also echoed that U.S. operations currently focused in the northeast and southwestern Al-Tanf garrison were set to continue despite changes elsewhere in the region.
"The United States will maintain its military presence in eastern Syria to execute our sole mission in Syria: the enduring defeat of ISIS," Department of Defense spokesperson Marine Corps Lieutenant Colonel Anton T. Semelroth told Newsweek at the time. "U.S. and Coalition forces continue to work by, with, and through vetted local partner forces, including the Syrian Democratic Forces (SDF), to achieve this mission."
And while ISIS remained the top threat, he said that Biden has expressed willingness to take on suspected Iran-linked militias as well, as he has done twice before in response to rocket attacks against U.S. personnel in neighboring Iraq.
"The President has been clear that he will act to protect U.S. personnel from attacks by Iran-backed groups," Semelroth added. "The President twice has taken necessary, appropriate, and deliberate action to protect and defend U.S. forces in a manner designed to limit the risk of escalation and send a clear and unambiguous deterrent message."
Further regional tensions have mounted over regular Israeli strikes against Iran-tied targets in Syria and hostile exchanges across the border between Israel and Lebanon, where the powerful Iran-backed Hezbollah militia operates.
As a devastating economic crisis in Lebanon brought severe fuel shortages, Hezbollah Secretary-General Hassan Nasrallah announced earlier this month that Iranian tankers had departed the Persian Gulf to supply Lebanon in what would be a violation of U.S.-imposed sanctions.
The move would also be a challenge to Israel, which has been blamed for striking Iranian vessels bringing fuel to Syria in recent months, and has blamed Iran for maritime incidents in the region over the past two years, especially the Gulf of Oman.
Asked if Israel would move to oppose such a measure, an Israel Defense Forces spokesperson claimed Iran and Hezbollah were exploiting Lebanon's dire situation.
"The IDF supports the reconstruction and rehabilitation of the State of Lebanon," an Israel Defense Forces spokesperson told Newsweek at the time. "However it is clear that Lebanon's dire situation is being used by Iran, and the terror organization Hezbollah, to further gain power and access in the region, cementing its entrenchment in the area and taking advantage of Lebanon."