Will U.S. and Turkey Ties Last? Erdogan Says 'No Winners' in World Trade War, But He'll Fight Back
A day after giving a United Nations address that was deeply critical of the U.S.'s hardline economic policy, Turkish President Recep Tayyip Erdogan made an appeal for U.S. investment in his country to business leaders from both countries at a conference in New York.
Erdogan spoke Wednesday alongside some of his top economic officials, including his Finance Minister and son-in-law Berat Albayrak and Trade Minister Ruhsar Pekcan at the 9th Turkey Investment Conference, organized by the Turkey-U.S. Business Council. As the country undergoes a currency crisis exacerbated by sanctions from Washington, Erdogan criticized Trump's policies as "pressure and blackmail."
"There will be no winners in trade wars," he added. "Every unilateral action will face reciprocities."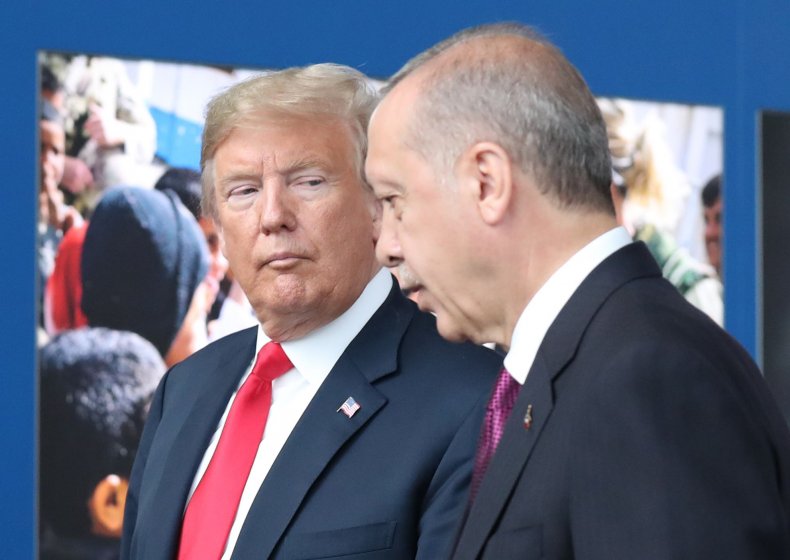 The event came one day after Erdogan addressed the U.N. General Assembly and delivered a speech attacking President Donald Trump's stance on Turkey and Iran, which has also been targeted by sanctions in the wake of Trump's exit from a landmark 2015 nuclear deal. Though Turkey and Iran support opposing factions in Syria's seven-year civil war, they have agreed to work alongside Russia to find peace and enhanced bilateral cooperation in recent years.
"None of us can remain silent to the arbitrary cancellation of commercial agreements and the use of economic sanctions as weapons," Erdogan told world leaders. "We must all work together to prevent damage to the world trade regime as a result of such unilateral decisions."
The Turkish leader was referring to the most recent spat between the fellow NATO Western military alliance members. Trump declared last month that he was sanctioning Ankara over its refusal to release Christian pastor Andrew Brunson, who was jailed in 2016 for allegedly fraternizing with banned groups. Shortly after the announcement, the lira hit an all-time low and Erdogan defiantly declared: "if they have their dollars, we have our people, our God."
In addition to its disputes with Turkey and Iran, the U.S. has challenged China and the EU over what Trump considers unfair trade practices, spurring retaliation from both parties. Following remarks from his officials, Erdogan said Wednesday that U.S. economic attacks on China and the EU "would not be confined to the three major economies," but impact the world as a whole.
"The parameters of the global order are being shaken to their roots with direct impact to international allies and the conduct of the business community on a global scale," Erdogan said.
Relations may be improving, however, as Secretary of State Mike Pompeo announced Monday that Washington and Ankara may resume talks. Prior to Erdogan's speech, Pekcan told attendees that she "would like to see more U.S. companies investing" in Turkey because there were "new opportunities" in her country, especially in technology like software and artificial intelligence. She said, "it's time to come to Turkey and invest in Turkey," in a message directed to U.S. companies present.
Albayrak chalked up much of Turkey's recent economic turmoil to an agenda shift following the July 2016 coup, after which "the number one priority became security." The event has prompted the purging of at least tens of thousands of employees and officials in the public sector and was officially blamed on followers of Fethullah Gülen, an exiled cleric and former political ally that Erdogan has accused of trying to overthrow him.
"I think we will see much-appreciated steps to be realized in the coming weeks, day and months," Albayrak said. "I think it's going to be a very bright future for Turkey."