U.S. Says Turkey Allies Handling Syria Human Rights Violation Reports: 'We Don't Know How Well They're Going to Do'
The United States has tasked Turkey with ensuring its Syrian rebel allies investigate reports of atrocities in the country's northeast, but one Washington official acknowledged that President Donald Trump's administration would does not vouch for these groups.
Speaking on the eve of Turkish President Recep Tayyip Erdogan's scheduled visit to the White House, a senior State Department official told reporters that the U.S. was "following up" on persistent reports that Ankara-backed groups have been involved in human rights violations amid a Turkish-led cross-border campaign against Kurdish militias. The official specifically mentioned the ambush and execution of Future Party leader Secretary-General Hevrin Khalaf, the use of white phosphorus munitions in civilians areas and the targeting of medical personnel.
"We've looked into these. The number is not large," the official said. "It has not been growing in terms of what our objective reporting has given us on them, but we are asking the Turks to chase them down. What the Turks told us is that they do take them seriously. They have passed many of them that, if they involve the Syrian National Army, to the Syrian National Army's deputy defense minister, who is operating, I think, in Ras al-Ayn, and they have set up a commission."
"Now, we don't know these people particularly well. We don't know how well they're going to do," the official added. "As far as we're concerned, our interlocutor on these things is Turkey because Turkey has been supporting these people and Turkey took the initiative to go across the border."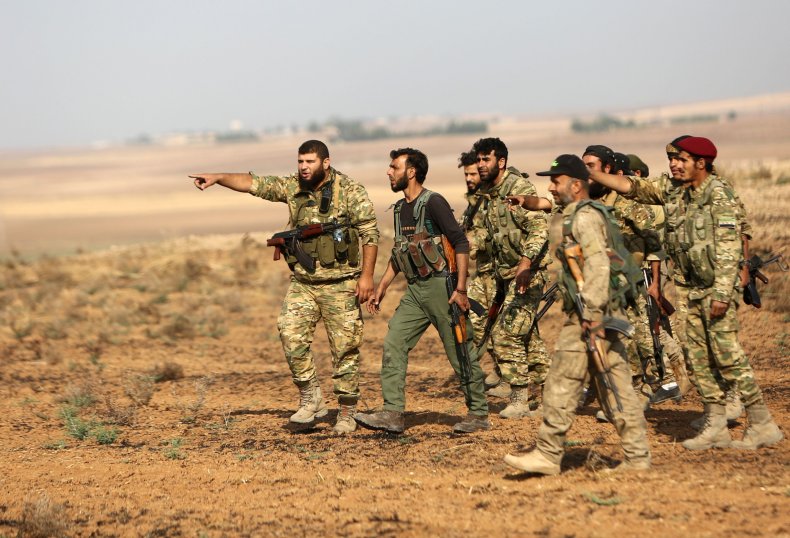 The Syrian National Army is widely seen as a rebranding of the Free Syrian Army that once led the 2011 uprising against Syrian President Bashar al-Assad, who was accused of war crimes by the U.S. and regional allies, including Israel, Qatar, Saudi Arabia and Turkey, all of which went on to back opposition fighters to varying degrees. As the U.S. switched its backing to mostly Kurdish Syrian Democratic Forces and Russia joined Iran in supporting Assad, Ankara was left the primary sponsor of an increasingly fractured array of rebel and jihadi groups.
Turkey went on to mobilize a number of these groups against the Pentagon-backed Syrian Democratic Forces, whose top component, the People's Protection Units (YPG), was seen by Ankara as an extension of the banned Kurdistan Workers' Party (PKK). Turkey has waged a decades-long war against a violent PKK insurgency that has at times used Syria and Iraq as bases.
Fighting between NATO ally Turkey and local partner the Syrian Democratic Forces has frustrated U.S. efforts to defeat the Islamic State militant group (ISIS), which also faced a rival campaign led by the Syrian government and its allies. As other insurgents lost ground to Syrian troops and partnered forces, they gained in two Turkish invasions against the Syrian Democratic Forces, whose U.S. partner declined to step in.
When Erdogan ordered a third, larger operation last month, Trump decided to pull U.S. troops out of large parts of northern Syria, focusing instead on oil fields largely in the east. The move was controversial in Washington as various politicians, diplomats and defense officials condemned the Turkish-led attack, which initially triggered sanctions later lifted amid a series of deals between Erdogan and Trump's administrations as well as between Erdogan and Russian President Vladimir Putin, who set up a joint border security arrangement after six-hour talks in Sochi.
Amid continued clashes and shifting alliances on the ground, Trump and Erdogan were set to meet face-to-face for the first time since the latter's incursion. Some legislators have opposed the meeting in the wake of the invasion.
"Our presidential visits are serious matters," the senior State Department official told reporters. "The White House should give you more information on that. The basic issues that we have to talk with Turkey about—including the overall situation in Syria, where Turkey is a close partner of ours, the situation in the northeast, where we have our forces in close proximity to Turkish forces, and various other issues in the bilateral relationship—require highest-level conversation and consultation."
"In this particular case, the two presidents decided it would be best to do this one on one," the official added. "Don't look at these things as rewards; they're the execution of diplomacy."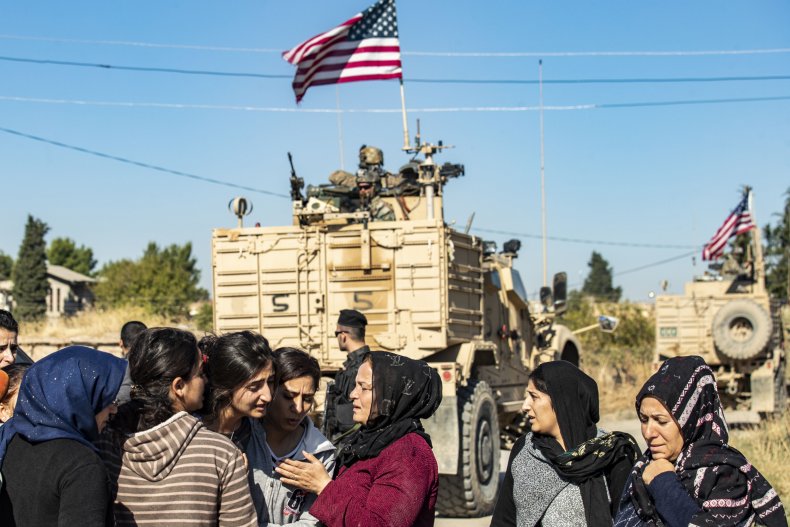 Both U.S. and Turkish presence in the country is viewed as illegal by the Syrian government, which only considers Russia and Iran's foreign contributions as legitimate. Ankara has worked alongside both Moscow and Tehran as part of a trilateral peace process, but has only recently signaled direct back-channel communications with Damascus.
Washington has neither joined these negotiations nor any talks with Assad, who the Trump administration has maintained would have to step down from power as part of a political transition. Shortly after the Pentagon began withdrawing from parts of northeastern Syria, however, the Syrian Democratic Forces struck a deal with Damascus to send Syrian and Russian troops to positions once held by U.S. personnel.
On this backdrop, Assad has appealed to Kurds to officially integrate into the Syrian military, an idea backed by Moscow. Russian Foreign Minister Sergey Lavrov called on Syrian Kurds to "engage in political dialogue, but argued they "must be consistent" in doing so and not continually fall back on the U.S. for support.
Discussing the origins of the war in Syria, Lavrov blamed U.S. intervention in the Middle East and its peripheries dating back to support for the mujahideen in Afghanistan in the 1980s and the overthrow of the Iraqi and Libyan governments in the decades to come. He said that Washington "categorically denies" its allies from "investing in any projects" within Syrian government territory.
"On the other hand, on the eastern bank of the Euphrates, they are doing everything possible to organize a quasi-state structure, and are asking the Gulf countries for major investments to create a local administration based on the Syrian Democratic Forces and Kurdish self-defense units," Lavrov added. "This is being done with the clear intention of separating this part of Syria and gaining control of the local oil fields."