U.S., U.K. Ambassadors Slam Russia's Actions, Warn of Devastating Loss of Life
The United Nations Security Council (UNSC) gathered for an emergency meeting Monday night at Ukraine's request, during which nearly all representatives condemned Russian President Vladimir Putin's announcement recognizing the independence of the so-called Donetsk and Luhansk People's Republics.
The UNSC, ironically chaired by Russia, which currently holds the presidency of the Council, also slammed the decree sending Russian troops to those regions as "peacekeepers." U.S. Ambassador to the United Nations Linda Thomas-Greenfield warned of the "devastating loss of life" in the event of a further invasion.
"Putin wants the world to travel back in time, to a time before the United Nations," Thomas-Greenfield said. "To a time when empires ruled the world. But the rest of the world has moved forward. It is not 1919. It is 2022."
"[Putin] has put before the world a choice. We must meet the moment and we must not look away," she continued. "History tells us that looking the other way in the face of such hostility, will be a far more costly path. He wants to demonstrate that through force, he can make a farce of the U.N. We must act together in response to this crisis."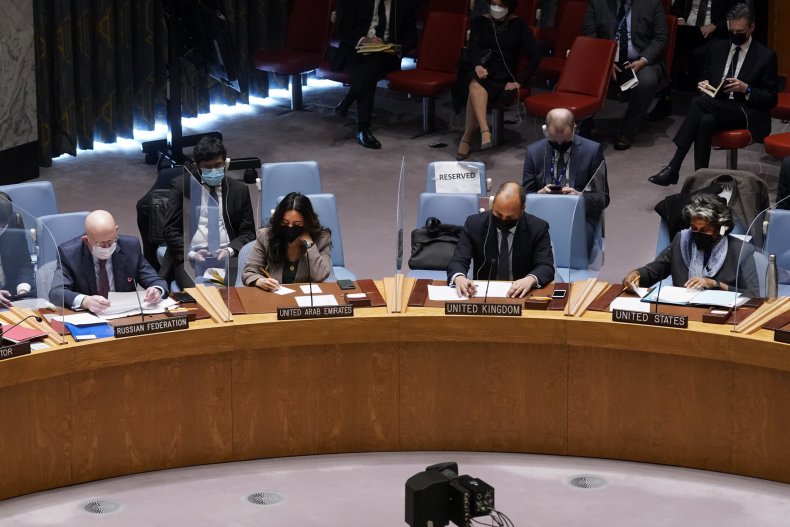 British Ambassador to the U.N. Barbara Woodward said the United Kingdom will also announce new sanctions on Russia, promising severe economic consequences. She also warned of the potentially "severe and far-reaching" consequences of Russia's actions.
"First, to human life," Woodward began. "An invasion of Ukraine unleashes the forces of war, death and destruction on the people of Ukraine. The humanitarian impact will be terrible on civilians fleeing the fighting. We know that women and children will suffer most."
"Russia's decisions are a violation of the territorial integrity and sovereignty of Ukraine and inconsistent with the principles of the U.N. charter. In seeking to redraw borders by force, Russia's actions show blatant contempt for international law."
Russian Ambassador to the U.N. Vasily Nebenzya is the current president of the UNSC. He dismissed many of his colleagues' statements, which he called "emotional."
"Now, it's important to focus on how to avoid war," Nebenzya said. "And how to force Ukraine to stop the shelling and provocations against Donetsk and Luhansk."
"We remain open to diplomacy," he said. "However, allowing a blood bath in the Donbas is something we do not intend to do."
Nebenzya claimed around 68,000 women, seniors and children have been evacuated to Russia, not Ukraine. He also confirmed civilian casualties following shelling over the weekend but did not provide a number.