Syria: What We Know About the U.S., U.K. and French Military Strike
The U.S., U.K. and France bombed multiple targets in Syria Friday night in response to an alleged chemical weapons attacks by the regime of Syrian President Bashar al-Assad.
Where did the missiles hit?
U.S. Defense Secretary Jim Mattis and Marine General Joseph Dunford said three main chemical weapons facilities were targeted at 9 p.m. EST by missiles from both the sea and aircraft, which triggered Syrian air defenses.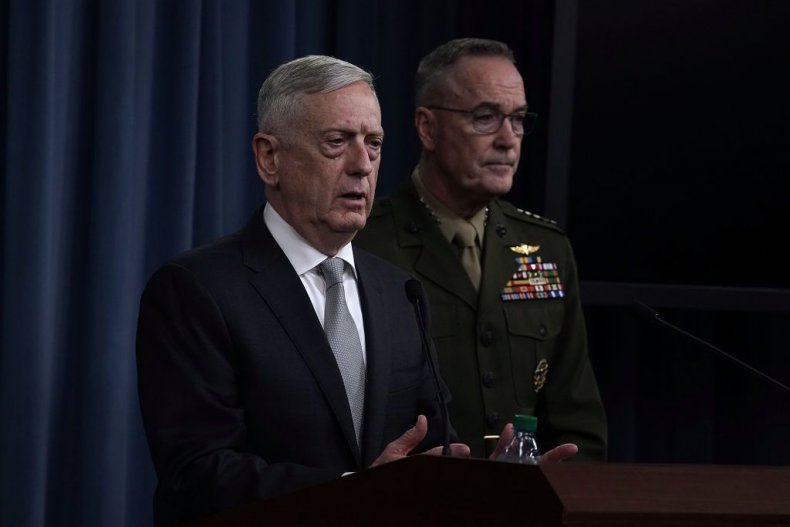 The Pentagon could not confirm how many missiles hit their targets.
General Dunford listed the targets:
A scientific research facility in Damascus, allegedly connected to the production of chemical and biological weapons
A chemical weapons storage facility west of Homs
A chemical weapons equipment storage site and an important command post, also near Homs
The Syrian Observatory for Human Rights (SOHR) told Reuters a second research facility was also struck in Damascus, in addition to a third in the Homs area, and five military bases and depots used by elite army divisions in the Mezzeh area of Damascus.
Syrian state TV said air defenses were confronting the attack and had shot down 13 missiles in the Kiswah area south of Damascus. It said a pro-Damascus "anti-terror axis" was confronting the attack, language suggesting that Assad's ally Russia may be helping to fend off the assault.
U.S. officials said there was no indication so far that Syrian air defenses struck attacking Western aircraft or ships.
French and British planes also took part in the operation, marking the first time the western powers have engaged in coordinated military action against the Assad regime.
Last year, the U.S. launched missile strikes on a Syrian air base in response to a sarin gas attack on the town of Khan Sheikhoun.
Friday's strikes were launched in response to an alleged chemical weapons attack in the town of Douma, Eastern Ghouta, one week ago, which the U.S. and its allies have blamed on the Syrian government. Damascus has denied responsibility for the attack, and Russia said that a western military response risked provoking war.
Mattis said Friday's attack was about double the size of that launched by the U.S. in April, 2017, and that Tomahawk cruise missiles were used against multiple Syrian targets.
Were there any casualties?
Mattis and Dunford acknowledged the strike was designed to degrade Syria's chemical weapons capability without killing civilians or the many foreign fighters in Syria's multi-sided civil war, particularly those from Russia.
"We specifically identified these targets to mitigate the risk of Russian forces being involved," Dunford told reporters, adding the U.S. military advised Russia of airspace that would be used in the strike but did not "pre-notify them."
The Russian Defence Ministry said there was "no evidence" of civilian or military casualties from the airstrikes.
Mattis said there was no evidence of U.S. losses in the operation.
SOHR Director Rami Abdulrahman told Reuters all the targeted locations were evacuated three days ago after the Russians told the government they had intelligence that bases including the research centers would be hit. He said there were so far no reports of civilian or military casualties,
Will there be more strikes?
Mattis said that "right now, this is a one-time shot". Gen Dunford confirmed the wave of strikes had ended.
In an address Friday night, President Donald Trump said that Washington was prepared to "sustain" pressure on the Assad regime until it stopped its use of chemical weapons against its own people.
What has the reaction been?
Russia warned of "consequences" in the wake of the attack.
"The U.S. - the possessor of the biggest arsenal of chemical weapons - has no moral right to blame other countries," the Russian embassy in the U.S. said in a statement.
President Vladimir Putin said Russia will call an emergency session of UN Security Council over strike on Syria, adding that the airstrikes on Syria early Saturday is an "act of aggression" against a sovereign state.
Syria released video of President Bashar al-Assad, whose Russian- and Iranian-backed forces have already driven his enemies from Syria's major towns and cities, arriving at work as usual, with the caption "morning of resilience."
The NATO Secretary General, Jen Stoltenberg, tweeted support for the strikes, saying those who use chemical weapons "must be held accountable."