U.S. and U.K. Only Countries Who Think They Handled Coronavirus Badly of 14 Advanced Economies
The U.S. and U.K. are the only two countries out of 14 advanced economies where citizens believe authorities have done a bad job dealing with the coronavirus outbreak, new polling data shows.
The latest survey from the Pew Research Center found that 52 percent of Americans felt their country had done a "bad" job of dealing with COVID-19, while 47 percent felt it had done a "good" job of curbing the pandemic.
Adults in the U.K. took a similar view of their country's handling of the coronavirus outbreak, with 54 percent saying Britain had done a bad job of tackling the disease. Forty-six percent felt the U.K. had done a good job, giving the country a net negative rating of 8 percentage points.
Partisanship played a significant role in how both countries viewed their responses to the ongoing pandemic.
Republican voters and GOP-leaning independents in the U.S. were more likely to say the Trump administration had done a good job of combating the COVID-19's spread. Seventy-six percent backed the government's record, compared with a quarter of Democratic voters.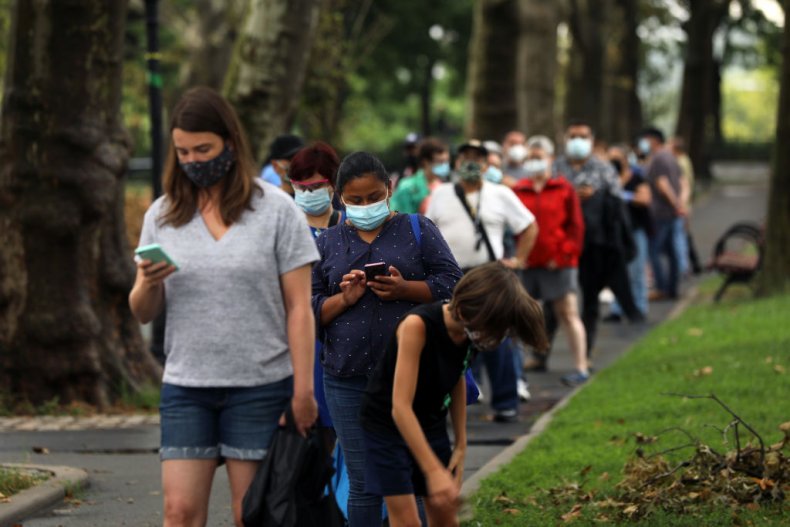 In the U.K., a majority of right-leaning voters approved of the Conservative government's record on curbing the pandemic as just 26 percent of left wingers told pollsters they were happy with Boris Johnson's performance on the issue.
Other major economies in Europe, Asia and North America recorded far higher satisfaction rates with their records on curtailing the spread of coronavirus in their communities.
A near unanimous 95 percent of Danes and 94 percent of Australians felt they had done a good job of combating COVID-19, while 88 percent of Germans and Canadians felt the same way about their pandemic efforts.
Eighty-six percent of South Koreans approved of their job in dealing with the novel coronavirus as an almost identical share of Dutch adults took a similar view of their response.
Roughly three quarters of Italians (74 percent) said they were happy with their handling of the pandemic as 71 percent of Swedes felt the same way, despite their government's split from the standard strategy of tough lockdown measures.
Majorities of French, Spanish, Japanese and Belgian citizens were also pleased with their national responses to the coronavirus outbreak, albeit by smaller margins than their neighbors.
The Pew Research Center surveyed thousands of adults for its latest global attitudes poll, including a sample of 1,003 Americans. The U.S. poll's margin of error stands at 3.7 percentage points.
Pollsters found a majority of U.S. adults were unhappy with President Donald Trump's handling of the coronavirus pandemic as the country's pandemic death toll topped the 180,000 mark.
According to the Johns Hopkins University COVID-19 tracker, more than 5.8 million cases of the disease have been reported in the U.S. along with 180,857 deaths as of Friday morning.