U.S. and U.K. 'Ripping Up the Rule of Law,' Says Father of Teen Allegedly Killed by American Diplomat's Wife
The father of a British teenager killed in a road crash allegedly involving an American diplomat's wife has slammed the U.K. and U.S. governments for "ripping up the rule of law."
Harry Dunn, 19, was killed when a car suspected to have been driven by Anne Sacoolas collided with his motorbike outside a Royal Air Force base in Northamptonshire, U.K., in August. She then returned to the U.S. claiming diplomatic immunity and has refused to return.
Since then, Dunn's family have been calling on authorities to demand Sacoolas return to the U.K. to face justice and last week launched legal action against the U.K.'s Foreign Office over the dispute about diplomatic immunity.
Now, in a scathing op-ed in The Guardian ahead of President Donald Trump's visit to the U.K., Dunn's father Tim Dunn has slammed both U.K. and U.S. authorities over their handling of the case.
"The U.S. and U.K. governments are ripping up the rule of law and that affects each and every one of us," Tim Dunn wrote.
Tim Dunn claimed that it is "shameful" that no U.K. cabinet minister has publicly called for Sacoolas to return to the U.K. and believes it is because British authorities "care more about preserving the relationship" with the U.S. than about ordinary citizens.
"All we want is for Anne Sacoolas to return, so she can face the consequences of her actions that night when she took my Harry's life, and for the truth in this whole mess to come out," he added.
"I am not aware of a single cabinet minister who has called publicly for her to be returned. That is shameful. It's hard to escape the conclusion that the British authorities care more about preserving the relationship with the US than looking after the rights of citizens like us."
Tim Dunn added that he and other supporters would be protesting outside Buckingham Palace in London during Trump's visit "in an attempt to make ourselves heard." Trump, who is in the U.K. for the NATO summit, and U.K. Prime Minister Boris Johnson will be among the leaders attending an event hosted by Queen Elizabeth II on Tuesday evening.
Trump, who met the Dunns when they flew to the U.S. to push for Sacoolas' return to the U.K., was asked about the case by reporters in London ahead of palace event.
He described the Dunns as "lovely people," but insisted that Sacoolas had diplomatic immunity, the Evening Standard reported. "We're trying to work something out," he said, adding that he had also met with Sacoolas.
Tim Dunn's op-ed was published just before reports that the U.K.'s Foreign Secretary Dominic Raab—who Tim Dunn criticized as "rude and dismissive" over his handling of the case in his op-ed—discussed the case with his U.S. counterpart, Secretary of State Mike Pompeo.
A spokesman for the U.K. Foreign and Commonwealth Office confirmed to Newsweek that Raab had raised concerns about the case with Pompeo and called for Sacoolas to co-operate fully with British authorities during a meeting in London on Tuesday.
In a statement to Newsweek, a Foreign Office spokesperson said it would respond to the Dunn family's legal action in "due course."
"We have done everything we can properly to clear a path so that justice can be done for Harry's family," the statement said. "As the foreign secretary set out in parliament, the individual involved had diplomatic immunity whilst in the country under the Vienna Convention on Diplomatic Relations."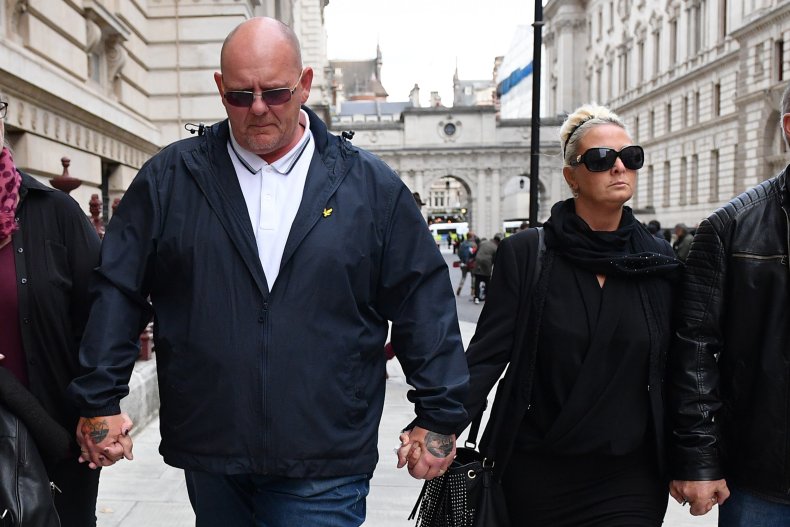 U.S. and U.K. 'Ripping Up the Rule of Law,' Says Father of Teen Allegedly Killed by American Diplomat's Wife | World