US, Ukraine Build Russia 'War Crimes' Case, But Not Likely Putin Sees Court
Ukraine and the United States are collecting evidence of alleged war crimes committed by Russia throughout its ongoing war against its neighbor, officials from Kyiv and Washington told Newsweek. But the likelihood of Russian President Vladimir Putin and his top officials actually being brought to trial is unlikely.
This is largely due to the behavior of major world powers, including the United States, who have long resisted efforts to have their own leaders, officials or even allies face justice abroad.
Among those who have criticized this system is the International Criminal Court's own former president, Chile Eboe-Osuji, who presided over the intergovernmental judiciary in The Hague, Netherlands from 2018 to 2021.
"It is most certainly the case that the leadership of major countries have contributed to unreasonable restraint on the project of accountability for international crimes," Eboe-Osuji told Newsweek. "Also implicated in this behavior are transactional scholars who want to be in the good books of those powerful leaders."
"I implicate transactional scholarship in this phenomenon," he added, "because you see a distinct strand of academics that tend to play cheerleaders to geopolitical powers in whatever positions they take — even in all the startling volte-faces they make when the political wind blows every which way as it often does."
Despite what he called "evident limitations," however, he said that the ICC remained "the standing mechanism" for bringing charges against accused war criminals.
Among the foremost of these limitations is a lack of cooperation from some of the world's most powerful and influential nations including China, Russia and the U.S. as well as around 66 other United Nations member states who either never signed or ratified the Rome Statute that went into effect 20 years ago this July, or later withdrew from it.
Regarding these nations. Eboe-Osuji said that "the Court can only exercise jurisdiction when the UN Security Council refers a case to the ICC," an improbable eventuality for the three veto-wielding permanent member states outside of the Rome Statute.
But when it comes to war crimes, crimes against humanity and genocide — three of the four mandates of the ICC — there is still a pathway to build a case "when committed in the territory of an ICC member States (or of a non-member State that has declared that it will accept ICC jurisdiction)."
Ukraine, which is not an ICC member state, has twice declared it would accept the court's jurisdiction, allowing ICC Prosecutor Karim Khan to announce he would open a case against Russia late last month, just days after Putin launched what he has deemed a "special military operation" against Ukraine.
As such, the ICC could, for example, "(a) try a Russian soldier for a WAR CRIME that such a soldier committed in Ukraine, even though Russia is not an ICC member State; and (b) try a Russian superior (including the President of Russia) for a war crime that a Russian soldier committed in Ukraine, if that superior knew or had reason to know that his subordinates were committing war crimes in Ukraine, but he failed to take all reasonable measures to suppress or prevent the crime or punish the perpetrator," Eboe-Osuji explained.
But in the two-decade history of the court, Eboe-Osuji notes that "the question of criminal accountability of leaders of States with nuclear weapons or a P5 seat at the UNSC has never come up before," and he "wouldn't want to speculate on such an important question."
"Perhaps, the invasion of Ukraine will test that hypothesis," he added.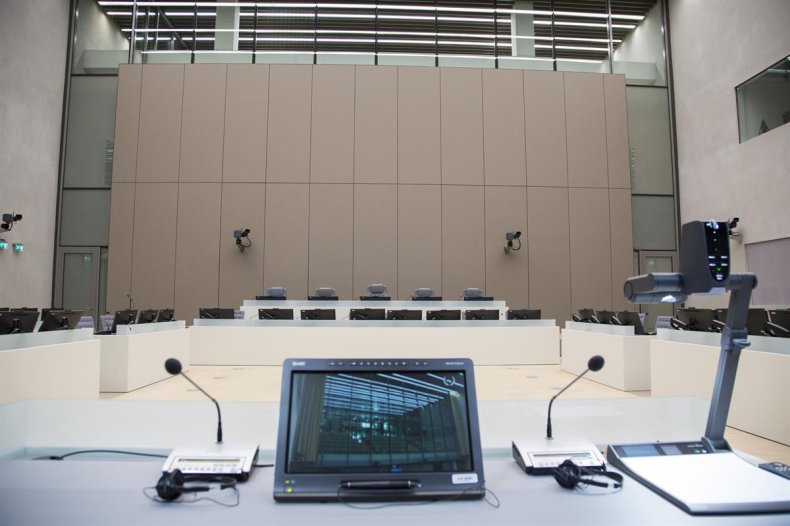 Given Russia's global posture, Putin and his Kremlin cadres will likely never face the ICC in person.
In fact, of the 17 situations that the ICC is investigating, including in Afghanistan, Bangladesh and Myanmar, Burundi, two separate cases in the Central African Republic and one each in the Democratic Republic of the Congo, Georgia, Ivory Coast, Kenya, Libya, Mali, the Palestinian territories, the Philippines, Sudan's Darfur region, Uganda, Ukraine and Venezuela, all 46 indictments thus far have been against African nationals, a common point of criticism for the ICC.
Still, Ukrainian officials and politicians who spoke with Newsweek said it is a political imperative to pursue justice.
Gyunduz Mamedov, Ukraine's ex-prosecutor for Crimea — the peninsula annexed by Russia in 2014 — who formerly served as his country's deputy prosecutor general, told Newsweek there are more than 3,100 possible war crimes being investigated by Ukrainian authorities.
All probes are being conducted under Ukrainian criminal law dealing with the violation of the rules of war.
"Every grave crime committed by Russians must be duly processed, prosecuted and punished," Mamedov said. "It is something that can't be negotiated. At least the penalty for those crimes should be inevitable, even if the instruments to prevent them have not been worked out."
"Any other scenario would threaten to finish the already-damaged world order," he added.
And Mamedov said he had had two top targets in mind: Putin and Russian Defense Minister Sergei Shoigu.
"Overall, the investigations are just preliminary measures to have everything prepared for trial, when the moment to get Shoigu and Putin in person comes," Mamedov said. "I believe in that outcome. Even President [Joe] Biden is no longer mincing his words about Putin. However, I wouldn't forecast any time frames. It doesn't make much sense for the moment."
Biden got ahead of the rest of the U.S. government earlier this month when he called Vladimir Putin a "war criminal," an assessment backed days later by Secretary of State Antony Blinken.
The Kremlin rejected the remark, with spokesperson Dmitry Peskov calling it "unacceptable and unforgivable on the part of the head of a state, whose bombs have killed hundreds of thousands of people around the world."
And though geopolitical wrangling has largely prevented the most powerful countries from facing justice, Oleksandr Merezhko, a member of Ukraine's unicameral Rada parliament who also chairs the body's Committee on Foreign Policy and Interparliamentary Cooperation, told Newsweek it was still crucial to seek justice in any way possible.
"It's still important because we can try to get, for example, a Russian military serviceman who goes to a European country which is a party to the Rome Statute," he explained. "He can be apprehended and brought to justice."
The ICC crime of aggression, under which politicians and military leaders can be held individually responsible for invasions and attacks, came into force in 2018. The Rada last approved ICC jurisdiction in 2015, and that statement did not include the crime of aggression. Merezhko said this poses an interesting question for investigators.
"I'm going to raise this issue before my colleagues," he said. "Maybe we will have to amend the statement of 2015 or to adopt a new statement...Putin can directly be brought to justice for that."
As Eboe-Osuji explained to Newsweek, however, the crime of aggression is applied somewhat differently by the ICC than that of war crimes, crimes against humanity and genocide.
"Under the current terms of the Rome Statute, the ICC cannot try the crime of AGGRESSION when committed ANYWHERE by an individual from a non-ICC State, except if the UN Security Council refers the matter to the ICC," Eboe-Osuji said.
"It means that the ICC cannot try any Russian member of the Russian leadership for the crime of aggression without the UN Security Council referral," he added. "And such a referral will not happen for the invasion of Ukraine, because Russia will exercise its veto power to block the referral at the Security Council."
Merezhko, for his part, also noted that such investigations, if pursued in full, may have an immediate impact on the battlefield.
"It has a direct effect upon Russian servicemen," Merezhko told Newsweek. "If they know that there is a chance they might be brought to justice before the ICC, I think they will think twice, at least they should think twice, before committing serious war crimes and executing criminal orders."
The president's office, Justice Ministry, and Foreign Ministry are all working with a host of civil organizations "to ensure the evidence is processed properly and transferred to The Hague," Mamedov said.
Ukrainian politicians, meanwhile, are pushing to ratify the Rome Statute and make the country an ICC member. Kira Rudik, a Rada member and leader of the Voice party, told Newsweek she hoped the statute would soon be ratified.
"We want to hold the Russians to account for everything," she said.
Merezhko has recently established a new working group to reinvigorate the push.
"I'm very much in favor of the soonest possible ratification," he said. "In our constitution, there is a mention of the Rome Statute, so I would even argue that it might be viewed as a constitutional obligation."
Mamedov said he was "sure" that Ukraine will ratify the treaty. This step, he said, "will ensure Ukraine's participation in key decisions and development of the ICC," and opens the door to "a full range of international instruments to bring to justice Russian leadership and all those involved in the grave crimes against Ukrainians."
Some in Ukraine are more hesitant. Ukraine's war in Donbas stretched for almost eight years between Russia's annexation of Crimea in 2014 and its invasion of the entire country. That regional conflict alone has killed more than 13,000 people on both sides of the frozen frontline dividing the Ukrainian government forces and Russian-aligned separatists. Thousands more have died on both sides in the full invasion.
Reports have emerged of Kyiv's own involvement in potential war crimes conducted against civilians in the self-proclaimed Donetsk and Luhansk People's Republics, and Russian officials have repeatedly presented what they claim is evidence of thousands of such instances.
"There were concerns among the military who took part in hostilities in the war beginning with 2014," Merezhko said. "They were afraid, some of them — and I think this is baseless — but some of them argue that as a result of certification, some of our military servicemen, especially volunteers, who participated in the initial phases of war against Russia could be brought before the ICC."
Merezhko believes this is unlikely, given that Ukraine has its own functioning judiciary system capable of prosecuting crimes, and that Ukraine's constitution does not allow for citizens to be extradited.
Such concerns might even reach as high as President Volodymyr Zelensky himself.
"It seems like the office of the president is reluctant," Merezhko said, "possibly because of the position of our military."
"Under [Former President Petro] Poroshenko there was reluctance because some of his close associates were afraid that the ICC could be used against them by Russia for alleged 'criminal orders,'" Merezhko explained.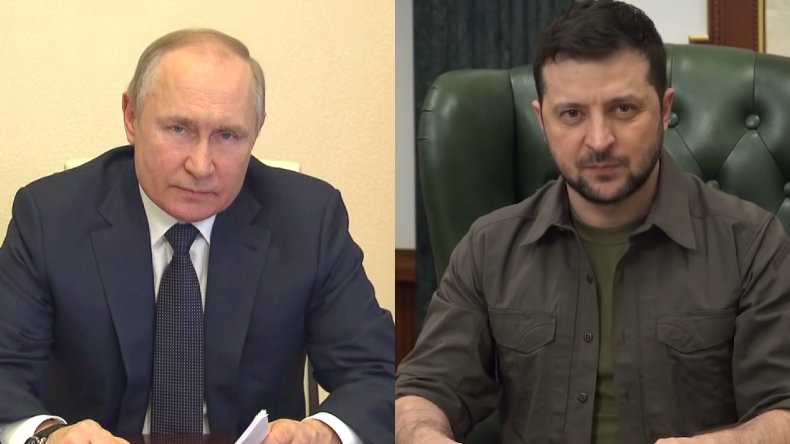 Mamedov believes the Russians have committed offenses of all three types overseen by the ICC.
"Infliction of unbearable living conditions during the siege of Mariupol and vast shelling of Kharkiv, Sumy, Kyiv and other cities which have been ongoing, damaging civil infrastructure, as well as capturing of the Ukrainian nuclear stations, can be deemed as genocide," he said.
"If we add the calls for extermination of Ukrainians from Russian propagandists and church," Mamedov added, "we have a deadly mix."
Intent is a vital element of any war crime charge, and can be difficult to prove. However, Mamedov argued there is little doubt among Ukrainians as to Russian intentions.
"We have a clear and unified position that all actions of the Russian Federation were deliberate and planned in advance," Mamedov said. "Russian leadership has repeatedly called for military aggression and war crimes through the official news channels Russia Today, Pervyi kanal, Rossiia 24, as well as in various public appearances."
A senior Ukrainian intelligence official also accused Moscow's troops of acts that are "totally unreasonable and cruel."
"Soldiers tell how they rob houses, take food and valuables from civilians, they tell how they shoot at houses," the senior Ukrainian intelligence official told Newsweek. "When there is no supply, the commanders give them orders and, in principle, allow them to commit these crimes."
The senior Ukrainian intelligence official also said that Russian troops "often shoot at vehicles in which civilians with white flags move, they simply shoot everyone in the car" as part of alleged criminal activity that "is confirmed by the huge number of interceptions of telephone conversations between Russian soldiers and members of their families."
As Ukraine continues to collect and share such reports, the ICC is not alone in its work. The United Nations' Human Rights Council has established a commission to investigate possible war crimes in Ukraine, which Mamedov said could complement the ICC's probe.
The European Union has condemned "deliberate attacks on civilians and civilian infrastructure" as "shameful, reprehensible and totally unacceptable. They constitute serious violations of international humanitarian law."
The German prosecutor's office has opened its own investigation, using Germany's unusual law that allows it to probe international crimes regardless of where they were committed.
Several senior members of the British government have voiced their support for the ICC's investigation. In a response to questions, the British foreign ministry directed Newsweek to a statement saying the country has led efforts "to expedite an ICC investigation into Russian war crimes in Ukraine."
"Putin's military machine is targeting civilians indiscriminately," U.K. Foreign Minister Liz Truss said, "and tearing through towns across Ukraine."
"An investigation by the International Criminal Court into Russia's barbaric acts is urgently needed and it is right that those responsible are held to account," she added. "The U.K. will work closely with allies to ensure justice is done."
As for the U.S. a spokesperson for the State Department told Newsweek that the Biden administration "is supporting a range of mechanisms to document and pursue accountability for potential war crimes or other atrocities in Ukraine."
"This includes supporting Ukraine's authorities, who are already working to document potential atrocity crimes for prosecution," the spokesperson said. "It includes supporting a range of international investigative and accountability mechanisms, including the new UN Commission of Inquiry to investigate possible human rights violations and abuses and violations of international humanitarian law by Putin's forces, and joining 44 other OSCE countries in launching an Expert Mission to examine reported human rights abuses or violations and violations of international humanitarian law, including possible war crimes by Russia's forces in Ukraine."
"And it includes supporting the important work of human rights documenters in Ukraine," the spokesperson added.
The spokesperson argued that the U.S. was "committed to pursuing accountability for such acts using every tool available, including criminal prosecutions where appropriate."
But Washington has its own troubled history with the ICC. While the U.S. has been an ardent supporter of efforts to bring accountability upon those in foreign countries to which it was opposed, successive administrations have fiercely resisted any effort to apply international justice to their own officials or those of friendly states.
The U.S. position most notably came to the forefront of international attention under President Donald Trump, whose administration went so far as to introduce sanctions against ICC officials involved in a probe of possible war crimes committed by U.S. personnel in Afghanistan.
And while the Biden administration lifted these sanctions shortly after coming to office last year, his State Department followed in its predecessor's footsteps by vocalizing opposition to any ICC effort to investigate Israel for alleged violations of international law committed against Palestinians.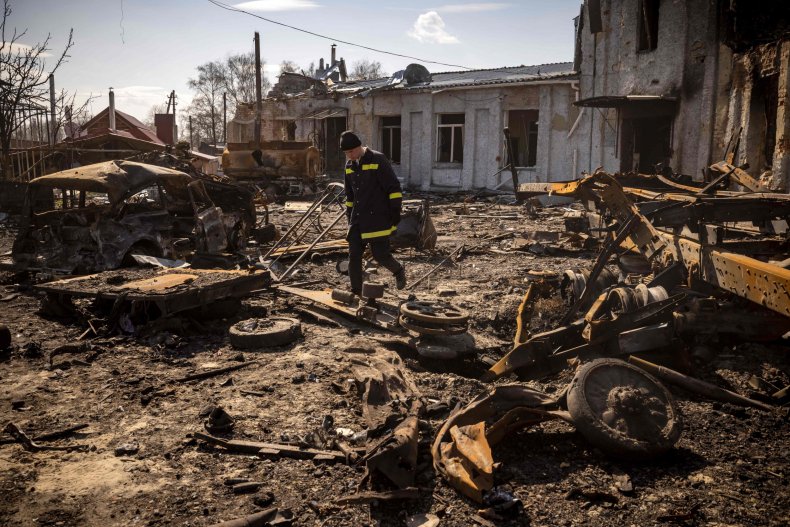 Other permanent members of the U.N. Security Council have taken similar moves in the past, leading Eboe-Osuji to tell Newsweek that "it's far to say" that "so far P5 States (specifically China, Russia, UK and US) have used veto power — or a threat of it — to block referral of situations in their client States to the ICC."
"Although France is also a P5 state," he noted, "recent records show that it has not indicated as much as the others a tendency to threaten use of veto power to block referrals to the ICC."
Russia, for its part, has also not responded to the ICC's investigation, and has fiercely defended against allegations of international law violations in Ukraine. It has instead pointed to past claims of U.S. wrongdoing for which no accountability followed.
"There is a feeling that the Pentagon seems to have forgotten how, quite recently, the U.S. and its NATO allies bombed cities in Yugoslavia, Iraq, Libya," Russia's ambassador to the U.S., Anatoly Antonov, said in a statement last week. "Outrageous crimes committed by US servicemen and mercenaries in Afghanistan and Syria also seem to have escaped Washington's memory,"
He argued that the "strikes of our military forces are targeting solely Ukrainian military infrastructure facilities," while "in turn, Ukrainian radical groups employ tactics used by Nazis during WWII."
"Using women and children as a human shield, the neo-Nazis deploy multiple-launch rocket systems in residential areas and use them to attack Russian troops," Antonov said. "They use Tochka-U missiles equipped with cluster munitions against civilians. They prevent the civilian population from leaving the areas of hostilities by conducting forced mobilization."
And, as Ukrainian officials share stories of Russian forces indiscriminately targeting civilians and employing sexual violence against the population, those in Moscow share reports of Ukrainians torturing Russian prisoners of war, as Foreign Minister Sergey Lavrov said his country too was collecting evidence of war crimes conducted by foes throughout the conflict.
Amid the fog of war, what is evident is that powerful nations continue to protect their own while seeking the same accountability for rivals that they reject for themselves.
Eboe-Osuji proposes a fix to this seemingly intractable paradox.
"The war in Ukraine has now brought home the need to do two things", he said: "(i) amend the Rome Statute, in order to give the UN General Assembly the power to refer situations to the ICC, when the veto power is used to block the UNSC from referring situations to the ICC; and (ii) adopt an international covenant on the right to peace."
"This will enable victims of wars of aggression to pursue civil claims of reparation in their own right," he added, "when they suffer damages from wars of aggression in breach of the fundamental right to peace."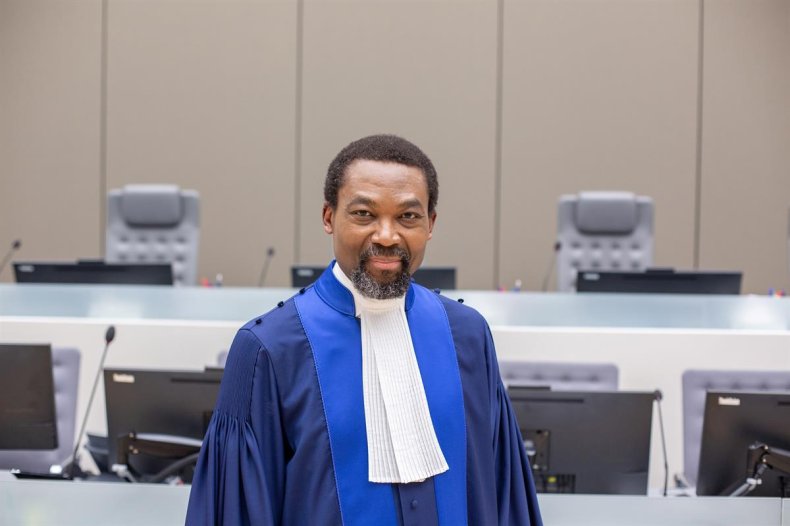 03-31-22 4:50 a.m.: This article has been updated to clarify Gyunduz Mamedov's past positions.