U.S. Sending Ukraine HIMARS Missiles 'Equivalent of an Airstrike': Pentagon
The U.S. is set to send more high mobility artillery rocket system (HIMARS) missiles to Ukraine to help Kyiv troops repel the Russian invasion, according to officials, including the Guided Multiple Launch Rocket System (GMLRS)—which is precision-guided and has a range of about 70 kilometers.
"The munitions themselves, these GMLRS...are having a very profound effect," Colin Kahl, the U.S. undersecretary of defense for policy, said in a statement published by the Pentagon on Monday.
"This is a 200-pound warhead, it's kind of the equivalent of an airstrike, frankly—a precision-guided airstrike. These are GPS-guided munitions. They've been very effective in hitting things that previously the Ukrainians had difficulty hitting reliably."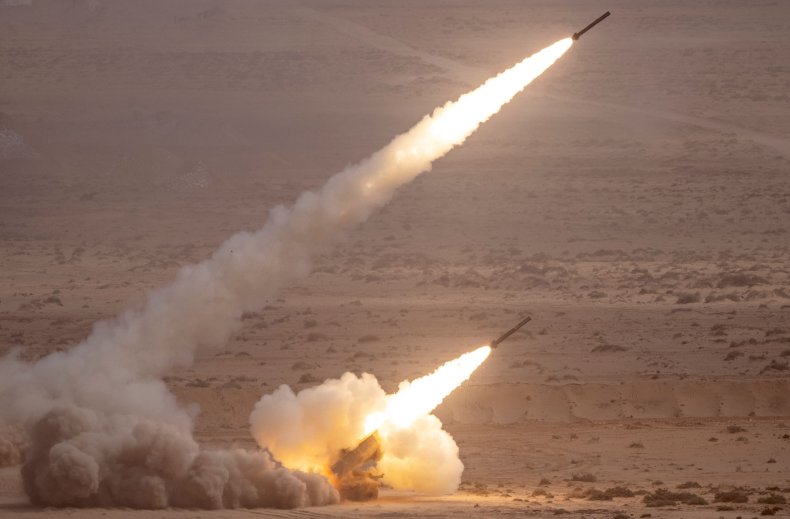 According to the Pentagon official, the Ukrainians have already used the HIMARS as part of previous assistance packages in combination with GMLRS rockets to hit Russian command and control nodes, sustainment and logistics hubs, and key radar systems, among others.
The U.S.-supplied HIMARS has reached something of a legendary status in Ukraine, helping Kyiv troops fight back Moscow's troops in the Donbas region. Rockets fired by HIMARS have struck over 30 Russian targets behind enemy lines in Ukraine, according to Ukrainian forces, though the Russian side has not confirmed the numbers.
Russia clearly sees the HIMARS missiles as a threat to its troops in Ukraine, as shown by the fact that the country's defense minister, Sergei Shoigu, ordered part of its forces in the occupied territories of Ukraine to focus on destroying Kyiv's HIMARS, according to a statement by the Russian Defense Ministry on July 18.
"It's made it more difficult for the Russians to move forces around the battlefield," Kahl said of the U.S.-supplied HIMARS in the hands of Kyiv.
"They've had to move certain aspects back away from the HIMARS. It's slowed them down. It's made it harder for them to resupply their forces. So I think it's having real operational effects."
On Tuesday, Russia's Defense Ministry said that Moscow's troops had destroyed an ammunition depot near the Ukrainian city of Uman, which stored U.S.-made HIMARS missiles and M777 howitzers.
If the report from the Russian ministry is true, more than 300 rockets would have been destroyed in the strike. Neither Reuters, who reported on the news, nor Newsweek could verify the report.
In either case, more HIMARS will be welcome in Kyiv, as Ukrainian President Volodymyr Zelensky has said, praising the U.S. announcement that a new assistance package will deliver more ammunition for the HIMARS already sent to Kyiv.
Among the other weapons that will be provided to Ukraine as part of this latest assistance package (outside of the HIMARS ammunitions) are 75,000 rounds of 155 mm artillery ammunition; twenty 120 mm mortar systems and 20,000 rounds of 120 mm mortar ammunition; munitions for the National Advanced Surface-to-Air Missile Systems (NASAMS); and 1,000 Javelin and hundreds of AT4 anti-armor systems, according to the Pentagon.
What's not included in the assistance package is a weapon that Ukrainian leaders have long been requesting from the U.S. but have so far been denied: fighter jets.
Ukraine officials, including Zelensky, made multiple requests for fighter jets during the first weeks of the war but were rebuffed by U.S. and Western officials.
Speaking in Washington on Monday, Kahl said that for the U.S. the "overwhelming priority right now is getting the Ukrainians things that are relevant for the current fight."
"I think there are real questions about what would be most useful in terms of assisting the Ukrainian air force in improving its capabilities," he added.
Update, 8/10/2022, 6:50 a.m. ET: This story has been updated with more background and information.