U.S. 'In Very Active Dialogue with China' Over Ukraine Ahead of Olympics, Putin-Xi Talks
United States officials have engaged in sustained contact with Chinese counterparts regarding the crisis between Russia and Ukraine as Beijing prepares to host two major events next week: the Winter Olympic Games and a meeting between Russian President Vladimir Putin and Chinese President Xi Jinping.
It will be the first such meeting of the two world leaders since the COVID-19 pandemic spread from China two years ago.
"I would say when it comes to China, that we've been in very active dialogue with China, obviously about a whole range of issues, but also, in particular, the situation Russia and Ukraine," a senior Biden administration said during a press call Friday.
Ther official referenced a call a day earlier between Secretary of State Antony Blinken and Chinese Foreign Minister Wang Yi and said that, beyond this, the U.S. side has "been in an active diplomatic conversation with the Chinese mission in New York about this meeting and the issue as it comes to the Security Council as well."
The U.S. plans to hold a U.N. Security Council meeting Monday concerning a tense situation at Ukraine's eastern border, where some 100,000 Russian troops have amassed. Moscow is demanding a halt to the eastward expansion of the NATO military alliance and its military activities, as well as Kyiv's exclusion from the Western bloc.
Russia has denied any plans to invade but diplomacy with NATO has yet to produce substantive results. In this context, the senior administration official appealed to China for support.
"I would have to say we frequently hear from our Chinese colleagues in New York about the concerns that China has that go to the fundamental principles of the U.N. Charter," the official said.
"China often speaks out very forcefully about territorial integrity and respect for sovereignty," the official added. "I think those are fundamental principles on which we have a very shared basis and view about the importance of the U.N. Charter and the role of the Security Council."
The official said a war would benefit neither Washington nor Beijing, which also has political and economic interests across the globe.
"It's not in China's interest to see a conflict in this situation," the official said, "not just because of the Olympics," but also because "more broadly, the impact of a devastating conflict of Europe would have on China's interests all over the world."
"So we hope that China will be speaking to these principles, the importance of upholding these principles and to the path of diplomacy on Monday as well," the official added.
A second senior administration official then weighed in to emphasize these points.
"If you look at China's statements in the Security Council, you'll see a frequent refrain that China urges Council members in the broader U.N. membership to pursue the peaceful settlement of disputes," the second official said, "and that is indeed one of the fundamental tasks at the Security Council."
"And so I think that points again to the reason why we think this is so important to have the Security Council meeting on Monday, because we're trying to use the Security Council as a preventative tool in our diplomatic efforts," the second official added.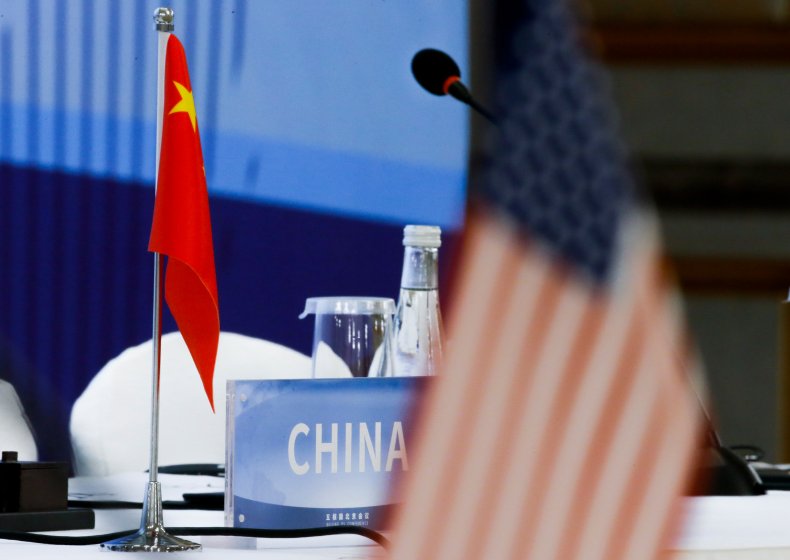 The remarks came a day after U.S. Under Secretary of State for Political Affairs Victoria Nuland revealed to reporters that Washington has asked Beijing to utilize its strategic partnership with Moscow to push for diplomacy amid severe frictions in Eastern Europe.
"What I will say to you is that our messages to Beijing have been very clear," Nuland said. "We are calling on Beijing to use its influence with Moscow to urge diplomacy, because if there is a conflict in Ukraine it is not going to be good for China either."
"There will be a significant impact on the global economy. There'll be a significant impact in the energy sphere," she added. "And it will be all the harder for all of us to get back to what we should be doing, which is building back better."
Asked about this call on Friday, Chinese Foreign Ministry spokesperson Zhao Lijian also said his country's "position on Ukraine is consistent and clear and stays unchanged."
"To solve the Ukrainian issue, it is necessary to return to the starting point of the Minsk-2 agreement, which is endorsed by the U.N. Security Council," Zhao said. "As a fundamental political document recognized by all sides, the agreement should be earnestly implemented."
"China will support all efforts in keeping with the direction and spirit of this agreement," Zhao added. "In the meantime, we call on all sides to stay cool-headed and avoid doing things that will escalate the tensions and hype up the crisis."
The second Minsk agreement came about nearly seven years ago after the failure of a first initiative overseen by Normandy Format members France, German, Russia and Ukraine. It came in response to a conflict that first erupted in 2014 between Ukrainian security forces and pro-Moscow separatists in the country's eastern Donbas region bordering Russia.
The four nations came together again on Wednesday in a bid to reinforce a ceasefire along the front lines during talks in Paris, and are set to resume negotiations in Berlin in two weeks.
Chinese officials have expressed an understanding of Russia's security concerns in Eastern Europe, but have also signaled a balanced approach, especially as the Winter Olympic Games are scheduled to begin next week in Beijing.
Both Chinese officials and the U.N. have called for an informal truce to accompany the global sporting event, and Chinese permanent representative to the U.N. Zhang Jun said Tuesday that "we have heard from Russia that it is not their intention to launch any war."
"What we should do at this moment is to call on all parties to come to the negotiation table and to find the solution through dialogue," Zhang said at the time.
Both Russian and Ukrainian officials have sought to downplay warnings of any imminent military action.
However, in a call with French President Emmanuel Macron on Friday, Putin asserted that responses delivered to Russian treaty proposals for the U.S. and NATO "failed to take into account such principal Russian concerns as prevention of NATO expansion, rejection of deployment of offensive weapons near Russian borders, and reverting of NATO military potential and infrastructure to the 1997 positions, when the Russia-NATO Founding Act was signed," according to the Kremlin.
The call came as Putin prepares to head to China next week to sit down with Xi as the Winter Olympic Games begin.
Kremlin spokesperson Dmitry Peskov told journalists Friday that the talks between the two heads of state would involve "significant time" spent on international affairs, and "this will include strategic stability in Europe, guarantees of security for Russia, Russia-US and Russia-NATO dialogue, as well as regional problems," according to the state-run Tass Russian News Agency.
Biden, for his part, has warned that an all-out Russian attack would constitute the largest invasion since World War II. And as his administration pledged further military assistance to Ukraine, Zhao repeated China's call for calm on Friday.
"Creating tensions does no good to easing the Ukrainian crisis, but only adds more uncertainties to the region and the whole world," Zhao said. "China is firmly opposed to this."
He argued that Beijing's position was in line with the wishes of the international community as a whole.
"It has always been the common appeal of the international community that we should choose dialogue over confrontation, solidarity over division, and peace over war," Zhao said. "Under the current circumstances, we call on all relevant parties to ease the tension as much as possible, avoid escalation of the situation, stop stirring up troubles and inciting opposition and confrontation."
"China always advocates that relevant countries' security concerns and security initiatives should be treated in a balanced and fair manner," Zhao added. "We hope all parties can work together and properly resolve differences through dialogue and consultation to promote global strategic balance and stability."
At the same time, China and Russia's relationship has continued to achieve unprecedented cooperation between the two powers, both of whose relationships with the U.S. have soured significantly in recent years. Though both sides have repeatedly dismissed plans to establish any formal military alliance akin to the one maintained among NATO states, officials from both Moscow and Beijing continue to tout their bonds as the best in history.
On Wednesday, Russian Foreign Minister Sergey Lavrov told lawmakers in Moscow that "the Russian-Chinese strategic partnership is a good example of how to conduct interstate relations in the 21st century" and that, "in some aspects, it has reached a more advanced level than conventional military-political alliances."
The comment was received warmly the following day by Zhao.
"I want to stress that there is no ceiling to China-Russia mutual trust, no forbidden zone in our strategic cooperation and no limit on how far our long-standing friendship can go," Zhao said. "China and Russia see each other as a priority in our respective diplomacy, which is a strategic choice based on our respective long-term development."
He said the "fundamental goal" of their consensus "is to deliver benefits to the two countries and two peoples, uphold world peace and stability and promote international fairness and justice" and hailed bilateral ties between Beijing and Moscow as "the model of a new type of international relations in the real sense."
"We take no interest in and will not create the so-called alliances and small cliques put together out of selfish interests with the Cold War mentality featuring a binary thinking of seeing others either as a friend or an enemy," Zhao said.
"All attempts at demonization and provocation are doomed to fail," he added. "China is ready to work with Russia to press ahead along the course charted by the two heads of state, fully unleash the huge potential and advantage in our cooperation and inject more stability and positive energy in the turbulent and changing world."