Warning: This article contains language that some may find offensive, but we have included it because it is an integral part of the eyewitness account of a young American veteran fighting with the Ukrainian armed forces against the Russians, as told to Newsweek in an exclusive interview in Lviv.
Lviv, Ukraine is teeming with American fighters. They are not in uniform, and they are certainly not active duty U.S. military personnel. But for anyone walking through the pretty little sidewalk cafes of the city's Old Town, the sound of American English being spoken by groups of young men in prime physical shape is impossible to miss.
Some of these Americans are among the thousands of foreigners who have signed contracts to become official soldiers in the Ukrainian Foreign Legion, which was created in the days following Russia's full-scale invasion of Ukraine on February 24. Others are with unnamed groups that assist in training Ukrainian troops, both on the front lines and at camps in the rear.
These Americans are, understandably, wary of potential Russian agents, but they are not shy about telling trusted interlocutors exactly what has brought them here: the opportunity to aid democratic Ukraine in its David vs. Goliath fight against a Russian invader intent on wiping it off the map. Those who opened up spoke of having found a cause worth fighting for, and if necessary, dying for.
Over flat white coffee at an outdoor table on a cobblestone pedestrian street near Market Square, one of these American volunteers told Newsweek about his experience. "Elvis," as the sharpie-scrawled nom de guerre on his green baseball cap read, is a short and wiry man in his mid-20s, with narrow eyes that continually scan his surroundings for potential threats. He joined the international forces fighting the Russians on April 16.
He spoke to Newsweek with only one condition.
"You promise me this is not going to be twisted for political usage," he said. " This is for my guys who didn't come home. For my friends who died in that city. People need to know the raw truth."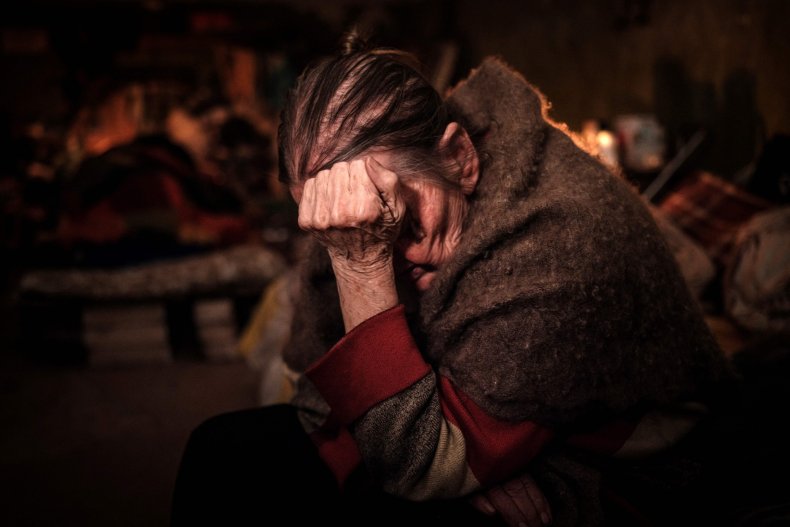 "That city" is Severodonetsk, an eastern Ukrainian factory town that in June became the site of a weeks-long artillery battle. Ukrainian forces withdrew from it on June 25. Since then, Russia has pushed forward to take nearby Lysychansk, and is already actively shelling Sloviansk as the Donbas war of attrition Elvis described grinds on.
"This war is not Iraq, it's not Afghanistan, it's not Syria. It is a meat grinder," he said. "This is some Western Front, 1916-type s**t. It's an artillery back-and-forth."
Elvis said the U.S. has not fought a war like this in more than half a century.
"This is more like the First World War, because this is an artillery war," he said. "They did not experience that kind of level of s**t and f***ery in Vietnam. Yeah, they had booby traps to deal with, but so do we. They were dealing with guys that were running around in
tunnels and s**t. We're dealing with one, two, three thousand Russians trying to swarm you. This type of fighting has not been seen since the Second World War."
And he said neither the U.S. nor NATO is set up for this type of combat.
"Even if NATO was to get involved, unless they did a strategic air campaign and they completely just bombed the s**t out of the entire Russian line ... The U.S. military is not ready for this. It's not ready for this type of warfare."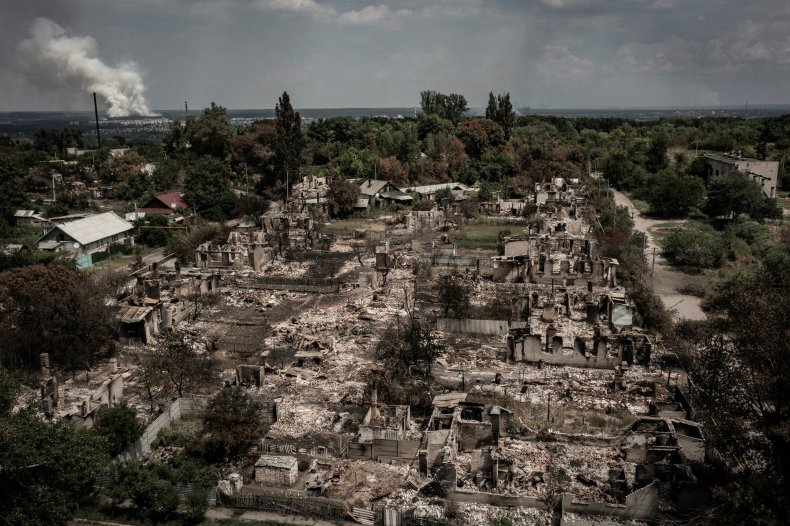 And he said the Ukrainian forces on the ground, and the international volunteers who have joined them, are similarly unprepared for the lethal Russian artillery barrage — which General Russel Honoré told Newsweek is the largest and most powerful artillery force in the world.
"There is no training for this. I've seen guys that were Tier I, SF guys, GSG 9, SAS guys, but that artillery will just eat you up and spit you out," Elvis said. "It does not give a f**k about training. If you're at the wrong place at the wrong time when that round comes in, you've got about three, four seconds to impact. You're done.
"If you hear the whistle and it gets louder and louder, everything will start shaking like a f***ing freight train," he said. "The longer the whistle, the closer it is to you. If it's a short whistle, you've got no problem. But if it sounds like it's just coming right at your face, you're in the kill zone. There's no sense in running.
"But the good thing is, you're dead before you know it," Elvis said. "The guys that I've seen take direct hits, we have nothing to identify them by. We find like, maybe a pinky finger. We found one dude's genitals splattered up against the wall. It's gruesome, but that's the reality of it. We got to the point where none of us really wore helmets, because if something like that hits the building you're in, you just hope that it kills you quick.
"It actually got to the point where, if I didn't hear artillery, I didn't feel safe. It's weird. I felt safer when they were shelling because at least I knew what they were doing," he said. "When the Russians weren't firing artillery, they were planning something, and you just don't know what. That's more stressful than taking artillery, because you know eventually they're going to swarm."
Elvis described the tactics that Russian forces used to clear Severodonetsk after the bombardment.
"When the Russians push hard, they're like f***ing cockroaches." he said. "You'll have hundreds of them en masse just coming through the city, and with 200-300 guys, you're not going to stop 3,000. You can kill a lot of them, especially if they just come down the street, but they're actually getting smarter. They've started to go along buildings, to clear before moving on.
"In the first wave, you had conscripts from the Donetsk and Luhansk People's Republics, and also some guys from Russia," Elvis said. "They would use them kind of like shock troops. They knew they were going to get killed.
"Then they would push in national guard, and then you'd have Chechens, and followed by that you would usually have GRU spetsnaz [special forces] escorted by a BMP-3 or a T-90 [Russian tanks], and they would typically walk in artillery and rockets in front of that," he said.
"The T-90s, when they would roll up, if they caught a Ukrainian unit, they would use the main gun on them," Elvis said. "I've watched entire squads just [get] liquified. They're trying to kill as many as possible. They're not so much trying to move strategically — they're just trying to kill."
He described a general disregard for human life by the Russian forces.
"The armor in Severo [Severodonetsk] was more on the outskirts, but occasionally you'd have T-90s that would roll in, and they would basically point-blank people with the weapon, which is a war crime," Elvis said. "They dropped phosphorous bombs on us. They dropped cluster munitions. The basically dropped whatever on us and f**k the Geneva Conventions; they were just trying to kill you."
But he said the atrocities were not limited to the Russian side.
"If I give you the honest to God's truth, on the Ukrainian side, we also started pulling off all stops," Elvis said. "We were using anti-aircraft guns on human targets, but we had a limited number of weapons, and that's what we had to use — a 14.5cm AA [anti-aircraft] gun. It's a little bit bigger than a dish gun. I mean the aperture on it is really obvious it's an AA gun. We'd set that up in windows and we'd just f**king annihilate them. I mean fifteen, twenty guys at a time would just [snaps his fingers] — disappear."
He also told of atrocities against the civilian populations in the war zone.
"The thing that people need to realize and emphasize is that they're really good at covering up their war crimes now," Elvis said." They're not doing mass graves anymore; they're burning corpses. They'll take civilians, ask them for information, and if they're military age and they're still in areas that Russians are pushing into, they'll execute them. If they're females, it doesn't matter if they're age 9: they'll rape them, and then kill them. Or they rape them and just keep using them and keep using them until they themselves commit suicide.
"They take corpses, and they love to defile them," he said. "The best way to put this would be in a pure evil, Biblical sense, like impalement, mutilating bodies, leaving them on display for psychological impact. I assume for psychological impact — or maybe they're just completely f***ed in the head."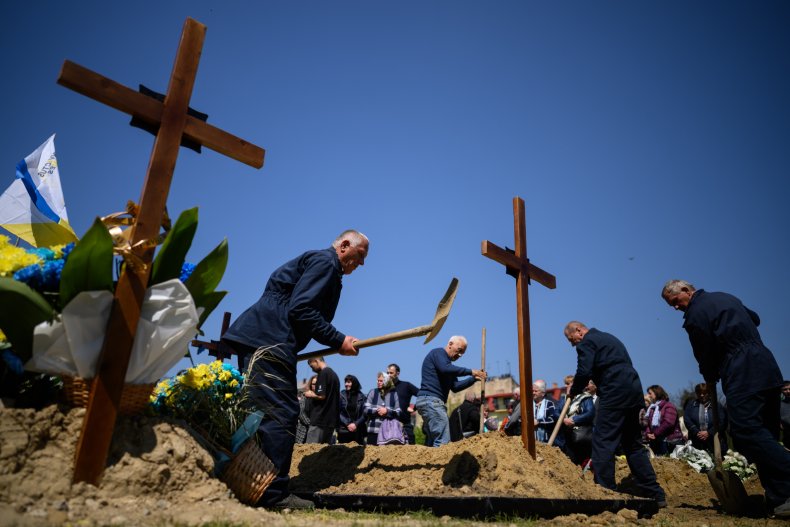 While on reconnaissance missions, Elvis said he witnessed atrocities firsthand, but was powerless to stop them.
"There have been plenty of times where I was observing them do really f***ed s**t and I just wanted to drop all of them," he said. "But you can't react, because that would have given us away, and that means death. So, unfortunately, you have to make a lot of hard decisions like that. A lot of people think in combat it's just shooting and dodging artillery, but no, it's also sitting and watching a lot of things that, in normal society, no one would see, and not being able to do anything to stop it."
Elvis said even in areas from which Russian forces have withdrawn, the potential for further death and destruction remains.
"When the Russians retreat, they just literally dump mines out — indiscriminately," he said. "They don't give a s**t if there's a village, if there's a school. A kid may step on it. They don't care."
The proximity mines, you can't even walk near them," Elvis said. "They'll shoot up in the air, and you'll hear like a 'zzzzzz,' and then, 'Boom!' — over a hundred-meter radius. You're just, you're done.
"Down south, in Zaporizhia, the fighting there isn't urban," he said. "It's hedgerows and open fields, so you have to move from hedgerow to hedgerow, and if the Russians used to be in that hedgerow, when they left, they left tripwires and landmines. Sometimes it's just F-1 grenades. Sometimes it's AT [anti-tank] mines up against trees. Sometimes it's just a flare. Other times it could be one of those proximity mines. We started joking that it's like Forrest Gump's box of chocolates: You never know what you're gonna get."
Elvis said the inhumanity of the Russian forces is not limited to Ukrainian soldiers and civilians — it extends even to their own soldiers.
"The Russians don't bury their dead — ever. They don't retrieve them," he said. "You'll see corpses that have been sitting in the streets for days, weeks, decomposing. The Ukrainians have done more for dead Russian soldiers than Russia has. They'll send out crews to pick up Russian bodies out of fields. They throw them in a mass grave, yes, but they at least give them a burial. The Russians don't give a shit."
Still, even in a conflict in which the contrast between the methods of the two opposing forces are stark, Western fighters like Elvis have raised concerns about the way Ukraine is prosecuting its defensive efforts. While American trainers have praised Ukrainian soldiers' resourcefulness when it comes to refitting commercial gadgets like quadcopters for military use, the Ukrainian military's failure to utilize some of the donated Western hardware at its disposal has been a source of frustration.
"Yes, the West is sending equipment, and yes, I saw triple-sevens [M777 howitzers] out there," Elvis said. "That's great and dandy. But if your guys on the line do not have the proper equipment to identify and push, you can't do anything.
"My biggest gripe is that they [the Ukrainian military command] don't give us access to some of the necessary tools that we know they have. There are NVGs [night vision goggles] in Kyiv, donated by Western countries, just sitting in warehouses," he said. "They'll give them to their elite units that don't have proper training, and then when they don't know how to work them, they say, 'Oh, well this is a piece of s**t. This one is damaged.' It's like, 'No, you just don't know how to operate the equipment.' All of us Westerners have training. We all know how to drive under NVGs, we know how to operate under NVGs, we know how to shoot with them. The Ukrainians don't utilize those types of resources as well as they could.
"When you have the majority of people coming from the U.S., Great Britain, whose countries have been fighting an insurgency for the past 20 years using that equipment, we know how to use it pretty f***ng well, to our advantage," Elvis said. "But they don't want to hear that. They're very prideful. There's nothing wrong with being prideful. That's your country you're defending, but if you can't defend your country, you're not going to have a country. And the Ukrainian mentality is, 'Die for your country; honor the heroes.' I respect that and all, but you've got to live for your country to have a country also. You can't just have an entire generation wiped out."
That desire to fight for Ukraine's right to have that future is the dominant reason why so many people like Elvis have decided to remain in-country, despite the obvious hardships.
"I'm only going to talk about him one time, I promise, but we're over here because a lot of us felt that the way the current Commander-in-Chief pulled out of Afghanistan was dishonorable," he said. "Basically, the way he pulled out means that every guy that was wounded, killed, in the past 20 years, didn't mean jack s**t. Nothing. That was a big 'f**k you' to all of us. Our country turned their backs on us, and then when we saw Zelensky say he needs people to fight, that you can become a Ukrainian citizen, well, fighting, that's what we're good at."
It's not hearts and minds here; it's fighting. We can actually do what we're good at and help a country," Elvis said. "This is a cause that I can stand behind. There's no hidden agenda. The Ukrainians believe in freedom, and they are fighting for their survival. They aren't fighting to make pharmaceutical companies rich, or oil companies rich. This is so they still have a country. That's why a lot of us are here."
But not every Western volunteer who has arrived in Ukraine since February 24 has come for similarly idealistic reasons — and that has real-life consequences for the other volunteers.
"When the Legion first started, they had a mass influx of foreigners, and you've got bad apples in every group. You had a lot of people coming over here with drug habits and this and that," Elvis said. "It used to be that you could get things like morphine, where you would have it in your IFAK [Individual First Aid Kit], so if you went down, you could stick yourself. Not so much that you are going to survive, but to make it easier on your way out. But because there were guys who were going to abuse it, now you can't even get that."
There have also been issues with unqualified volunteers showing up and becoming liabilities to their units.
"We have a lot of guys that come over here — Americans mainly, Americans and Brits — they're in their late 50s, 60s, and they're like, 'Oh, this is my chance to get some,'" Elvis said. "It's like, 'No, dude, this is not it. You're going to get somebody killed.' All of us are in our mid-to-late 20s. We can physically keep up with it. The s**t out front, if you can't keep pace, you're just a walking corpse.
"Also, this is going to sound very cliché, but I don't trust anybody on the front that's not scared," Elvis said. "Because if you're scared, you have fear, you're alive. If you feel nothing, if you don't care about your own life, then you're a risk. You're putting everybody else around you at risk. You're going to do dumb s**t, and you're going to get other people killed."
Even against well-trained, highly disciplined units, however, the Russian artillery war has had a devastating effect.
"I've watched several people where, they're there one second, and I don't know even how to describe this," he said. "But when someone gets shot and they die, it takes a couple of minutes — you can talk to them. When artillery gets them, they're just there one second, and then [snaps his fingers] — you know.
"And it's hitting me differently now. I'm starting to come down," Elvis said. "So I'm sorry if I seem a little high-strung. I'm still coming down off of the front. And I'm starting to reflect on, 'Wow, that was somebody's son, their father, their brother. They were alive for x-number of years, and then, in half a second—[snaps his fingers].'"
"I started normalizing watching people get f***ed up by artillery, which, I don't consider that normal," he said. "So anybody who leaves Europe and goes back to the U.S. from Severo or any of the several other fronts, they're going to have trouble. That's one of the reasons I'm afraid to go back to the U.S.
"Because I'm not going to be able to talk to anyone about that," Elvis said. "The V.A. [U.S. Department of Veterans Affairs] has finally said that if we're volunteering here, they'll help us. But I think I'm going to stay in Europe. What am I going to go back to? Homelessness? Six dollars a gallon? I have no desire."
Newsweek reached out to the Russian Ministry of Defense and The Ministry of Defence of Ukraine for comment on the allegations regarding their forces that are included in this story.
The day after our conversation, Elvis sent a message to Newsweek saying that he was on his way back to the front.