U.S. Rebukes China For 'Intimidation and Coercion' in South China Sea
Vice President Kamala Harris pledged U.S. support to the Philippines against Chinese assertiveness in a speech from the edge of the South China Sea on Tuesday.
Harris, the most senior Biden administration official to visit the Philippines so far, told her Filipino hosts that Washington would stand with Manila "in the face of intimidation and coercion in the South China Sea."
She also reaffirmed U.S. backing for the Permanent Court of Arbitration's 2016 ruling in Philippines v. China, "which delivered a unanimous and final decision firmly rejecting China's expansive South China Sea maritime claims."
"The tribunal's decision is legally binding and must be respected," said the vice president. "We will continue to rally our allies and partners against unlawful and irresponsible behavior."
China rejects the findings in their entirety and insists it has historic rights to all islands and features in the South China Sea within its "nine-dash line."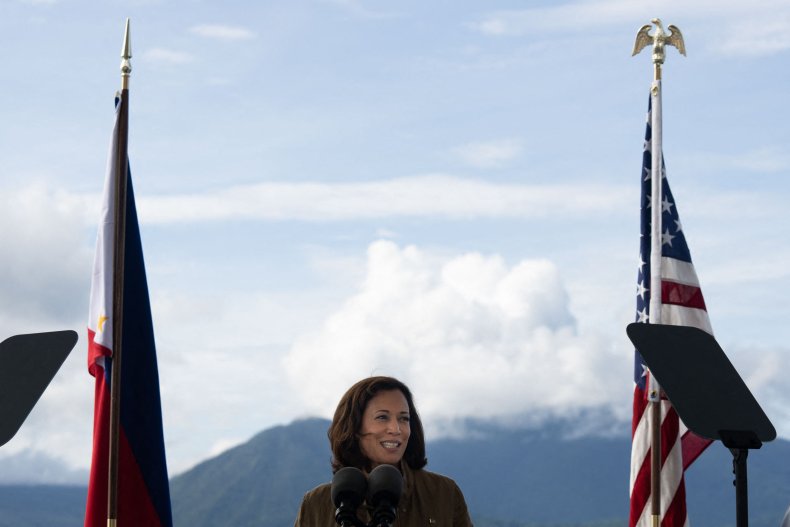 Harris spoke from the deck of Philippine Coast Guard ship BRP Teresa Magbanua in Puerto Princesa, the port capital of Palawan province, roughly 300 miles from the site of a fresh spat between the Philippine Navy and the China Coast Guard off Manila-held Thitu Island on Sunday.
The coast guard vessel was said to have blocked a rubber boat crewed by Filipino sailors before China's maritime police seized a piece of suspected Chinese rocket debris that had fallen near the disputed Spratly island, which is known as Pagasa in the Philippines and Zhongye in China.
Harris called for the safeguarding of principles, including the right to sail unimpeded through the busy international waters, which carry one-third of all global maritime trade, according to U.N. estimates.
"We must stand up for principles such as respect for sovereignty and territorial integrity, unimpeded lawful commerce, the peaceful resolution of disputes, and the freedom of navigation and overflight in the South China Sea and throughout the Indo-Pacific," said Harris.
"The United States and the broader international community have a profound stake in the future of this region. America's prosperity relies on the billions of dollars that flow through these waters every day. And we are proud to work with you in your mission," she said.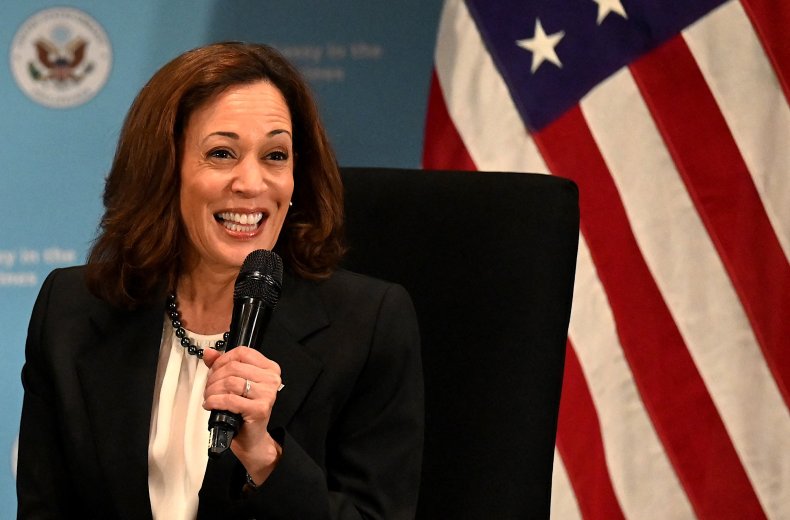 Harris' three-day visit began in Manila late on Sunday and was followed by a meeting with President Ferdinand Marcos Jr. the next morning.
"An armed attack on the Philippines armed forces, public vessels or aircraft in the South China Sea would invoke the U.S.'s mutual defense commitments. And that is an unwavering commitment that we have to the Philippines," she said of one of America's oldest treaty allies in Asia.
Her trip included announcements to deepen cooperation with the Philippines in areas including climate change and to expand basing agreement for American troops. In Palawan, she met with local officials to discuss illegal, unreported and unregulated fishing, a concern that relates to China's massive maritime fishing fleets.
"Our view has always been that exchanges and cooperation between any set of countries should be conducive to the mutual understanding and trust among regional countries and the peace and stability in the region," Zhao Lijian, China's foreign ministry spokesperson, said in response to Harris' travel.
"It should not target or hurt other countries' interests. We are not against normal interaction between the U.S. and the Philippines, but their interaction should not be damaging to other countries' interests," he said.