The U.S. military has said it would continue to ensure security in the Baltic region, which finds itself at the center of soaring tensions between Russia and NATO inflamed by the war in Ukraine, as Moscow issued new warnings over the Western alliance's potential expansion.
The Russian threat came last week as Deputy Security Council Dmitry Medvedev warned last week that "there can be no talk about the nuclear-free status of the Baltic region" if non-aligned Finland and Sweden go through with their bids to join NATO.
That same day, Deputy Foreign Minister Alexander Grushko told the state-run Tass Russian News Agency that Moscow "will be forced to take security and defense measures that we will deem necessary" in response to such a move, measures Kremlin spokesperson Dmitry Peskov said would soon be discussed by President Vladimir Putin.
On Monday, the Russian Defense Ministry's Baltic Fleet announced a new set of submarine-hunting warship drills in the Baltic Sea, which hugs the coastlines of NATO members Denmark, Estonia, Germany, Latvia, Lithuania and Poland, as well as Finland and Sweden and the militarized Russian exclave of Kaliningrad.
The news came nearly two months since Russian troops gathered along Ukraine's borders for the stated purpose of routine exercises launched what Putin has called a "special military operation" with the help of allied separatists based in Ukraine's eastern Donbas region.
Reached for comment on the latest development, U.S. Navy Sixth Fleet spokesperson Lieutenant Tyler Barker told Newsweek he could not "speculate on Russia's intentions or the nature of their deployments or operations, but I assure you the U.S. Navy's commitment to the Baltics is ironclad."
"We routinely work with our Baltic Allies and partners, including Finland and Sweden, to ensure security and stability in the Baltics, and that work continues unabated by the current situation," Barker said. "Every Baltic country has something powerful to contribute, and when they do, our unified strength is simply unmatched."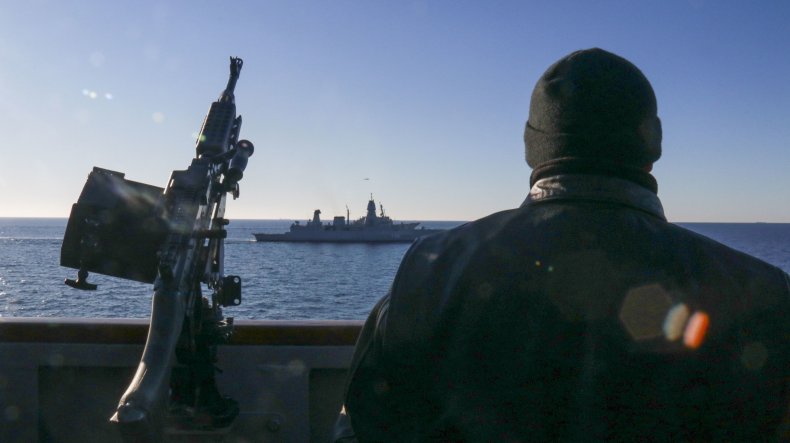 Russian military activities continued Wednesday in the region, as the Russian Baltic Fleet's guard ship Neustrashimy conducted a live-fire test of a Kinzhal surface-to-air missile system as part of shipbuilders' sea trials. On Tuesday, Russian forces in Kaliningrad trained to ensure the passage of dozens of pieces of military equipment using engineering reconnaissance and anti-mine sapper units.
Kaliningrad's geographical isolation from the rest of Russia leaves it vulnerable to restrictions put in place by European countries against Russian movement across the continent, especially by land. The region's governor, Anton Alikhanov, told Tass on Monday that Kaliningrad could largely provide for itself, but added that some 20 vessels would be required to sustain the current flow of trade if a full blockade were to be instituted by neighboring Lithuania and Poland, both former Soviet-aligned states now part of NATO.
NATO's eastward expansion since the fall of the Soviet Union three decades ago has been a core grievance of Vladimir Putin, especially as the neighboring Baltic states of Estonia, Latvia and Lithuania and joined the alliance in 2004 and Ukraine soon after expressed its own interest. Kyiv sought to accelerate its bid in 2014 after unrest brought to power a pro-West government and Russia seized the Crimean Peninsula amid an internationally disputed referendum as insurgents in Donbas declared breakaway states of the self-proclaimed Donetsk and Luhansk People's Republics (DPR and LPR).
Ukraine's aspirations to join NATO and the bloc's military activities in regions near Russia's borders were at the center of security talks with Russia that unraveled in the leadup to the current conflict. The United States, which has provided Ukraine with billions of dollars of military assistance since 2014, has ramped up aid in the wake of the February 24 incursion and further expanded its military presence in Eastern Europe.
"On February 24 we all woke to a different reality," U.S. Navy Sixth Fleet Commander Vice Admiral Gene Black said Wednesday during a Cooperative Strategy Forum held in Sweden. "We now live in a Europe where Russia violated Ukraine's territorial sovereignty and now threatens Eastern Allies and Partners in ways not seen in 75 years."
The event, organized by the Office of the Chief of Naval Operations Warfighting Development Directorate, hosted senior military leaders from different countries "to discuss emergent and enduring security issues in the European region, specifically the Baltic Sea," according to U.S. Sixth Fleet Public Affairs.
"Over the next two days, we will work on ways to best align our collective strength to deter conflict, and if called upon, respond swiftly and effectively," Black said. "We have an obligation to maintain readiness and demonstrate a credible and capable maritime force, which will maintain freedom of the seas, ensure free economic exchange, and maintain maritime security."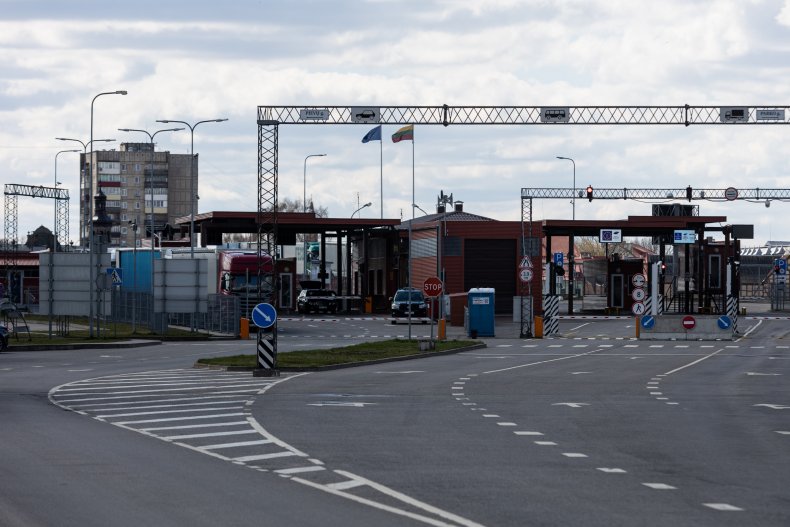 Also on Wednesday, U.S. Deputy Secretary of State Wendy Sherman met in Belgium with NATO Deputy Secretary-General Mircea Geoană to discuss "shared U.S. priorities for the revision of NATO's Strategic Concept, which will ensure that NATO remains ready to respond to the rapidly evolving 21st century security landscape."
"The Deputy Secretary also discussed NATO's ongoing efforts to strengthen its defenses against Russian aggression, as well as U.S. efforts to support Ukraine's ability to defend itself against Russia's brutal and unprovoked invasion," according to a statement issued by State Department spokesperson Ned Price.
Price's counterpart in Moscow, however, said that the U.S.-led coalition was only prolonging the crisis.
"Contrary to the statements that hostilities in Ukraine should end as soon as possible, NATO countries are doing everything to delay the active phase of the operation," Russian Foreign Ministry spokesperson Maria Zakharova told a press briefing Wednesday. "What I mean is that they are increasing the supply of military equipment, weapons and ammunition, pushing the Kiev regime to continue aggression against the DPR and LPR and new war crimes by neo-Nazis."
While Moscow has accused Kyiv of targeting Ukraine's ethnic Russian population and committing crimes against the Ukrainian people, Ukrainian President Volodymyr Zelensky said it was Russia that was guilty of such tactics.
"We understand that Russia seeks to destroy the Ukrainian people, the Ukrainian statehood, and this is a real genocide," Zelensky told reporters following a meeting with European Council President Charles Michel in Kyiv. "We see that Russia does not stop in its bloody desire to destroy Ukrainians and our state at any cost, women, children, our defenseless civilian population."