US vs. Mexico: Preview, Start Time, TV Channel, Live Stream for Soccer Friendly Match Between Men's National Teams
The United States men's national soccer team (USMNT) is set to take on Mexico on Tuesday night in a friendly match between bitter rivals.
"El Tri" will be playing away from home, venturing to Nashville's Nissan stadium for the match. The U.S. side is undergoing a revamp of sorts with an injection of young talent. Something had to change after the U.S.'s catastrophic failure to qualify for the 2018 World Cup.
Interim coach Dave Sarachan—the U.S. has yet to hire a new boss—promised a team that was ready to compete, even if it was full of young players getting their first taste of an important rivalry.
"It's going to look like a team that's going to compete, that plays with no fear, is aggressive, that's not afraid and I think when we get beyond that into the tactics and systems, that will all be an organic process as we develop players," he said, via ESPN. "The foundation of being a U.S. soccer team and what that brings each and every time is critical and I think this group has sort of established that."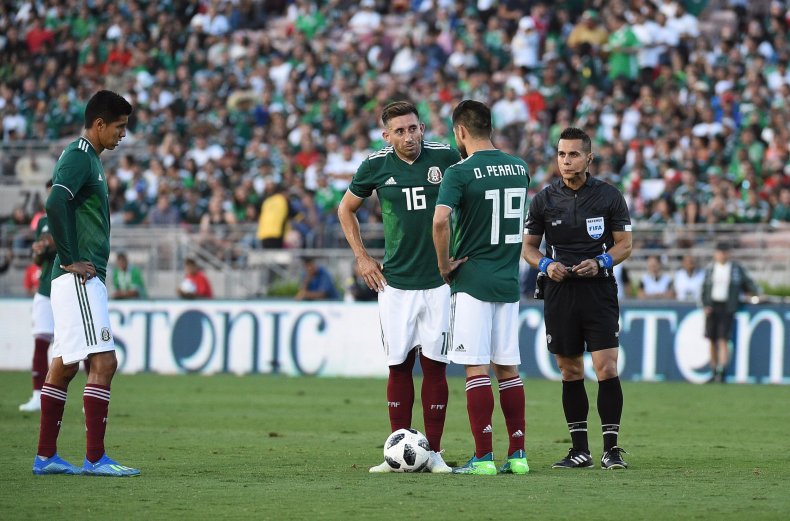 Sarachan then added that he wasn't taking a shot at teams in the past—perhaps those under the direction of former coach Jurgen Klinsmann—but simply promoting an attitude for the young squad that'll be without national team stalwarts such as Clint Dempsey, Tim Howard and Michael Bradley.
"I don't think if you look at last year, or [the last] two or five years, that the team didn't compete or play with heart," Sarachan told the sports network. "But I think with the young group that needs to be reinforced each and every time we get together and that's still an important component to what we're about."
The Mexican side will feature a young roster as well and will be sans World Cup standouts Hirving Lozano and Guillermo Ochoa. Mexico, of course, had a brilliant start to the World Cup by beating Germany but eventually fell in the Round of 16 to Brazil—continuing its so-called "quinto partido" curse.
Here's all the info for the friendly:
Start time: 8:30 p.m. ET
TV channel: ESPN / Univision
Live stream: WatchESPN or fuboTV (free trial available)
The U.S.-Mexico rivalry dates back to 1934 when they first met in Rome, Italy. The "Stars and Stripes" team defeated Mexico 4-1 in front of 10,000 soccer fans, including Italian dictator Benito Mussolini, according to the U.S. Soccer website. Despite this astounding victory, it would take nearly 46 years before Mexico would lose to the U.S. again.