U.S. Says, 'We Want to Talk,' Iran Says First End 'Maximum Pressure'
The Pentagon called for talks with Iran, though the Iranian government dismissed diplomacy with the United States until President Donald Trump lifted his hard-line "maximum pressure" approach.
At the Department of Defense's first press briefing since May, Defense Secretary Mark Esper said, "We are not seeking a conflict with Iran, we want to engage with Iran." Esper championed a U.S.-led maritime security coalition known as Operation Sentinel, charged with patrolling the Persian Gulf. The region has been the site of tense confrontations between the two longtime foes, with tensions rising especially high in recent months.
Speaking alongside the Joint Chiefs of Staff Chairman, Marine Corps General Joseph Dunford, Esper then referred to earlier reports that Trump may be willing to sit down with Iranian President Hassan Rouhani "to resolve this diplomatically," saying "that has been the purpose of Operation Sentinel, to avoid a situation that would get off of that track and onto a different one."
"To the degree that it's been successful, that's good. I'm not sure I'm ready to call the crisis over yet, but so far so good, we hope the trend lines continue that way, we hope the parties, the Iranians agree to meet and talks and resolve these issues," he continued, later "we can reach out, we want to talk with Iran about a diplomatic path forward."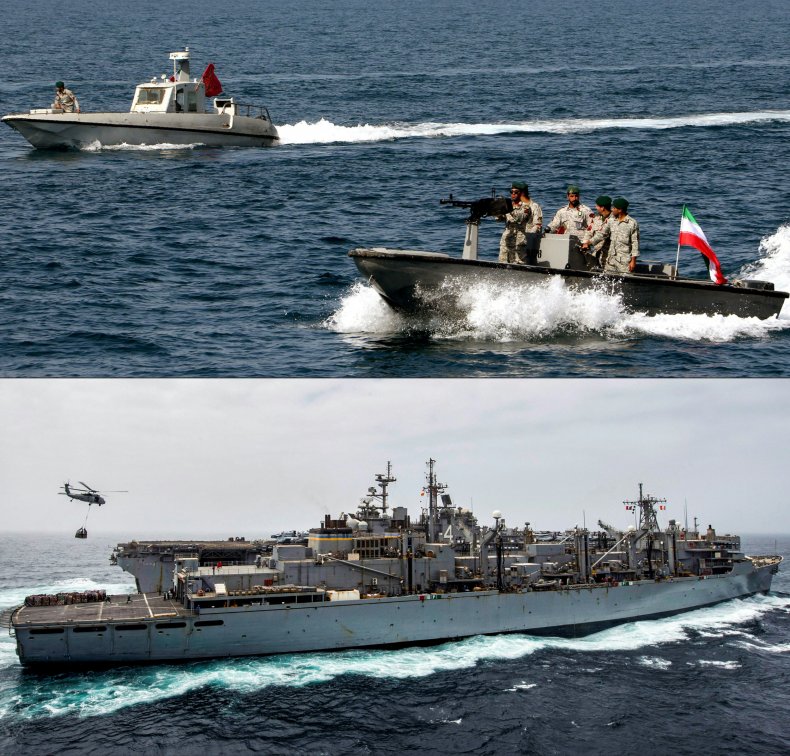 Esper also credited the U.S. and its coalition allies⁠ — which so far include Australia, Bahrain and the United Kingdom⁠ — with having "deterred provocative behavior," while Dunford highlighted that he "would not draw a correlation between the forces we have put in the region and degrading Iranian capabilities."
Since May, the Pentagon has deployed a carrier strike group, a bomber task force and an additional 2,500 troops to the Middle East as Washington accused Iran of attacking oil tankers and plotting against U.S. interests. The two countries have also claimed to have shot down one another's drones. Iran and the U.K. have seized one another's ships, though London-controlled Gibraltar released Iran's supertanker earlier this month.
The recent incidents have occurred amid the backdrop of a steady deterioration in ties between the U.S. and Iran. The two countries struck a nuclear deal in 2015 only for the Trump administration to have abandoned the agreement last year, accusing Tehran of sponsoring militant groups abroad and destabilizing the region with missile development. The White House has since continued to impose increasingly strict sanctions against the Islamic Republic, which has vowed to resist them.
So far both sides have said they wished to avoid a war, but Iran has refused to engage in talks unless the U.S. first returned to their original agreement, which was still supported by fellow signatories China, the European Union, France, Germany, Russia and the United Kingdom, all of whom have called on Trump to respect the terms of the accord. In recent months, Paris, in particular, has set out to make some bold diplomatic moves.
As Iranian Foreign Minister Mohammad Javad Zarif's continued a world tour to counter the U.S. campaign to isolate his country, French President Emmanuel Macron offered a surprise stop in Biarritz, where the U.S. and other top powers were convening for the G-7 summit. Though Trump did not meet with Zarif, he said Monday that "if the circumstances were correct or right, I would certainly agree" to talks with Rouhani.
The Iranian president initially seemed receptive to the idea, telling a conference that same day in Tehran, "If I am to meet someone and that meeting would solve the problems my country, I will not hesitate to do so because it is in the principle of national interest." The following day, however, he clarified that such a move is "not possible if one only wants to take a photo with Hassan Rouhani, unless they abstain from all cruel sanctions and respect the rights of the Iranian people."
This stance was echoed Wednesday by Iranian Deputy Foreign Minister Abbas Araghchi who said in a televised speech "must lift the sanctions" and return to a 5+1 format involving the nuclear deal parties. As for Europe, which has struggled to normalize trade ties under threat of U.S. sanctions, he said they must "either buy oil or give us credit."
Meanwhile, tensions between Iran and the U.S.' closest ally, Israel, were also reaching a breaking point as the latter openly claimed attacks on Tehran-backed groups in Syria and the Gaza Strip and was accused of two more in Lebanon and Iraq over the weekend, stirring regional outrage.