U.S. Wants Russia 'Weakened' So It Can Never Invade Again
Secretary of Defense Lloyd Austin said on Monday that the United States wants to see Russia so "weakened" that the country won't be able to launch a new invasion like the one in Ukraine in the future.
The comment was made to reporters one day after Austin traveled with Secretary of State Antony Blinken to Kyiv, where the two met Ukraine's President Volodymyr Zelensky and members of the Ukrainian government. The bilateral meeting, which was supposed to last 90 minutes, ran over three hours.
It was the highest-level visit to Ukraine made by a U.S. representative since the beginning of the war on February 24, and a strong message of solidarity from the U.S.
"We want to see Russia weakened to the degree that it can't do the kinds of things that it has done in invading Ukraine," Austin told reporters during a press conference at an unknown location in Poland after the trip to Kyiv.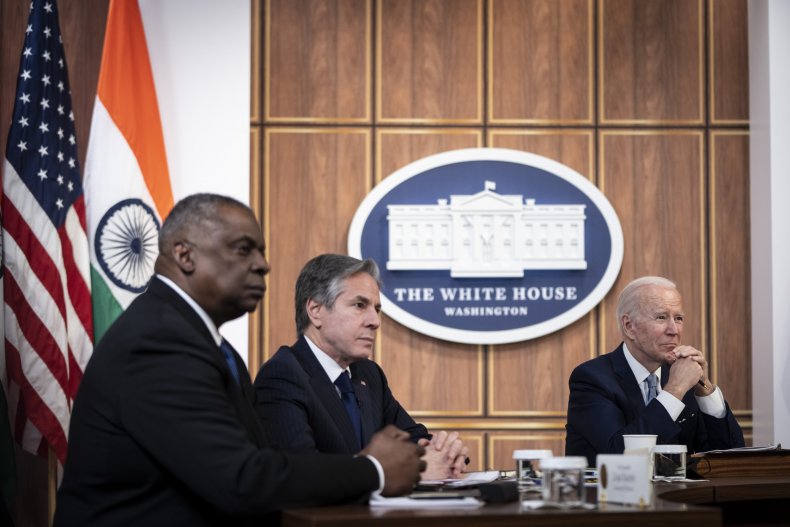 "So it has already lost a lot of military capability. And a lot of its troops, quite frankly. And we want to see them not have the capability to very quickly reproduce that capability," he added.
Both Blinken and Austin mentioned that the war in Ukraine is not going as the Kremlin had planned.
Blinken said that Russia's plan to "subjugate Ukraine and take its independence" has "failed."
"In terms of Russia's war aims, Russia has already failed and Ukraine has already succeeded," said Blinken. Austin said that he believes Ukraine can win the war if it has the "right equipment, the right support."
The visit of the two officials on Sunday was followed by the announcement of an additional $713 million in military aid from the U.S. to Ukraine and European allies. The extra aid adds up to the total of $3.4 billion the U.S. had already committed to Ukraine since the beginning of the war.
During their visit to Kyiv, Blinken and Austin also pledged the return of U.S. diplomats to Kyiv and announced that a new ambassador to Ukraine will be nominated.
Update, 9:41 a.m. ET. This article was updated to add more context to Austin's quote.