U.S. War Failed to Democratize Afghanistan. Afghans Want Peace | Opinion
The May 1 deadline for withdrawing U.S. troops from Afghanistan, lynchpin of the U.S.-Taliban peace deal negotiated last year, is now less than a month away. President Joe Biden has yet to say whether he'll abide by the agreement, and key advisers are reportedly pushing him to prolong the "forever war" he promised to end.
Central to many cases for fighting in Afghanistan for another year—or 20—is the plight of women and girls.
"For many Biden administration officials," The New York Times reported, "the issue that has resonated the most clearly is the threat that a Taliban takeover could pose to Afghan women." Choosing "any set date for withdrawing," the Times summarized their thinking, "will doom the mission," leading to "a sharp erosion of women's rights," particularly in rural areas, as the Taliban gains formal power.
There is a real risk here, but the picture these officials paint of the U.S. military as a desired and effective defender of Afghan women is far from accurate. Two decades of bloody, costly war and nation-building by the United States accomplished remarkably little for women's rights and material well-being in Afghanistan. Crucially, new The Washington Post/Asia Foundation survey data showed Afghans overwhelmingly want to improve women's circumstances in their country, but they're even more eager for peace.
The story of the U.S. war in Afghanistan is a story of failure. After the initial mission of retribution for the 9/11 attacks was quickly accomplished, the intervention devolved into a tragic and wasteful meander to nowhere in particular. Biden's advisers warn of the Taliban taking over, but the Taliban already controls large swathes of the country. In some places, it openly administrates, running courts and social services, such as they are. Its rhetoric is increasingly triumphant. We're lying to ourselves if we say we've built democracy in Afghanistan—and we're equally lying if we say we haven't yet but can with a few more months of war.
The rights of women are no exception to this dismal rule.
"The war was billed, in part, as 'a fight for the rights and dignity of women,'" wrote Lauren Bohn in Time in 2018, quoting former first lady Laura Bush a month after the 2001 invasion. Yet "Afghanistan is still ranked the worst place in the world to be a woman," Bohn continued.
"Despite Afghan government and international donor efforts since 2001 to educate girls, an estimated two-thirds of Afghan girls do not attend school. Eighty-seven percent of Afghan women are illiterate, while 70-80 percent face forced marriage, many before the age of 16. A September [2018] watchdog report called the USAID's $280 million Promote program—billed the largest single investment that the U.S. government has ever made to advance women's rights globally—a flop and a waste of taxpayer's money." About eight in 10 Afghan suicide attempts are committed by women, Bohn further noted, a global outlier, and nine in 10 Afghan women have experienced domestic abuse.
The notion that we can preserve Afghan women's rights by prolonging this war past the May 1 deadline is ludicrous; in 20 years of fighting, we've yet to secure them at all. The continued insistence that a little more U.S. military intervention will make a meaningful difference is absurd. The future of women in Afghanistan is not something the United States can control (though certainly we could and should welcome Afghan women and their children to America as refugees).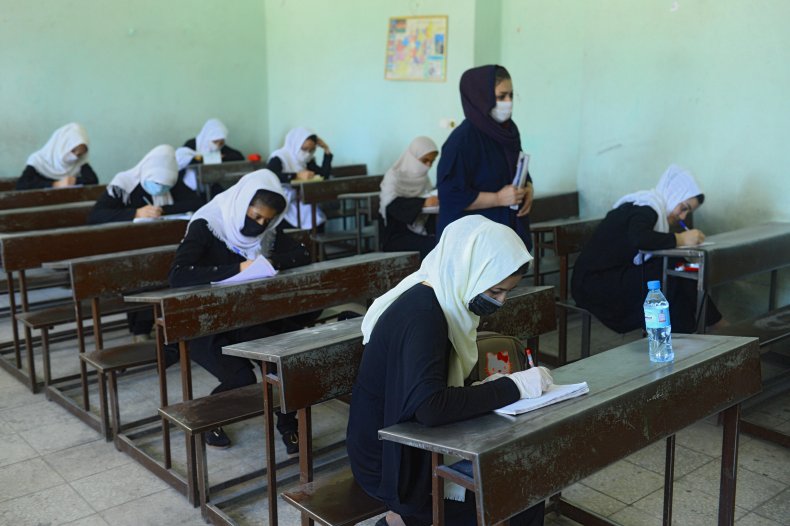 What we can control, however, is our own departure. And that departure is something most Afghans want.
"[N]ew survey evidence from across Afghanistan indicates that the public is strongly supportive of peace," The Washington Post/Asia Foundation report found.
The survey asked Afghans whether they'd support the U.S.-negotiated peace deal with and without various tweaks. On a hopeful note, the option that generated the most enthusiasm was protecting women's rights. But a majority of Afghans endorsed any peace deal configuration pollsters proposed. Even a deal which resulted in the Taliban holding "majority control over a post-peace government" got majority backing—the majorities held across gender and ethnic lines, including among women and minority groups that suffered Taliban persecution.
Most Afghans care more about peace than they do about the details of a deal. Incidentally, most Americans agree: Majorities believe the war in Afghanistan wasn't worth fighting and that our troops should come home.
But will Washington listen?
"It's not my intention to stay [in Afghanistan] for a long time," Biden said last month at his first news conference as president. "We will leave. The question is when we leave." He should respect the wishes of Americans and Afghans alike and end U.S. military intervention in Afghanistan by May 1.
Bonnie Kristian is a fellow at Defense Priorities, contributing editor at The Week, and columnist at Christianity Today. Her writing also appeared at CNN, NBC, USA Today, The Los Angeles Times and Defense One, among other outlets.
The views expressed in this article are the writer's own.