U.S. Will Go to War With Iran 'Within Next Few Years,' Half of Americans Believe and Many Blame Donald Trump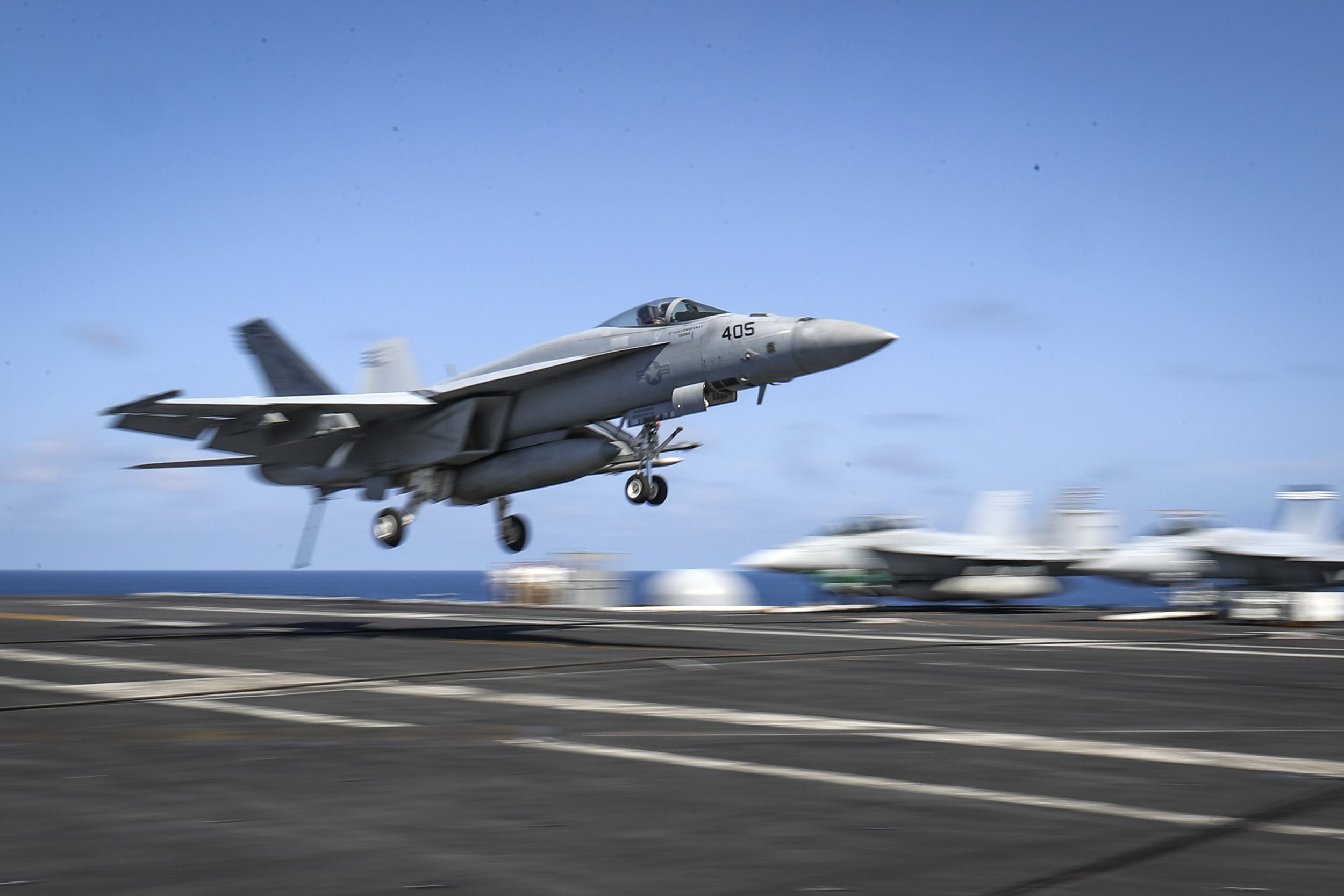 About half of Americans participating in a recent U.S. poll said they believed their country was headed toward war with Iran in the not-so-distant future, and many blamed the policies of President Donald Trump.
A survey of about 1,000 adults conducted between May 17-20 by Reuters and Ipsos indicated that 51 percent believed the U.S. would go to war with Iran "within the next few years." The results came at a time of heightened tensions between longtime foes Washington and Tehran, which recently began to reconsider its own commitments to a 2015 nuclear agreement that Trump pulled the U.S. out of more than a year ago.
The Trump administration has since sought harsh sanctions against the Islamic Republic, accusing it of backing militant groups and pursuing ballistic missile activity. In recent weeks, Washington expanded its "maximum pressure" campaign by deploying the USS Abraham Lincoln carrier strike group and a bomber task force to the region in response to allegations that Iran and its allies had threatened to attack U.S. interests.
Tuesday's poll, however, found that 49 percent of Americans disapproved of Trump's handling of Iran, as opposed to 39 percent who approved of his policy. The nuclear deal—still backed by fellow signatories China, the EU, France, Germany, Russia and the United Kingdom—was supported by some 61 percent of those polled, including 55 percent who identified as Republican.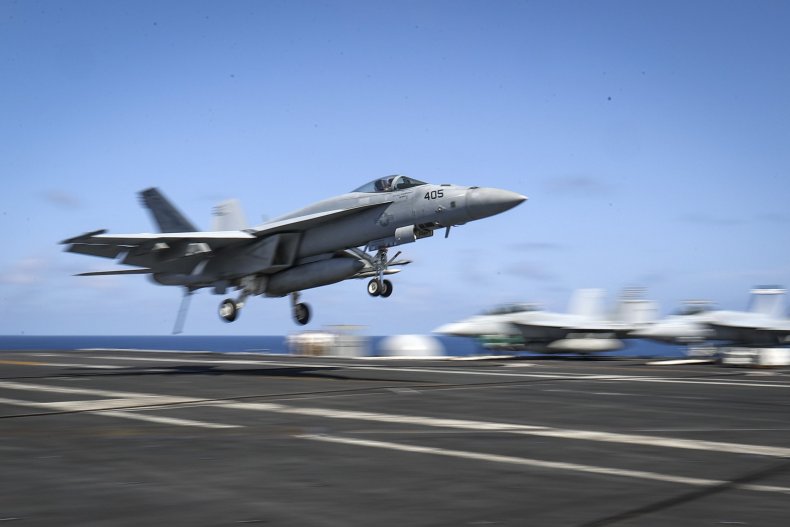 Trump repeatedly said that he did not want a war, as did Iranian supreme leader Ayatollah Ali Khamenei and other senior officials. Still, both sides have so far rejected talks, with Trump calling on Iranian leaders to call him first and those in Tehran dismissing any diplomacy under duress, especially with a White House that walked away from a previous international agreement.
Meanwhile, the Trump administration talked up the threat posed by the Islamic Republic on the ground and at sea. Lawmakers were briefed Tuesday on evidence that was purported to show Iran had secretly loaded small traditional sailing vessels, called dhows, with missiles. Other intelligence reportedly indicated Iran had plotted attacks via allied militias in Iraq, from which the U.S. had recently pulled diplomatic staff.
While the Yemeni Zaidi Shiite Muslim rebel group, known as Ansar Allah or the Houthi movement, claimed responsibility for recent drone attacks on a Saudi oil pipeline and arms depot, the group was already in the midst of a four-year civil war against loyalist forces backed by Riyadh and denied any connections to Iran. Apparent acts of sabotage against four oil tankers in the Gulf of Oman and a rocket that landed within Baghdad's Green Zone compound—home to Washington's embassy and other government buildings—have gone unclaimed.
Some Democratic lawmakers who were briefed on the intelligence reputedly showing Iran's activities in the region disputed the Trump administration's take on it. At least one U.S. military official who spoke to Newsweek and a U.S.-led NATO Western military alliance official cited by Medium cast similar doubts about Washington's narrative.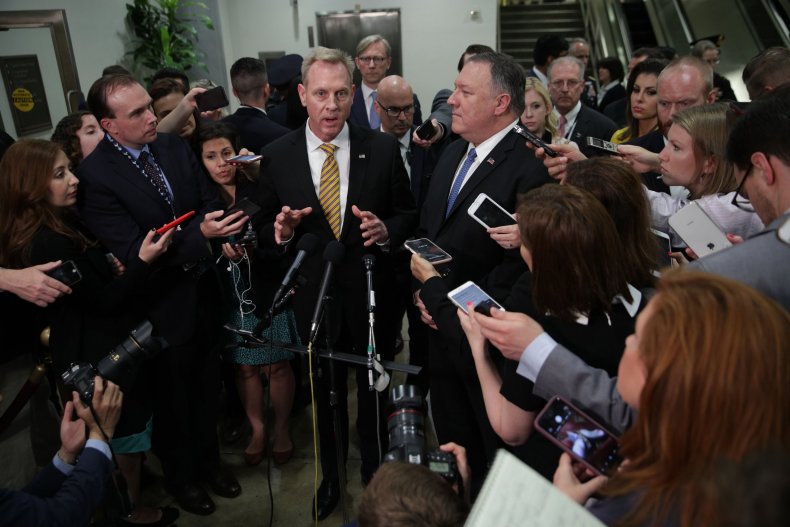 Acting Defense Secretary Patrick Shanahan, who Newsweek confirmed drew up both offensive and retaliatory military options against Iran earlier this month at the request of White House National Security Adviser John Bolton, told reporters Tuesday in front of the Pentagon that he wanted "to underscore the credibility of the intelligence" regarding signs that Iran was planning some sort of attack, calling the Pentagon's steps "prudent," though he did not provide further details.
At the same time, Shanahan said that "we've put on hold the potential for attacks on Americans, that's what's extremely important."
In an interview with CNN, Iranian Foreign Minister Mohammad Javad Zarif warned Tuesday that the expanded U.S. military presence in the Persian Gulf, where Iranian and other international vessels regularly operated, meant "extreme prudence is required and the United States is playing a very, very dangerous game.
"Iran never negotiates with coercion," Zarif told the cable news network. "You cannot threaten any Iranian and expect them to engage. The way to do it is through respect, not through threats."