The U.S. on Sunday warned Iran that it would face "severe consequences" if any American citizens are attacked after the nation sanctioned more than 50 American officials and threatened to seek "revenge" for the 2020 killing of General Qassem Soleimani.
"Make no mistake, the United States of America will protect and defend its citizens," National Security Adviser Jake Sullivan said in a statement Sunday. "We will work with our allies and partners to deter and respond to any attacks carried out by Iran. Should Iran attack any of our nationals, including any of the 52 people named yesterday, it will face severe consequences."
Sullivan's statement comes after Iran sanctioned more than 50 Americans on Saturday following the second anniversary of Soleimani's death.
Iran's foreign ministry said the dozens of new sanctions were imposed on individuals for "their role in the terrorist crime by the United States against the martyred General Qassem Soleimani and his companions and the promotion of terrorism and violations of fundamental human rights."
Those sanctioned include General Mark Milley, and former White House National Security Adviser Robert O'Brien. The sanctions could technically allow Iranian authorities to seize any assets those individuals hold in the country, but the move is largely just seen as symbolic, according to Reuters.
Also this week, the leader of Iran's Revolutionary Guard Corps vowed to continue seeking revenge for the general's killing. Speaking on the anniversary of his death on January 3, Brig. Gen. Esmail Ghaani warned that the "ground for the hard revenge" could come from "within" the homes of Americans, according to Fox News.
"We do not need to be present as supervisors everywhere, wherever is necessary we take revenge against Americans by the help of people on their side and within their own homes without our presence," Ghaani added, according to the news outlet.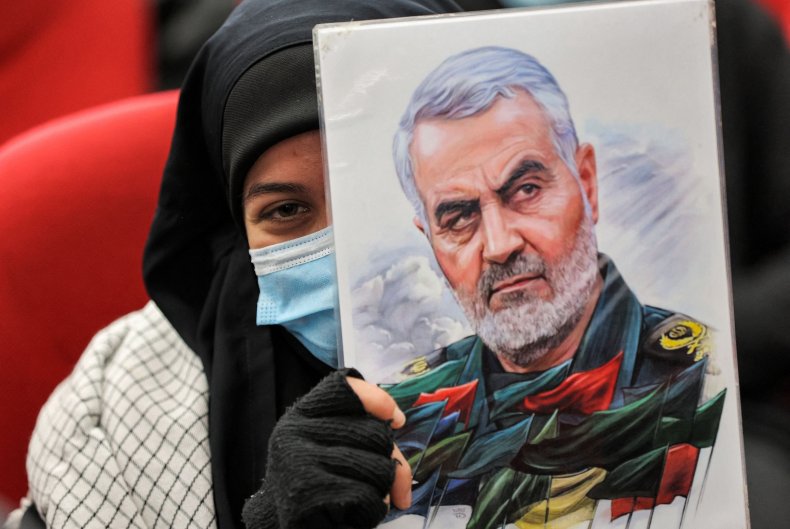 Soleimani, the nation's top general and commander of Iran's Quds Force, was killed by a drone strike in 2020 under a controversial order from former President Donald Trump. At the time, the U.S. government said Soleimani posed an imminent threat to the safety of Americans.
Iran similarly moved to sanction Trump and several other administration officials for their role in his death last year. Earlier this week, the country's president called for Trump to be "prosecuted and killed" over the slaying.
Sullivan on Sunday added that while the White House and Iran have "disagreements" on policy, the U.S. remains "united in our resolve against threats and provocations."