U.S. Warship to Join U.K. Fleet in Indo-Pacific amid China, Russia Tensions
A U.S. destroyer will set sail in the Indo-Pacific with a U.K. fleet led by the new £3 billion aircraft carrier HMS Queen Elizabeth next month as tensions with China and Russia mount.
The U.K. Ministry of Defence announced on Monday that its Carrier Strike Group led by the HMS Queen Elizabeth would be joined by USS The Sullivans as it visits India, Japan, South Korea and Singapore in May.
The U.S.'s Arleigh Burke-class destroyer will provide the British fleet with air defence and anti-submarine protection over the course of its tour.
Part of the U.K. Carrier Strike Group will support NATO during security operations in the Black Sea—a flashpoint in ongoing tensions between Russia and Ukraine following the 2014 annexation of Crimea.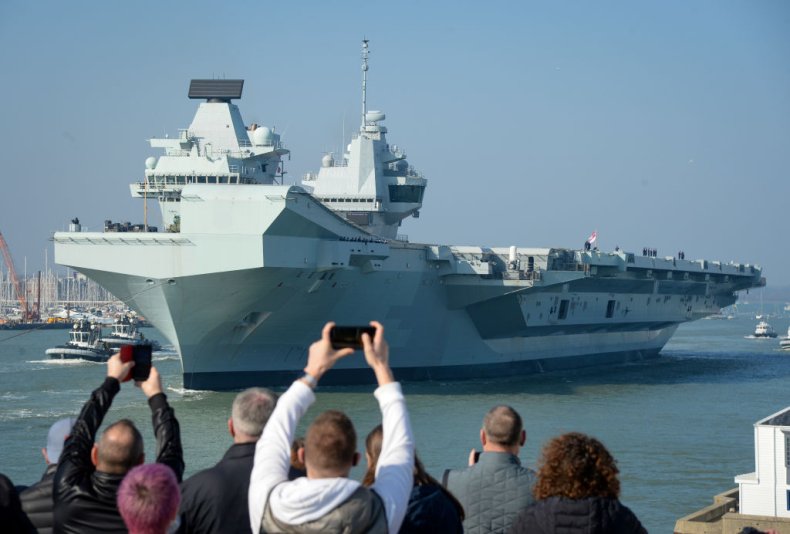 Releasing a statement today, U.K. Defence Secretary Ben Wallace said: "When our Carrier Strike Group sets sail next month, it will be flying the flag for Global Britain—projecting our influence, signalling our power, engaging with our friends and reaffirming our commitment to addressing the security challenges of today and tomorrow."
The operation is expected to last more than six months and involve visits to more than 40 countries. Units from the group will also be involved in over 70 engagements, air exercises and other operations.
Although some units from the fleet will support NATO in the Black Sea, the U.K. Navy is expected to avoid the Taiwan Strait, the Daily Mail reported. China complained about a U.S. destroyer passing through the Strait earlier this month.
A Chinese military spokesperson said at the time that the move sent the "wrong signal" to Taiwan and endangered peace in the region.
In a press release from October last year, the U.S. Navy said the deployment of USS The Sullivans was only possible because of the "special relationship" between the U.K. and U.S., and warned adversaries of its capabilities.
"As we continue training during Joint Warrior in preparation for a global deployment this spring, would be adversaries should be weary of the lethal capabilities the USS The Sullivans brings to the carrier strike group," U.S. Marine Corps Col. Simon Doran said at the time.
The operation is a key part of the U.K.'s "Indo-Pacific tilt" strategy aimed at strengthening security relationships with allies in Asia and bolstering regional defence against any incursions.
The USS John S. McCain passed through the Taiwan Strait in early April, the Associated Press reported, and was tracked by Chinese officials during its voyage. The U.S. said the move, which angered Beijing, had been conducted in line with international law.
Chinese forces have flown warplanes near Taiwan in record numbers over the past few weeks amid fears that the country could be invaded.