A U.S. aircraft carrier has sailed through the South China Sea on its way to Manila, in the Philippines, amid escalating tensions with China over Beijing's military development in the disputed maritime region.
Navy fighter jets, carrying a group of Philippine generals, journalists and officials, flew onto the nuclear-powered USS Theodore Roosevelt in a display of military might as it was conducting routine training on Tuesday, reported The Associated Press.
"It's a showcase of the capability of the U.S. armed forces not only by sea but also by air," said Lieutenant General Rolando Bautista of the Philippine army. "The Americans are our friends. In one way or another, they can help us to deter any threat."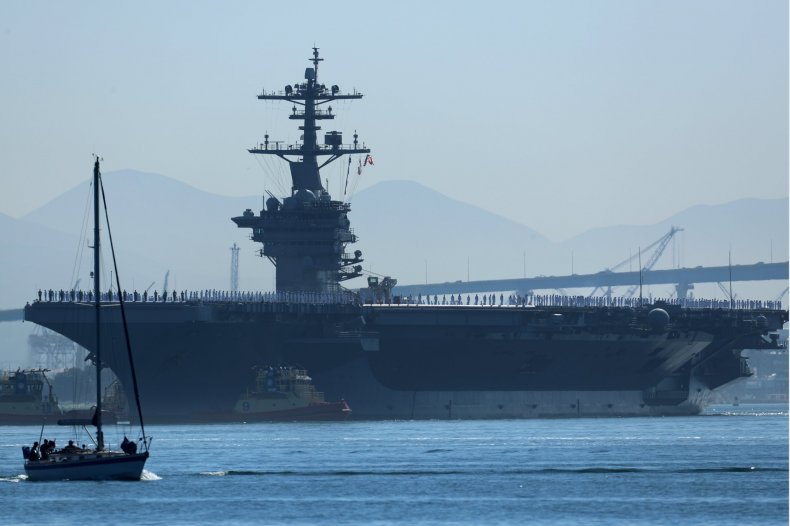 America has criticized China for their "provocative militarization" of the South China Sea and responded with increasingly frequent air and sea patrols in the disputed region that Beijing claims as their own.
"China's provocative militarization of the South China Sea is one area where China is contesting international law. They are pushing around smaller states in ways that put a strain on the global system," Brian Hook, a senior Asia policy adviser to former U.S. Secretary of State Rex Tillerson, said in January. "We are going to back up freedom-of-navigation operations and let them know we will fly, sail and operate wherever international law allows."
This year, the U.S. Navy executed at least two freedom-of-navigation operations near Scarborough Shoal, an area China currently occupies after taking it from the Philippines in 2012, and Mischief Reef, which Beijing occupied in 1995. These recent exercises in the disputed sea have sparked concerns in China of U.S. meddling in the Asian conflict.
Beijing also frequently sends naval patrols through the waterways. "We have seen Chinese ships around us," Rear Admiral Steve Koehler, the strike group commander, said onboard the warship.
"They are one of the navies that operate in the South China Sea but I would tell you that we have seen nothing but professional work out of the ships we have encountered."
Last Wednesday, China's navy issued a warning to nearby ships on social media that they were holding extensive military drills in Sanya, a city on the southern end of China's Hainan island province, until Friday. Analysts claimed the drills were an unusually large display of China's expanding military force, reported Reuters.
"This transit in the South China Sea is nothing new in our planning cycle or in a reaction to that. It is probably by happenstance that all that is happening at the same time," Koehler said.
"All of the operations that we do in and around the South China Sea or any of the bodies of water we operate in, there is a function of international law and that is ultimately what we want to recognize."