U.S. Weather Forecast Warns of Flash Flooding in Southwest and Snow Across Northern High Plains, Central Plains
Wet and wild weather is forecast for the U.S. this weekend, as flash flooding, thunderstorms and heavy snow hit the country.
According to the National Weather Service (NWS), a low-pressure system is expected to slowly move across the Four Corners region—southwestern Colorado, southeastern Utah, northeastern Arizona and northwestern New Mexico—and into the Southern Plains through today and into the weekend. This weather system will spread precipitation to these areas, with heavy rain continuing for the Southwest and flash flood watches in place. Flash flood warnings are in place for Maricopa County, Arizona.
Rain and thunderstorms will spread into the Southern Plains today, with a slight risk of severe weather in effect for parts of southeastern New Mexico and western Texas, along with the potential for a couple of inches of rain in Oklahoma, says NWS' alert. Over in the Lower Mississippi Valley and Southwest, a slow-moving front will lead to rain, spreading into the Tennesse and Lower Ohio Valleys—NWS forecasts that an inch of rain is forecast for portions of Tennessee and Kentucky tomorrow, which heightens the risk of isolated flooding.
In the north of the country, due to a strong high-pressure system pushing southward through western Canada, snow is expected in the Northern High Plains, says NWS. The low-pressure system moving through the Four Corners region will lead to snow developing in the Central Rockies and into the Central Plains this evening—the Nothern Rockies and Northern Great Basin will see "persistent snowfall" through to Sunday morning. NWS forecasts that totals of 12-18 inches of snow will fall in those areas, as well as the Northern High Plains.
Winter Storms Cause Trouble for Pacific Northwest
States in the northwest of the U.S. are under winter storm warnings until noon tomorrow, according to NWS.
In Montana, heavy snow is expected with total snow accumulations of 4-7 inches, and wind gusts as high as 45 miles per hour. NWS says that this warning covers all elevations until tomorrow morning.
Areas such as Bad Rock Canyon, Essex, Highway 83 Bigfork to Swan Lake, Marias Pass, and Polebridge will be affected, with difficult conditions for travel forecast. Wind chills are also predicted, dropping as low as 40 below zero. This can cause frostbite to exposed skin in as little as 10 minutes, warns NWS.
Philips County, Montana, is under warning to experience the heaviest snow accumulations, says NWS. Starting tonight 6:00 p.m. through to Sunday 5:00 p.m. MDT, cities such as Malta, Saco, Glasgow, Fort Peck, Hinsdale, Frazer, Winnett, Jordan, Whitewater, Zortman and Opheim could see 4-10 inches of snow, with locally higher totals possible.
Up to 20 inches of snow is forecast for the Northern Rocky Mountain Front, Eastern Glacier, Toole, Eastern Pondera, the Southern Rocky Mountain Front and Eastern Teton, says NWS. The warning is in effect until 4:00 p.m. MDT tomorrow for heavy snow and wind gusts as high as 40 miles per hours. The alert warns that widespread blowing snow could significantly reduce visibility and that dangerously cold wind chills as low as 45 below zero could cause frostbite on exposed skin in as little as 10 minutes. From this afternoon through tomorrow morning, near blizzard conditions are also forecast.
In portions of southwest and west central Nebraska, heavy snow is forecast of 4-7 inches, with higher totals in areas such as the western Sandhills. A winter storm warning is in effect from 10:00 a.m. CDT this morning until 7:00 p.m. tomorrow. In the central portions of the state, it is expected that up to 6 inches of snow will fall.
In Washington, a strong late winter storm will bring snow, biting north winds, rapidly falling temperatures and localized areas of blowing snow to the Idaho Panhandle, according to NWS, as well as central and eastern Washington. According to the warning, snow will develop over the central portions of the state this morning and spread into the eastern part of the state and north Idaho by this afternoon and evening. NWS also says that there is potential for record low temperatures on Sunday morning. Snow accumulations could reach up to 7 inches in parts.
In parts of the state, cold wind chills as low as 15 below zero could result in hypothermia if precautions are not taken, warns NWS. Areas around the Highway 95 corridor from Bonners Ferry to Sandpoint to Rathdrum will also experience strong wind gusts from this afternoon into tomorrow morning. Areas of blowing and drifting snow will significantly reduce visibility at times making for treacherous travel overnight tonight.
Alaska will continue to be hit by winter storm conditions, with warnings in effect from 6:00 p.m. tonight through to midnight tomorrow. Total snow accumulations of 12-16 inches are expected, especially in the Southern Seward Peninsula Coast area, says NWS.
In the Upper Kobuk and Noatak Valleys, localized amounts of up to 13 inches are forecast through to 4:00 p.m. tomorrow. Wind gusting could reach as high as 45 miles per hour. In the Lower Kobuk Valleys, 14 inches of snow is forecast locally.
Flash Flood Warnings for West Virginia and Arizona
This morning, flash flood warnings remain in effect until 9.45 a.m. EDT as areas such as Hanover and Chattaroy, West Virginia, are already seeing floods. According to NWS, between 2 to 2.5 inches of rain has already fallen, risking flooding of small creeks and streams, urban areas, highways, streets and underpasses as well as other drainage and low lying areas. Areas such as Williamson, Delbarton, Gilbert Creek, Hinch, R.d. Bailey Lake, Red Jacket, Matewan, Gilbert, Iaeger, Hampden, Pie, Bruno, Sarah Ann, Meador, Panther, Varney, Edgarton and Coal Mountain will be affected by flooding.
In Arizona, flash flood warnings are in effect for Maricopa County until 6:00 a.m. MST. According to NWS, overnight doppler radar and gauge reports have indicated heavy rain of up to 1 inch has fallen in areas such as North Scottsdale, Cave Creek, Carefree, McDowell Mountain Park, Desert Mountain, Camp Creek, Rio Verde, Horseshoe Reservoir and Seven Springs.
Potential life-threatening flash flooding of creeks and streams, urban areas, highways, streets and underpasses are expected. NWS advises that affected washes and roadways include McDowell Mountain Road at a wash crossing, road crossings along Reata Pass Wash, Jomax Road at Rawhide Wash, North Scopa Trail at Galloway Wash, and low water crossings along Andora Hills Wash.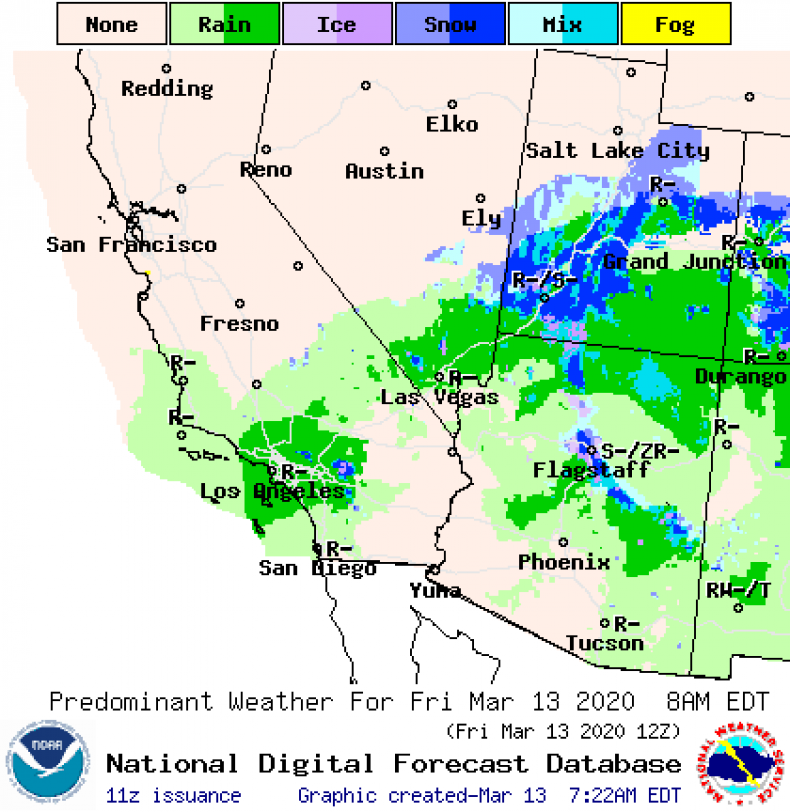 NWS advises that people in the aforementioned areas should not attempt to cross flooded roads and should find an alternate route. To report flooding to NWS, dial toll-free 800 401 9535, when it is safe to do so or post to social media on the Charleston West Virginia NWS Facebook Page, or by using the Twitter hashtag, NWSRLX.