Another Arctic Blast Is Set To Batter the U.S. As Record-Breaking Freeze Leaves Two Dead
Two people have been reported dead as record low temperatures gripped much of the U.S.
Temperatures ranged from 20 to 30 degrees Fahrenheit (11 to 17 degrees Celsius) below normal across the United States east of the Rocky Mountains, with only southern Florida untouched by the arctic blast.
And hard freeze warnings will remain in place through Wednesday from Texas to northern Florida, according to the National Weather Service.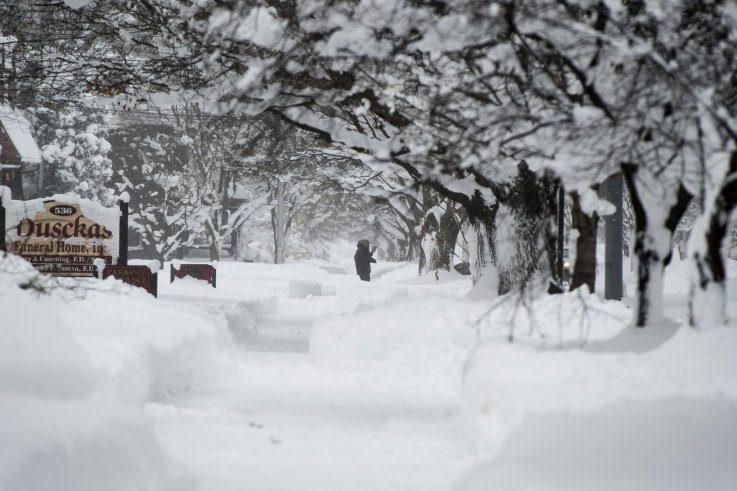 "That degree of cold will be with us until tomorrow," said Brian Hurley, a National Weather Service meteorologist at College Park, Maryland, told Reuters. "Tuesday morning, we're looking at temperatures with very high probability of record lows."
The cold will be unrelenting across the Middle Atlantic and Northeastern United States, with up to two dozen low-temperature records expected in those regions over the next day or two, Hurley said.
Although the cold should ease across most of the United States after Tuesday, the northeastern quarter of the country will see a repeat of the frigid temperatures from Thursday to Friday as another arctic blast hits the area.
Along Alabama's Gulf Coast, the temperature in the city of Mobile could hit a low of 16 F (minus 9 C) overnight. Stiff breezes were expected to create dangerously cold wind chills across southeastern Georgia and most of northeastern Florida, the weather service said.
The Milwaukee County Medical Examiner's office said the body of a 50-year-old and 34-year-old man found Sunday showed signs of hypothermia, reported the Associated Press.
The mass of frigid air pumped south by a dip in the jet stream sent temperatures plunging across the U.S. heartland. Omaha, Nebraska, posted a low of minus 20 F (minus 29 C), breaking a 130-year-old record, and Aberdeen, South Dakota, shattered a record set in 1919 with a temperature of minus 32 F (minus 36 C).
The private AccuWeather forecaster said the cold snap could combine with a storm brewing off the Bahamas to bring snow and high winds to much of the Eastern Seaboard as it heads north on Wednesday and Thursday.
The only part of the United States spared the deep freeze is the Southwest, with above-normal temperatures and dry weather expected to linger there, the weather service said.
Another Arctic Blast Is Set To Batter the U.S. As Record-Breaking Freeze Leaves Two Dead | U.S.