U.S. Will Continue 'Provocative War Games' With South Korea as Nuclear Talks With North Korea Falter
President Donald Trump's efforts to convince North Korea to give up its nuclear weapons appear to be faltering, and the Defense Department is suggesting it will continue military exercises with South Korea that the president previously described as provocative war games.
In the wake of a historic summit with North Korean leader Kim Jong Un in June, Trump surprised everyone, including the Defense Department and U.S. allies in South Korea, by announcing the cancelation of the military exercises that had been ongoing for decades. Military experts have argued that the exercises are necessary to train young South Korean conscripts. Pyongyang, however, has continuously argued that the games are provocative and prepare South Korean soldiers to launch strikes against North Korea.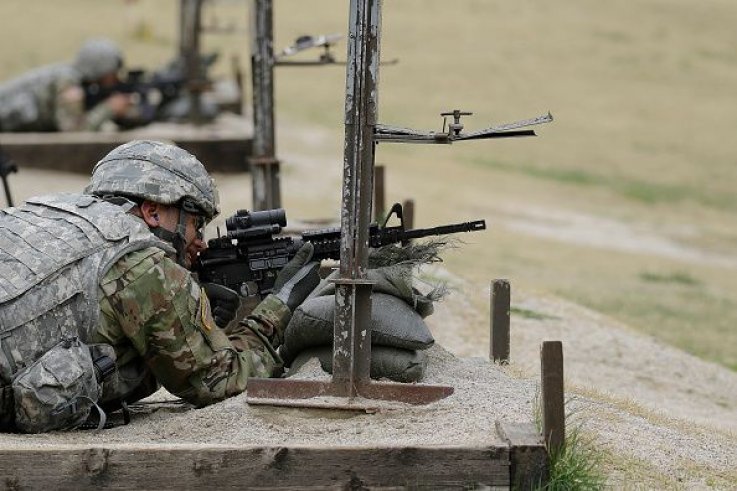 After meeting with Kim, Trump appeared suddenly to share the North Korean leader's opinion. Trump described the exercises as provocative war games and suggested that the U.S. would cancel them altogether as a gesture of goodwill. The Freedom Guardian exercises, which had originally been scheduled to take place between South Korea and the U.S. in August, were canceled in order to keep North Korea from leaving the negotiating table.
But recently the negotiations over denuclearization appear stalled. Secretary of State Mike Pompeo had planned to visit North Korea for more talks, but Trump suddenly canceled the trip, citing a lack of progress. Pyongyang is angry because the U.S. has refused to call an official end to the war between North and South Korea, though it never officially ended despite a ceasefire that has held since 1953.
"I have asked Secretary of State Mike Pompeo not to go to North Korea, at this time, because I feel we are not making sufficient progress with respect to the denuclearization of the Korean Peninsula," Trump tweeted on August 24. "In the meantime, I would like to send my warmest regards and respect to Chairman Kim. I look forward to seeing him soon!" It is unclear if a second meeting between the two leaders is being planned.
At the same time, reports have suggested that North Korea is continuing to manufacture intercontinental ballistic missiles that could theoretically deliver nuclear weapons to the United States—and Washington's calls for North Korea to divulge exactly how many nuclear weapons it has and how it plans to get rid of them are apparently being ignored. Some officials in the Trump administration are calling for the isolated country to allow international inspectors into its nuclear facilities, but no steps have been taken by Pyongyang to make this happen.
Amid what appears to be a standoff, Secretary of Defense James Mattis announced that the previously scheduled military exercises with South Korea would proceed as usual. The next exercises, named Foal Eagle, are expected to take place in the spring.
U.S. Will Continue 'Provocative War Games' With South Korea as Nuclear Talks With North Korea Falter | World