U.S. Will Open Canadian Border to Fully-Vaccinated Travelers In November
Fully vaccinated travelers will soon have access to the U.S. side of the Canadian border as COVID-19 restrictions are set to be lifted in early November.
Senior members of Congress heard from the Biden administration on Tuesday that the 19-month shutdown prompted by the pandemic will soon be over. The closure significantly impacted American enterprises that relied on Canadian customers.
Senate Majority Leader Charles E. Schumer announced the reopening.
"Since the beginning of the pandemic, members of our shared cross-border community have felt the pain and economic hardship of the land border closures," said Schumer, a New York Democrat. "That pain is about to end. Very soon, the link between New York and our northern neighbors will finally be re-established, reuniting families, bolstering businesses and ending a frustrating cycle of waiting for everyone involved."
Rep. Brian Higgins, a Democrat from Buffalo, said that he received word of the upcoming reopening from White House coronavirus response coordinator Jeff Zients.
"It was a long time coming," said Higgins, who's long advocated for the border's reopening."It should have happened six months ago."
The announcement comes nearly two months after the Canadian side of the border was opened on August 9 by their government to vaccinated U.S. travelers. Travelers were required to show proof of a negative COVID-19 test taken 72 hours before their arrival in Canada.
Both sides of the crossing were closed to nonessential travel in March 2020 when the coronavirus pandemic began. Every month, since then the closure has been extended, often in a tweet or Federal Register notice, with little explanation, Buffalo News reported.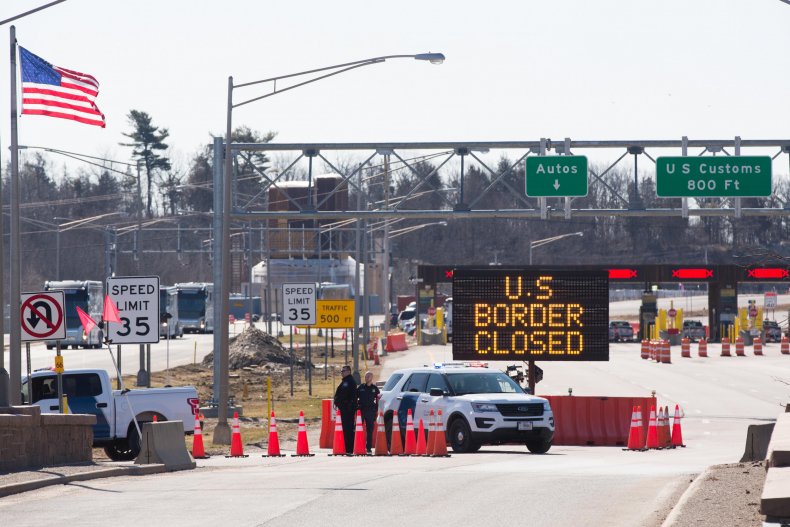 The opening on the U.S. side represents the first time that either entry will be open for nonessential travel in almost two years. The U.S. will not require testing for visiting Canadians.
"Kudos to President Biden for doing the right thing and increasing cross-border travel between Canada and the U.S.," Schumer said. "The high vaccination rates on each side of the border have opened the door of safe cross-border travel and will now safely increase the rebirth of the economic energy of Upstate New York."
Higgins also said he was ecstatic about the reopening, however, he felt it should have been done a lot sooner.
"But it's a very positive sign relative to the economics, relative to life quality, relative to uniting loved ones who have been separated for 90 months," he said.
Sen. Kirsten E. Gillibrand, another Democrat who supported reopening the border, was also pleased to "finally" hear the decision.
"The northern border is an indispensable economic partnership and ties our two nations together and I have repeatedly urged the Biden administration to enact this common sense policy now that 78% of Canadians over the age of 12 are vaccinated," Gillibrand said. "This reopening will be welcome news to countless businesses, medical providers, families, and loved ones that depend on travel across the northern border."
New York Gov. Kathy Hochul was also thrilled by the opening.
"Canada is not only our trade partner, but more importantly, Canadians are our neighbors and our friends," Hochul said in a statement. "From Western New York to the North Country, I look forward to welcoming our Canadian neighbors back to New York as we continue to rebuild and recover from this pandemic."
Newsweek reached out to Canadian Prime Minister Justin Trudeau for comment but did not hear back by the time of publication.