U.S. Winged JDAM Smart Bombs Operational in Ukraine—Air Force General
Ukraine's armed forces are already using a limited number of United States-supplied "smart" guided air-to-surface munitions with an extended range against Russian forces.
Joint Direct Attack Munition-Extended Range (JDAM-ER) precision-guided bombs arrived in Ukraine around three weeks ago, according to General James Hecker, the U.S. Air Force's top commander in Europe and Africa.
The U.S. has "recently" delivered "some precision munitions" to Ukraine that have an "extended range," Hecker said during a Colorado roundtable discussion. "That's a recent capability that we were able to give them probably in the last three weeks," he added, according to The War Zone section of The Drive outlet.
He then confirmed he was referring specifically to the JDAM-ER, the outlet reported.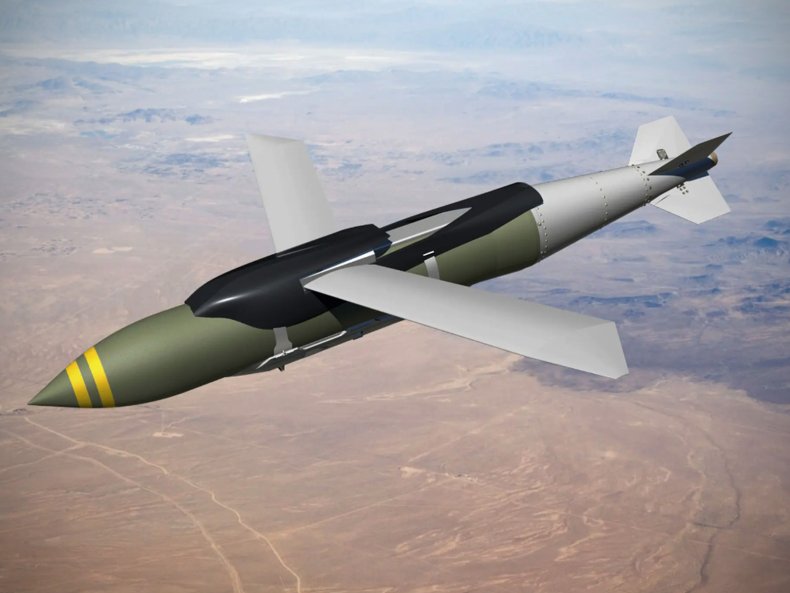 A U.S. Defense Department spokesperson told Newsweek via email that they had nothing to add to General Hecker's comments.
The JDAM-ER kits are part of the U.S.'s security assistance to Kyiv, which has totaled approximately $32.2 billion since Russian troops crossed the border into Ukraine on February 24, 2022, according to Defense Department data.
JDAM-ER kits do not appear on a full breakdown of security aid, updated as of March 3, although it does mention "precision aerial munitions." On March 3, Secretary of State Antony Blinken announced another round of aid for Ukraine, valued at $400 million.
Newsweek reported last December that a $1.85 billion U.S. military aid package for Ukraine would include an undisclosed number of "precision aerial munitions," which the Pentagon later clarified meant Joint Direct Attack Munitions.
The modified, winged JDAM-ER has a longer range than the JDAM, coming in at around 45 miles. The earlier version had an estimated range of 15 miles.
JDAM and JDAM-ER kits turn "dumb bombs" into precision-guided munitions, or "accurate, adverse weather 'smart' munitions," in the words of the U.S. Air Force. The 226-kilogram "fire and forget" weapon is a low-cost way to convert unguided, free-fall bombs into "smart weapons,'" according to its manufacturer, Boeing.
Once released from an aircraft, a JDAM or JDAM-ER autonomously targets the pre-programmed coordinates, with the JDAM-ER wing kit opening up to allow for its greater range.
But Ukrainian supplies of the JDAM-ERs are not extensive, and they have "enough to do a couple of strikes," Hecker said.
The influential Russian "milblogger" community had a "muted response to the announcement" of JDAM-ERs, according to the Institute for the Study of War think tank, which provides detailed daily updates on the Ukraine war.
One Russian commentator voiced "concern" over the JDAM-ERs allowing Kyiv's forces "to launch strikes" against Russian troops without entering Russian airspace, the think tank said on Tuesday.
One "milblogger" wrote that Russia's Aerospace Forces have "noticeably intensified" the use of high-precision bombs on Ukrainian forces in the past few days.
This comes as fierce fighting continues in the embattled Donetsk city of Bakhmut, in Ukraine's eastern Donbas region.
Update 3/8/23, 11:21 a.m. ET: This article was updated with a Defense Department response.