U.S. Woman Accused of Infecting Over 50 People With Coronavirus in Bavaria
A 26-year-old U.S. citizen was recently accused of sparking a wave of new coronavirus infections in Garmisch-Partenkirchen, a ski town in Bavaria, Germany.
According to the Local Germany, authorities believe that the woman visited several bars and pubs in the town, where she lives and works, despite showing symptoms for COVID-19 and awaiting the results from her test for the coronavirus.
"This must be investigated," said city spokesman Stephan Scharf on Sunday, according to the Local Germany. "The lady had symptoms, came to the test station and was told to stay in quarantine because of the symptoms. But she did not do so."
According to Scharf, the woman recently returned from a trip in Greece, but he noted that it is unclear if she contracted the virus during her trip or afterwards in Garmisch-Partenkirchen.
After taking the test, the woman was instructed to quarantine and wait for the results, but instead, she went out and attended a bar crawl. According to the Local Germany, a fine of around $2,300 can be imposed for quarantine violations in Bavaria.
"There are often cases where people don't wait for the test result," Scharf said, according to the Local Germany. "And nationality doesn't really matter. But we wanted as many people as possible to come forward who remember having had contact with the woman in a pub in the last few days."
The Local Germany reported that the woman works at a hotel in Garmisch-Partenkirchen, and by Saturday, the hotel had seen 37 new COVID cases, as well as having a seven-day average of 54 cases.
Shortly after the town experienced a spike in new cases, allegedly caused by the woman, the District Administrator's office in Garmisch-Partenkirchen imposed restrictions on nightlife.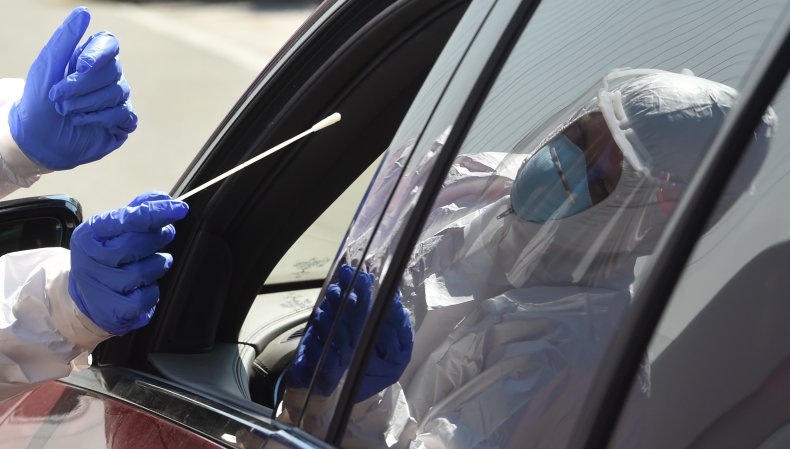 "From a medical point of view, a further significant increase in the number of infections in the district is to be expected," the office announced on Friday, according to the Local Germany. "We want to shut down the nightlife that was the trigger."
The restrictions forced restaurants in the area to close by 10 p.m. local time, and limited public gatherings to just five people in public and at restaurants. Fifty people are allowed to gather in a private setting if inside, or 100 people if the event is outside.
While speaking to CNN, Scharf said that the woman had since received a positive result for her coronavirus test and is currently self-isolating.
Across Germany, the novel coronavirus continues to spread, as there are currently over 262,000 confirmed cases, according to a tracker from Johns Hopkins University. There have also been at least 9,356 deaths caused by the virus.
Newsweek reached out to the District Administrator office in Garmisch-Partenkirchen and officials in Bavaria for comment but did not receive a response in time for publication.