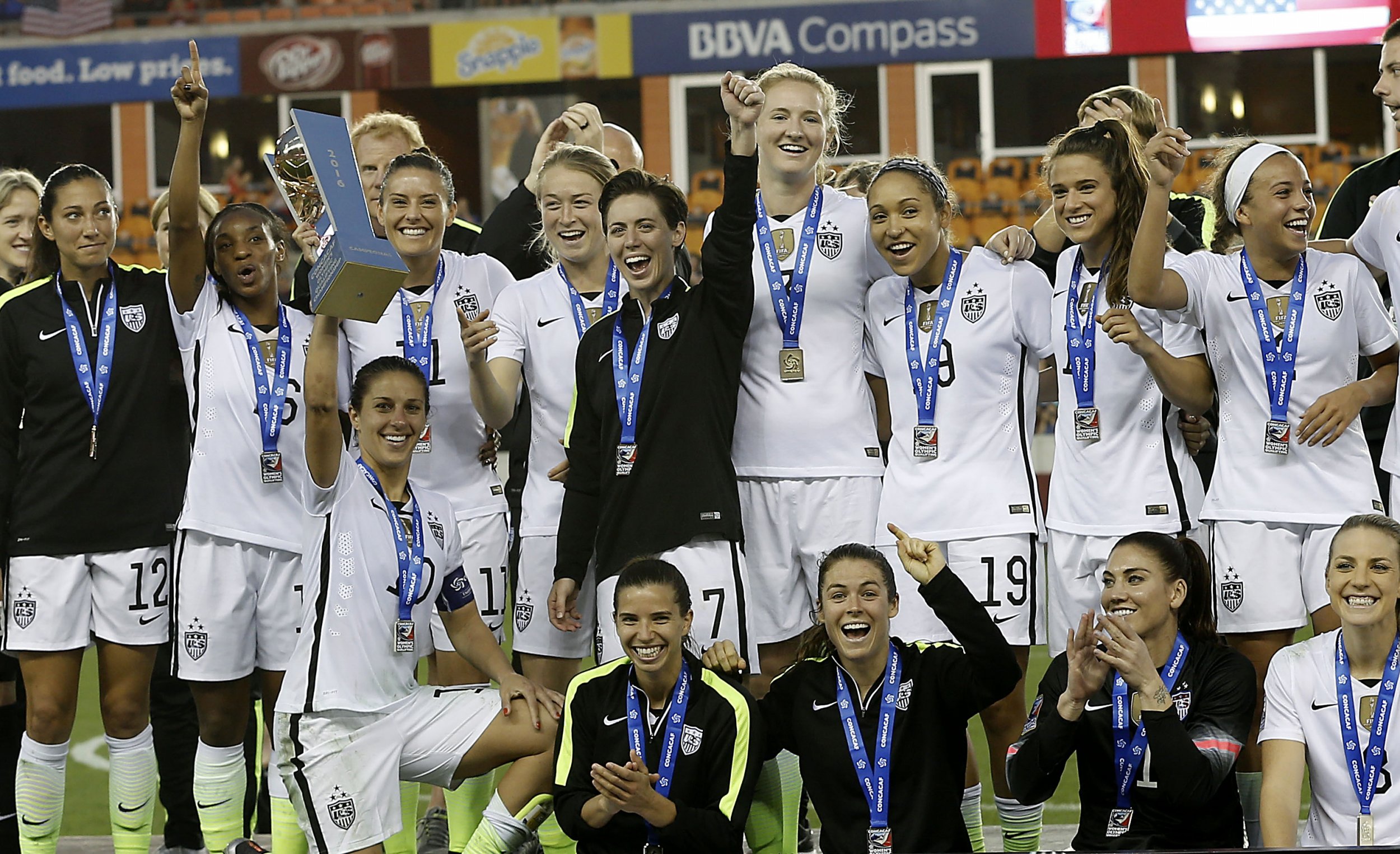 Five U.S. women's soccer players filed a federal complaint against U.S. Soccer on Thursday over alleged wage discrimination.
The five players—team co-captains Carli Lloyd and Becky Sauerbrunn, goalkeeper Hope Solo, midfielder Megan Rapinoe and forward Alex Morgan—appeared on NBC's Today show on Thursday morning alongside their lawyer, Jeffrey Kessler. The women, who play on the U.S. Women's National Team, which won the Women's World Cup in 2015 and took Olympic gold in 2012, argue in their filing that their team is far more financially successful than the men's team.
The filing states that the women's team is paid nearly four times less than their male counterparts, despite making almost $20 million more in revenue in 2015.
"We have proven our worth over the years," Lloyd said during the team's interview. "The pay disparity between the men and the women is just too large."
"I've been on this team for a decade and a half, and I've been through numerous [collective bargaining agreement] negotiations, and honestly, not much has changed," Solo said. "We continue to be told we should be grateful just to have the opportunity to play professional soccer, to get paid for doing it."
"The 2015 Women's World Cup broadcast on Fox networks demolished all previous viewership records for not only women's soccer on U.S. television but for soccer in general," U.S. Soccer said in its agenda for the organization's annual general meeting, which was held in San Antonio, Texas, in February. Budget figures included in that agenda show that the women's team is expected to bring in nearly double the revenue of the men's team in 2017: $17.6 million compared with $9 million for their men.
The team's complaint will be submitted to the federal Equal Employment Opportunity Commission. The five women, who said they are filing the complaint on behalf of the entire U.S. women's team, are also expected to call for an investigation into U.S. Soccer.
"We understand the Women's National Team Players Association is filing a charge with the Equal Employment Opportunity Commission against U.S. Soccer," the United States Soccer Federation said in a statement on Thursday. "While we have not seen this complaint and can't comment on the specifics of it, we are disappointed about this action. We have been a world leader in women's soccer and are proud of the commitment we have made to building the women's game in the United States over the past 30 years."
The complaint comes shortly after Raymond Moore, the former director of the Indian Wells tennis tournament in California, said women's tennis was "riding on the coattails" of the men's game, and that women players should be paid less than their male counterparts. Tennis star Novak Djokovic waded into the debate, but swiftly walked back comments he made stating men should "fight for more" money because men's games have bigger audiences than women's.
Uncommon Knowledge
Newsweek is committed to challenging conventional wisdom and finding connections in the search for common ground.
Newsweek is committed to challenging conventional wisdom and finding connections in the search for common ground.
About the writer
Before joining Newsweek, Lucy Westcott was an editorial fellow at The Wire. Previously a United Nations correspondent for the Inter Press Service, she has also written for the Guardian, Bustle, American Journalism Review, and the Capital News Service, and interned at the BBC's Washington bureau. Lucy received her Masters of Journalism degree from the Philip Merrill College of Journalism at the University of Maryland, College Park, and got her start in journalism writing copy for a police station. She was born and raised in Swindon, U.K.