The United States is working to help countries stop the spread of diseases as thousands of Venezuelans flee their country every day, U.S. Health and Human Services Secretary Alex Azar said on Tuesday.
"Disease knows no boundaries. And as we've had the complete collapse of the public health infrastructure in Venezuela and then migrants fleeing Venezuela to neighboring countries, they're bringing their health conditions with them," Secretary Alex Azar told Reuters during a visit to Brazil, a country that has seen nearly 300 cases of measles in the border state of Roraima between February and August.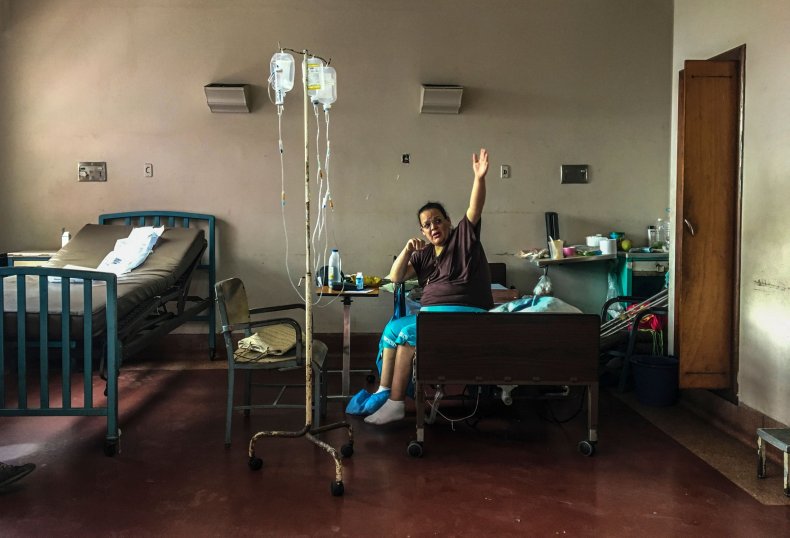 Working with other Latin American countries to get people vaccinated will help prevent the spread of diseases like diphtheria, measles and malaria, Azar said.
The announcement comes one day after the United Nations announced that nearly 2 million people have left Venezuela since 2015.
"Some 5,000 people are now leaving Venezuela daily—the largest population movement in Latin America's recent history. A non-political and humanitarian approach is essential to help states receiving them in growing numbers," Filippo Grandi, the U.N. refugee agency chief said, according to The Guardian.
Venezuela's economic crisis, worsened by a crash in crude oil prices in 2014, has affected the country's youngest residents. Mortality among children under 2 years of age grew 30 percent from 2015 to 2016 as hospitals tried to cope with missing resources, including water, disinfectant, hospital beds and incubators.
The Maternidad Concepcion Palacios, the country's largest maternity hospital, is now using "kangaroo care" to treat noncritically premature babies in place of incubators. The method, approved by UNICEF, was first used during the 1970s in neighboring Colombia. The program has helped treat 880 babies since its introduction in 2015, Lide Diaz, the coordinator of the hospital said. The method consists of mothers holding babies wrapped in a cloth or in a pouch against their bare chests.
Several countries in the U.N. Human Rights Council voted on a resolution last week asking Venezuela to "accept humanitarian assistance in order to address the scarcity of food, medicine and medical supplies, the rise of malnutrition, especially among children, and the outbreak of diseases that had been previously eradicated or kept under control in South America," Agence France-Presse reported. The resolution passed with 47 members voting in favor, 17 abstaining and seven voting against—including, China, Cuba and Venezuela.