USA 'Devastated' Its Figure Skaters Leaving Olympics Without Medal Ceremony
The U.S. Olympic and Paralympic Committee (USOPC) on Monday released a statement expressing disappointment after the International Olympic Committee (IOC) cleared controversial Russian skater Kamila Valieva for competition.
The IOC's ruling also ruled out medal ceremonies, involving Americans, for any event in which Valieva competes at the Beijing Games.
"We are devastated that [the U.S. figure skating team] will leave Beijing without their medals in hand, but we appreciate the intention of the IOC to ensure the right medals are awarded to the right individuals," the statement said.
USOPC CEO Sarah Hirshland had a tougher response in a separate statement.
"We are disappointed by the message this decision sends," she wrote in her statement. "It is the collective responsibility of the entire Olympic community to protect the integrity of sport and to hold our athletes, coaches and all involved to the highest of standards."
Hirshland claims that the IOC's decision strips away that right. As a result, she is calling on other committees worldwide to fight for fairness in their sports and organizations.
"This appears to be another chapter in the systematic and pervasive disregard for clean sport by Russia," Hirshland said. "We know this case is not yet closed, and we call on everyone in the Olympic Movement to continue to fight for clean sport on behalf of athletes around the world."
Valieva and the Russian figure skating team are under investigation for doping allegations after she tested positive for a banned substance in December.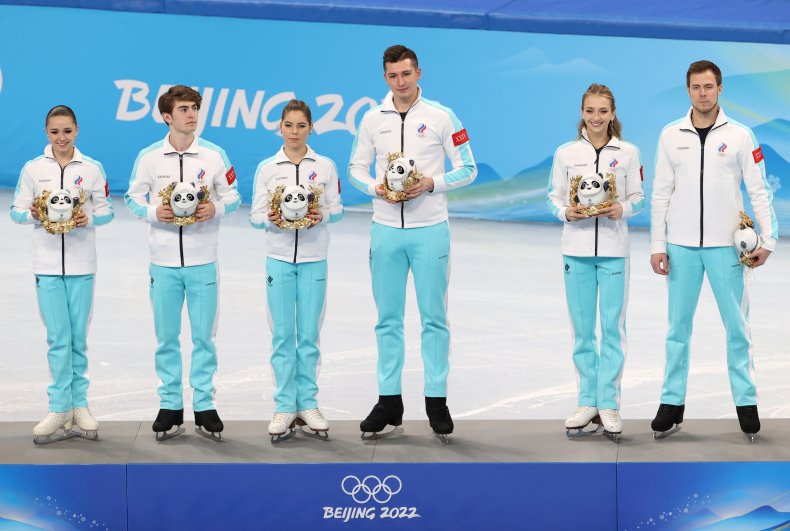 If the 15-year-old places in the top three in the singles competition, after finishing first in the team event last week, a medal ceremony will not take place. The U.S. finished second in the team event.
As for Team USA, skaters are remaining tight-lipped about the IOC's ruling. Madison Hubbell and Zachary Donohue, who won bronze in the Olympic ice dancing competition, said that the prospect seemed disappointing but declined to provide a full statement due to the ongoing investigation.
"There's no done deal yet, but I know all the people in the team want to receive the medals here as a team," Hubbell told the Associated Press. "If we miss that opportunity, it's huge disappointment."
The short program for the women's singles skating is February 15, while the free skate for the same event is February 17. The short program for pairs skating will be on February 18, while the free skate is on February 19. Medals are determined after the free skate.
When reached for comment, U.S. Figure Skating referred to the USOPC statement.
Update 2/14/2022, 11:14 a.m. ET: This story has been updated with additional information.