Exclusive: USAID Scuttled American's Release From Cuban Prison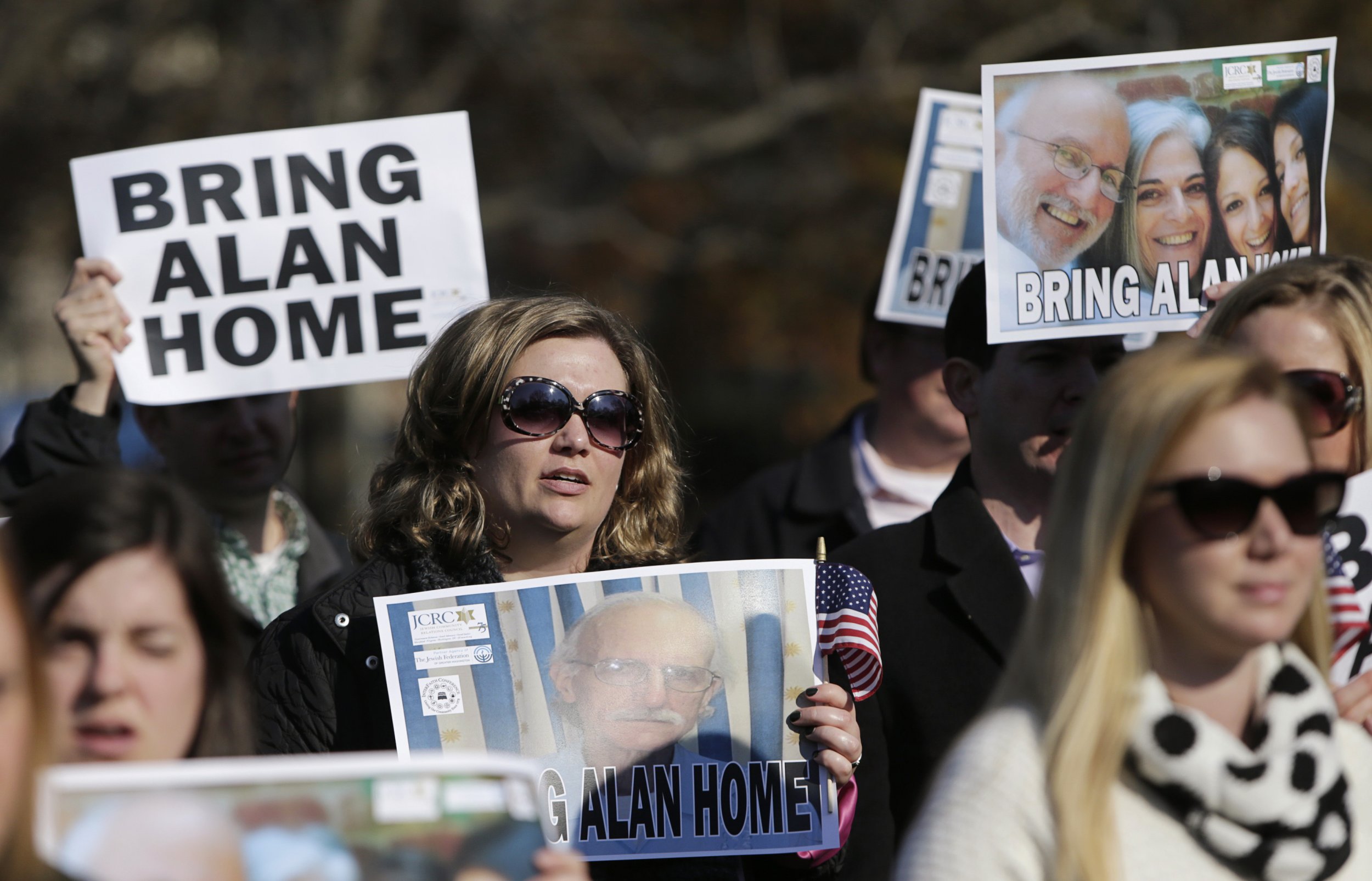 Aggressive "regime change" projects in Cuba by the U.S. Agency for International Development (USAID) scuttled a chance to free one of its contractors jailed on the island, a former top Senate aide to John Kerry says.
Fulton Armstrong, who was a top CIA and White House National Security Council expert on Latin America before joining Kerry's staff on the Senate Foreign Relations Committee in 2010, also told Newsweek Tuesday that, contrary to USAID statements, the Obama administration "had not been briefed on the [USAID's] regime-change programs, and that the secret operations continued just as they had under Bush-Cheney—aggressive, over-funded, and in obvious need of oversight and review."
USAID disputes that characterization. "USAID works in places where we are not always welcome," the agency said on its blog last week. "To minimize the risk to our staff and partners and ensure our work can proceed safely, we must take certain precautions and maintain a discreet profile. But discreet does not equal covert."
USAID also maintains that its "democracy" programs in Cuba, like its controversial ZunZuneo social media app for Cubans, have always been part of "the public record."
On Dec. 3, 2009, Cuban authorities arrested USAID contractor Alan Gross in Havana on suspicion of subversive activities. He had made several trips to Cuba bearing sophisticated computer gear designed to allow Cubans to communicate beyond the reach of state security. Gross had been scheduled to meet in Havana with an American citizen who was a representative of the Freemasons, the centuries-old, secretive Christian organization, whose Cuban chapters were also involved with USAID political activities, Newsweek reported Monday. Gross, 64, is now serving a 15-year sentence in prison. He announced this week he was going on a hunger strike.
USAID's "regime change" programs continued after the arrest of Gross, Armstrong said, complicating steps to free him. "When Gross was arrested, Cuban officials gave pretty clear signals of two desires for his release," Armstrong told Newsweek. "That the programs be made less blatant and insulting to them, and that the Obama administration designate a serious, non-bureaucratic person to discuss this and other matters with them."
With backing from Sen. Kerry, Armstrong and his counterpart on the staff of Rep. Howard Berman, chairman of the House Foreign Affairs Committee, struck a deal with USAID and the State Department in 2010 to pare back some of the agency's more aggressive Cuba programs and budget, Armstrong said. With that, the release of Gross seemed imminent.
"Senior USAID and State officials were happy with the reforms as good for the programs as well as for gaining the release of Alan Gross, and they asked Senate and House Committee staff to brief Cuban officials on them," Armstrong said. "We did so, and our chairmen met with senior Cuban officials to drive home the message."
The Cubans were happy, too—to a degree, said Armstrong, the CIA's National Intelligence Officer for Latin America from 2000 to 2004. "They responded very positively and said that the cleanup—which they understood would be done in phases—would certainly help them make the case for expedited procedures for Gross's release."
When the Cubans complained in the early summer of 2010 that "regime change" activities on the island were continuing, Armstrong said, "We provided assurances, accurately, that the responsible people at USAID and State supported the reforms."
But die-hard USAID officials scuttled the looming deal, Armstrong said, by telling their contractors in Cuba to continue their work. "They reassured their contractors and grantees that, despite rumors of change, business would continue as usual—information that would surely reach Cuban ears—and they later leaked to the press that, in fact, program funding remained unchanged and the reforms were not being implemented," Armstrong said.
"At that point, the discussions about program reforms to gain Gross's release ended."
USAID did not immediately respond to a request for comment.
In a heated Senate Appropriations Committee hearing Tuesday, chairman Patrick Leahy (D-Vt.) called USAID's ZunZuneo project "cockamamie" and said, "As far as I can tell, the USAID and the Obama administration have all but forgotten about [Gross]."
USAID administrator Raviv Shah disputed that. "I think about Alan every day," he said, according to Reuters, but referred further discussion on Gross to the State Department.
"The State Department takes the lead in these types of issues and they are highly sensitive and I would defer to them to be able to explain to you in the appropriate private setting what's taken place," Shah said.
Newsweek contributing editor Jeff Stein writes SpyTalk from Washington, D.C. He's on Twitter @SpyTalker