Ex-USC Coach Who Made Olivia Jade's False Profile to Plead Guilty in College Admission Scandal
Laura Janke, a former assistant coach for the University of Southern California women's soccer team, agreed to plead guilty Tuesday in the college admissions scandal. Janke helped a number of students, including Lori Loughlin and Mossimo Giannulli's daughter Olivia Jade, gain entry into USC by falsifying their athletic background.
Janke is the 20th person to enter a guilty plea in the widespread scheme, in which wealthy parents have been accused of using bribes and deception to secure places for their children at prestigious universities.
Janke had initially pleaded not guilty on March 25, but on Tuesday she agreed to plead guilty to one count of conspiracy to commit racketeering, according to court documents. As part of the plea, she admitted to committing the crime and agreed to waive venue, any applicable statute of limitations and any legal or procedural defects.
She had faced a maximum penalty of 20 years in prison, supervised release for three years, the greater of either a fine of $250,000 or twice the gross gain or loss, a $100 special assessment fee, restitution and forfeiture of $134,213.90. In accordance with the plea deal, the U.S. attorney agreed to recommend a reduced incarceration sentence, a fine, 12 months' supervised release, a $100 special assessment, restitution and forfeiture.
However, if Janke doesn't clearly accept responsibility for the crime at sentencing, court documents said, the government will object to any reduction in her sentence.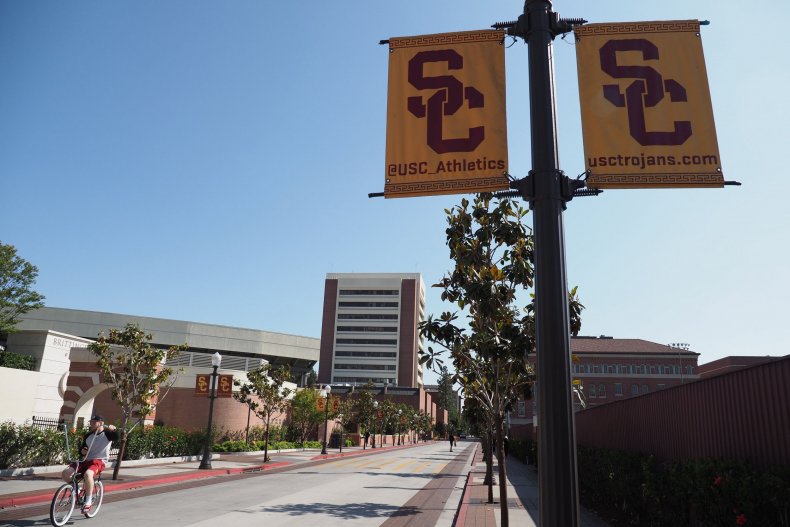 Janke allegedly worked with Rick Singer, who pleaded guilty, to creating false athletic profiles for the children of several wealthy parents, outlined in the indictment as:
A falsified record of numerous athletic honors for Gamal Abdelaziz's daughter
A falsified volleyball profile for Diane and Todd Blake's daughter
A falsified crew profile for Lori Loughlin and Mossimo Giannulli's younger daughter, Olivia Jade
Two falsified football and tennis profiles for Douglas Hodge's son
A falsified pole vaulter profile for Elisabeth Kimmel's son, including a photograph purporting to be Kimmel's son
A falsified football profile for Marci Palatella's son
A fabricated lacrosse profile for Homayoun Zadeh's daughter
In an email to Singer, Janke allegedly asked if he thought the profile for Abdelaziz's daughter had "enough" or if he wanted her to add "any other awards to her profile."
"Obviously we have stretched the truth but this is what is done for all kids. Admissions just needs something to work with to show he is an athlete," Singer said in an email to Hodge about the falsified profiles, according to the indictment.
At least four payments of $50,000 were transferred from an account called "The Key," the name of Singer's for-profit college counseling and preparation business, into an account in the name of a private soccer club controlled by Janke and former USC women's soccer head coach Ali Khosroshahin.
On Tuesday, Toby MacFarlane agreed to change his plea to guilty to a charge of conspiracy to commit mail fraud and honest services fraud. Out of the 51 people who were charged in Operation Varsity Blues, the admission scandal's nickname, at least 20 people have pleaded guilty.