USC Frats Can Resume Parties in March, Provided Security Guards Keep Guests From Bedrooms
After barring parties last October amid allegations of sexual abuse and drugging, active fraternities at the University of Southern California will be allowed to throw parties again in March, but they must have security guards present.
The parties in March will not be allowed at fraternities that are currently suspended, the Associated Press reported. Also, the university must consult with the security companies, and the guards will be stationed at entry points, stairs and hallways that lead to bedrooms.
The university is also requiring sexual violence prevention training for all USC fraternity members drafted by representatives from a group of fraternities, the student government, student groups, faculty and safety experts, the AP added.
USC President Carol Folt shared a press release in October 2021 acknowledging a "troubling delay" in addressing sexual assault allegations from September.
The school's Relationship & Sexual Violence Prevention Services had received "between five to seven confidential disclosures of possible drugging and possible sexual assault at a fraternity and took the exceptional step of sharing that information more broadly," Folt said in the release. "We now know that there was a troubling delay in acting on this information, and specifically in evaluating it for notification to the community.
In October, the campus canceled all fraternity-sponsored social events after the sexual abuse allegations were revealed, the AP reported.
In response to allegations against the Sigma Nu chapter, the Los Angeles Times reported that sexual abuse survivors and people calling for Greek system reforms marched and protested on fraternity and sorority row last October.
The university suspended the Sigma Nu chapter, the Times added, and Folt promised to confront the problems.
"As president, I came to USC with the promise to confront what is wrong and lead the effort to fix what is broken," Folt wrote in the October release. "As we learn more, there will be some things we can do quickly and others that will take more time."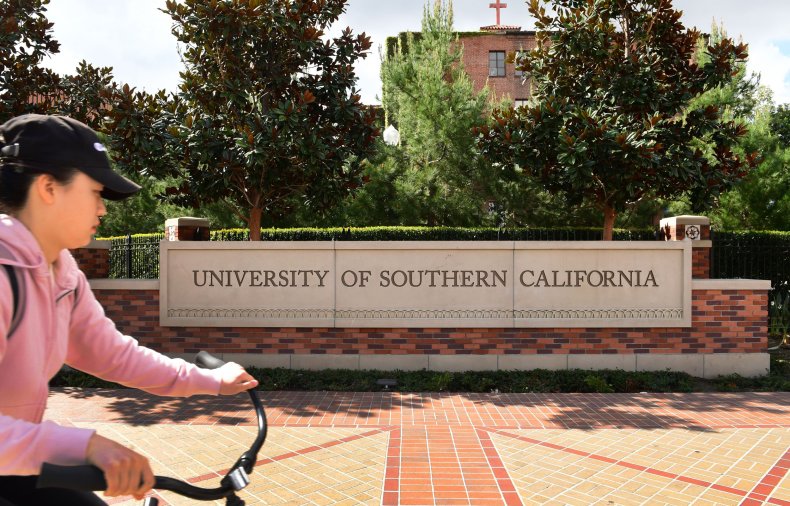 Even members of the Greek system helped organize protests. Annie Chen, a USC student and member of the Alpha Delta Pi sorority, helped organize a march in October with the nonprofit Girl Up USC, according to the L.A. Times.
"It's been a very emotionally distraught and disturbing time, especially after learning that the campus I chose and would like to call home doesn't feel safe to me," Chen said to the Times.
In December, according to a report from City News Service published on the KNBC website, a woman identified as Jane Doe brought a lawsuit against the Sigma Alpha Mu Fraternity, the Mu Theta Chapter at USC, related property managers and an alleged assailant.
Doe said the alleged assailant, identified as Peter Hwang, used martial arts to overpower her before sexually assaulting her, according to the report on KNBC, which added that Doe's complaint indicated that several USC students tried to convince her not to charge the fraternity because of their parties.
Specialists from the Rape, Abuse, and Incest National Network (RAINN) sexual assault hotline are available 24/7 via phone (1 (800) 656-4673) and online chat. Additional support from the group is also accessible via the mobile app.