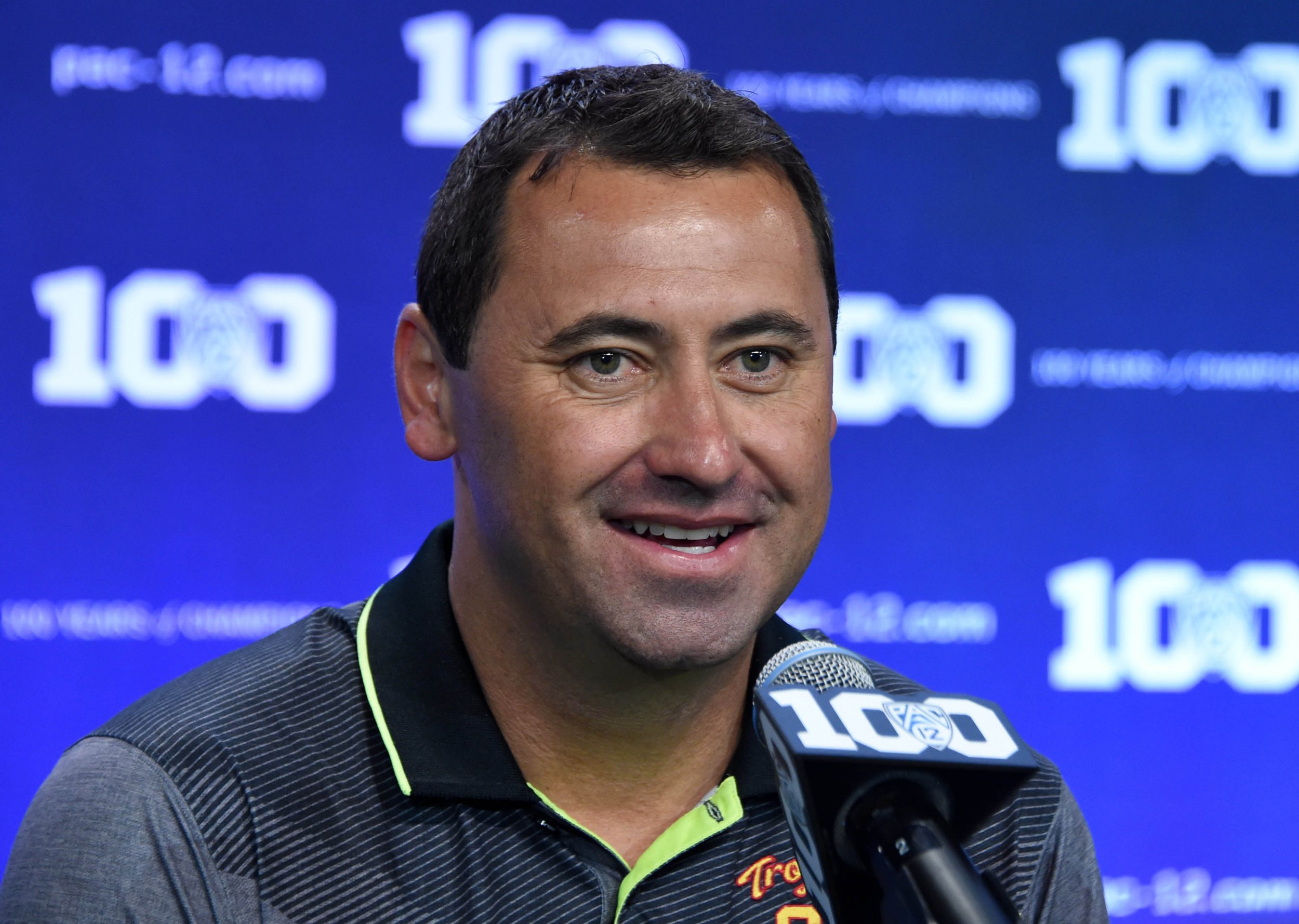 Like one of those aerial banners being pulled by a plane, the warning signs had been circling over the University of Southern California football program for nearly two months. If the signs had been literal, they might have read "STEVE SARKISIAN HAS A SUBSTANCE ABUSE PROBLEM" or "TROY IN DENIAL." But few people, if any, associated with the Trojans football program dared to squint into the sunshine and acknowledge what now appears obvious.
On Monday afternoon USC fired Sarkisian, its head football coach, one day after placing him on an indefinite leave of absence. Substance abuse precipitated the second-year coach's termination, but so did an institutional failure to acknowledge that the school's highest-paid employee should have been excused to seek help at least six weeks ago.
"After careful consideration of what is in the best interest of the university and our student-athletes, I have made the decision to terminate Steve Sarkisian, effective immediately," said USC athletic director Pat Haden in a written statement. "Through all of this we remain concerned for Steve and hope that it will give him the opportunity to focus on his personal well being."
Southern Cal travels to the Midwest to face No. 14 Notre Dame this Saturday. But in the vicinity of Heritage Hall, the school's athletic administration building, in the coming days many will be wondering: why did no one at USC, including Sarkisian himself, address his condition properly before it came to this?
On Sunday morning Sarkisian, the second-year head football coach at USC, arrived at a special teams meeting. According to one Trojans player who spoke to The Los Angeles Daily News on condition of anonymity, he "acted drunk." Not long afterward Haden, a former USC quarterback, placed the 41-year-old Sarkisian on an indefinite leave of absence. "I was at a basketball event earlier today when I got a call to say Sarkisian was not at practice," said Haden, who hired Sarkisian away from the University of Washington after the 2013 season. "I called Steve and he made it clear to me that he was not healthy."
But hadn't Sarkisian made that clear back on August 22 at the "Salute To Troy," an annual mixer between boosters and high-profile members of the athletic department? Standing before the well-heeled crowd at an on-campus function where alcohol was readily available, Sarkisian slurred his speech, noted that three of USC's opponents "suck," and added an unfortunate adverb to the USC motto, "Fight On." At that point Haden and John McKay, Jr., Haden's former Trojans teammate and the son of legendary USC coach John McKay, yanked "Sark" from the stage before he was finished speaking.
The trouble is, Haden failed to yank Sarkisian from his coaching duties as well. Instead of suspending Sarkisian, or simply placing him on leave so that he might seek treatment, Haden chose to accept Sarkisian's explanation that his public intoxication was an anomaly. Sarkisian issued a public apology one day later, adding, "The moral of this story is if you mix meds with alcohol, you say or do things you regret."
Actually, no. That's not the moral of the story at all, which should have been the first warning sign that no one near Heritage Hall was prepared to acknowledge the gravity of Sarkisian's condition. The following day USC announced that alcohol would be banned from the football coaches' locker room—this was a thing? One day after that, USC quarterback Cody Kessler, a team captain, told the media that the players had chosen to punish their coach by making him do "up-downs," a form of calisthenics.
It was as if Kessler and his teammates regarded Sarkisian, who is in the process of getting divorced, more like a real-life, dissipated Frank the Tank from Old School than the steward of a football program that rakes in tens of millions of dollars per year. And where were the real adults—Haden, university president C.L. Max Nikias and chief operating officer Steve Lopes —as the school's Heisman Trophy candidate was informing the world that the antidote to an alcohol problem was a bit of Crossfit?
Back in late August, USC was ranked No. 8 in the Associated Press poll. After three lean seasons that had seen a total of four head coaches, two of whom, Ed Orgeron and Clay Helton, had operated in an interim capacity, the Trojans once again mattered in the inner orbit of college football. Nobody around Heritage Hall seemed eager to halt the momentum, even though rumors of Sarkisian's appetite for alcohol traced back to his prior job. "I want to win a championship, and I believe that we have a championship-quality team," Sarkisian said at the time. "That's what my focus is."
The man people began calling "Cutty Sark" behind his back was half-right: USC did have a championship-quality team, but that's not where his focus belonged.
On Monday morning the Los Angeles Times ran a story detailing exorbitant bar expenses Sarkisian ran up at his previous job at the University of Washington. For example, in two days at the Indian Wells Resort and Spa in Indian Wells, California, the coach posted a $1,600 tab. If Haden was unaware of a substance abuse issue involving Sarkisian, who had been an assistant at USC from 2001-2003 and 2005-2008, former players at Washington are not. After the August "Salute to Troy" incident, former Huskies tight end Michael Hartvigson tweeted, "Coach Sark is still having fun at USC!" adding as a hashtag #ThingsHaventChanged.
Four days after the "Salute to Troy" fiasco, Sarkisian issued a public mea culpa and pledged that he would "get help," but did not believe he needed to step away from his duties for a while. "I don't even know if I need rehab," he said at the time. "I can't wait to start coaching again today."
Sarkisian is a local and well-liked. He grew up in Torrance, a few miles southwest of USC's downtown Los Angeles campus. After failing to cut it as a baseball player at USC, he wound up at Brigham Young University, where in 1996 he led the Cougars to a 14-1 record as their quarterback in his senior year. BYU, incidentally, has an honor code in which students pledge to "abstain from all alcoholic beverages."
Last Thursday night, in what would be his final game on the sidelines at USC, Sarkisian and the Trojans lost to his former team, Washington, on national television, 17-12. USC had been double-digit favorites and for Sarkisian to lose to a team whose upperclasmen he had once coached, whose current coach, Chris Petersen, is considered by many to be the person Haden should have tabbed for this job two years ago, was particularly painful.
Back in August, after his moment of public intoxication, Sarkisian had promised Haden that "this will not happen again." But something very similar to it did. People who have serious substance-abuse issues make promises they are unable to keep. That's not just a sobering realization, though. That's something every adult at USC who was in daily contact with Sarkisian should already have understood.